NEW!

Corner & Top 10


Concert Calendar
& Mailbag


Comprehensive Index


New CD Reviews


Index to Artist Guides
NEW!


Best of 2018


Top 100 Countdown:
21st Century Southern Soul Artists


Top 100
Southern Soul Songs
21st Century Countdown
(00's – 10's)


Top 100
Southern Soul Artists
(90's - 00's)


Top 100
Southern Soul Songs
(90's – 00's)


Forerunners of
Southern Soul
Southern Soul CD's, MP3's
Best of Pages
About the Music
About Us
Links
Home


Sample or Buy



From artists, their familes, friends and fans. . .





From Daddy B. Nice's archives. . .





Over 100 Southern Soul drawings. . .





Original Daddy B. Nice sketches. . .





All caricatures and satirical renderings are untitled. . .





It's a little piece of history. . .





Who want a keepsake, memento or souvenir. . .





To commemorate their time. . .





In the Southern Soul limelight.





Browse through all the Southern Soul satirical sketches in Daddy B. Nice's archives.





Browse through all the Southern Soul sketches in Daddy B. Nice's archives.





Browse through all the Southern Soul collectibles in Daddy B. Nice's Southern Soul Products Store. . .





"It Hurts Me Too"
Keb Mo
Composed by Elmore James/Sehorn
Keb' Mo' is a younger-generation blues traditionalist with a cutting-edge vision that seems to miss the mainstream of Southern Soul on two counts--as acoustic blues and as eclectic pop. Like two of his obvious older-generation influences, Taj Mahal and the late R.L. Burnside, you're more likely to see Keb' Mo' on the college circuit than the chitlin' circuit. But in another fifty years, when the dust has settled on the trivial cultural differences that cloud our critical judgments today, no one will second-guess Keb' Mo's contribution to Southern Soul-style rhythm and blues.

In the first place, as audiophiles we all still long for an artist to hit upon the magic formula that makes the blues relevant and contemporary, as "today" as rap. And no one is closer to that goal--ephemeral though it may be--than Keb' Mo', a Californian who has had the courage to delve with feeling into the dusty old blues styles planted like seeds by his Southern-reared parents, and forge them into songs simultaneously old and new.

Keb' Mo's cover of Elmore James' "It Hurts Me Too" is the perfect example. It starts out with a stark delta guitar and the words sung acapella in the spaces between.

"Well, when things go wrong,
Go wrong with you,
Well, you know it hurts me too."

By the time Keb' Mo' gets to the next words--

"You say you're hurt,
Almost lost your mind.
The man you love,
He hurts you all the time."

--He's got a rhythm section as powerful as a locomotive (including legendary rock drummer Jim Keltner) and an insinuating, almost Euro-sounding synthesizer washing over the blues skeleton of the song like an all-encompassing flood. The magic of the song is the percussive punch. It's dance material, which is incredible when you think of it. (When's the last time you danced to a blues track?) On the other hand, it's a direct descendent (musically speaking) of R. L. Burnside's "It's Bad You Know," in which young producer Tom Rothrock dragged Burnside's one-note Delta blues kicking and screaming towards the 21st century.

But it's also blues, and it's anchored by Keb' Mo's increasingly taken-for-granted vocal talent, the deep and husky sound we demand of our bluesmen delivered with the sparkling clarity and friendly accessibility of the neighborhood newsboy.

Southern Soul deejays generally ignore young, pure blues artists, even though they play older blues artists like Little Milton and Artie "Blues Boy" White. And that is natural. There are plenty of straight blues outlets--and more publicity given to straight blues artists. But Southern Soul, like any other musical genre, ultimately suffers when it becomes too narrow in scope. And Southern Soul can't afford to cut off Delta blues, its very lifeblood.

Young bluesmen like Keb' Mo' and Otis Taylor aren't just copying the blues for the sake of blues purists who are more interested in the past than the present. These artists are interpreting the blues in their own styles and trying to make it "work," i.e. musically and commercially. In a sense, they're outsiders twice over, too "pop" for the blues purists and too "yuppie" for the chitlin' circuit.

Keb' Mo' fans who want to explore new but obscure Southern Soul artists (artists to whom they don't have access through Southern Soul radio outlets) would do well to start with the aforementioned White and Little Milton, not to mention Charles Wilson and Chick Willis.

Keb' Mo' fans will transition easily from Keb' Mo' to the younger generation of Southern Soul entertainers, in particular Wilson Meadow's folk-tinged soul, Theodis Ealey's giddy blues, Dr. "Feelgood" Potts' bedroom-voiced come-on's and Jeff Floyd's laid-back but masterful ballads.

Anyone who loves Keb' Mo's version of Elmore James' "It Hurts Me Too" will find Southern Soul artist Will T.'s obscure but phenomenal new "Mississippi Boy" single (issued on a sampler in 2003 and as a "bonus track" on a 2005 Charles Wilson CD) irresistible--like coming full circle.

And Southern Soul insiders who are crazy about that "Mississippi mud on my shoes" from "Mississippi Boy" will find Keb' Mo's "It Hurts Me Too" a revelation. The songs and singers could be easily interchanged.

Keb' Mo' has quietly gone about becoming a mature artist on the order of, if not yet the stature of, the recently deceased Little Milton Campbell, with whom (come to think of it) he recorded a duet version of "Gimme My Broom."

--Daddy B. Nice
About Keb Mo
Keb' Mo' was born Kevin Moore in 1951 in Los Angeles, California. He began his professional career as a back-up guitarist for Papa John Creach when he was 21, and he continued working in the Los Angeles area as a back-up musician and opening act under the name Kevin Moore for such bands as Mahavishnu Orchestra, Jefferson Starship, and Loggins & Messina. He picked up an increasingly bluesy perspective while playing with the Monk Higgins and The Rose Brothers bands in the eighties.

He released his self-titled debut album as Keb' Mo' (a diminutive for Kevin Moore) in 1994. Since then, he has released an album roughly every two years with very little drop-off in quality. Just Like You (1996) won a Grammy for Best Blues album, as did 1998's Slow Down (Sony).

The Door, perhaps Keb' Mo's most popular CD, appeared in 2000, followed by Big Wide Grin (a reference to the singer's signature smile) in 2001 and Keep It Simple in 2004. By the early 00's Keb' Mo's reputation had grown to unheard-of dimensions for a bluesman, occasioning a reissue (Slow Down/The Door, Sony, 2002) and a tribute album (Martin Scorsese Presents The Blues: Keb' Mo', Okeh/Epic, 2003) by the acclaimed director of "Mean Streets" and "Good Fellas."

Song's Transcendent Moment
"He loves another woman.
Yes, I love you.
You love him,
And you stick to him like glue."

Tidbits
1. Keb' Mo' played Robert Johnson (two of whose songs he featured in his debut album, Keb' Mo', Okeh, 1994) in "Can't You Hear The Wind Howl?", a 1990 mix of documentary and fiction narrated by Danny Glover.

2. July 14, 2006. Keb' Mo' has a new CD, Suitcase (Red Int/Red Ink, 2006), featuring his characteristic, crystal-clear clarity in both his guitar and vocal work. Most of the songs are blues-derived, minimalist, pop-tinged tunes in the usual Keb' Mo' style, i.e. the title track, "Suitcase." "Life Is Beautiful" sounds almost bluegrass. From an R&B fan's perspective, the stand-outs are "The Itch" and "Remain Silent." DBN.

August 3, 2007. The American Blues Network (internet radio station) has played the grooves out of Keb' Mo's "The Itch" and "Remain Silent." They characterize their playlist selection as "party blues and oldies," and at other times, "grown folks music." Basically, it amounts to a healthy mix of contemporary blues (i.e. the Keb' Mo') and Southern Soul, with a decided nod to technically-crisp standards.

What's most heartening is to listen to how seamlessly Keb' Mo's credible vocals and well-produced arrangements blend in with other mainline Southern Soul artists of the day. And "The Itch". . . Let's just say it's aging extremely well. It may turn out to be the finest recording of KM's career. DBN.

If You Liked. . . You'll Love
If you liked Taj Mahal's "Take A Giant Step," you're bound to like Keb' Mo's "It Hurts Me Too."
Honorary "B" Side
"The Door w/ Leon Ware"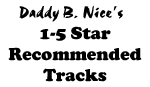 It Hurts Me Too


CD: The Door
Label: Sony










The Door w/ Leon Ware


CD: The Door
Label: Sony










The Action


CD: Just Like You
Label: Sony


Sample or Buy
Just Like You








The Itch


CD: Suitcase
Label: Red Int/ Red Ink









Come On Back


CD: The Door
Label: Sony









God Trying To Get Your Attention


CD: Slow Down
Label: Sony









I Was Wrong


CD: Slow Down
Label: Sony









Perpetual Blues Machine


CD: Just Like You
Label: Sony


Sample or Buy
Just Like You







Prosperity Blues


CD: Keep It Simple
Label: Sony









Remain Silent


CD: Suitcase
Label: Red Int/ Red Ink








Hand It Over


CD: Just Like You
Label: Sony


Sample or Buy
Just Like You






The Glory Of Love


CD: One Fine Day Soundtrack
Label: Sony