NEW!

Corner & Top 10


Concert Calendar
& Mailbag


Comprehensive Index


New CD Reviews


Index to Artist Guides
NEW!


Best of 2016


Top 100 Countdown:
21st Century Southern Soul Artists


Top 100
Southern Soul Songs
21st Century Countdown
(00's – 10's)


Top 100
Southern Soul Artists
(90's - 00's)


Top 100
Southern Soul Songs
(90's – 00's)


Forerunners of
Southern Soul
Southern Soul CD's, MP3's
Best of Pages
About the Music
About Us
Links
Home


Sample or Buy



From artists, their familes, friends and fans. . .





From Daddy B. Nice's archives. . .





Over 100 Southern Soul drawings. . .





Original Daddy B. Nice sketches. . .





All caricatures and satirical renderings are untitled. . .





It's a little piece of history. . .





Who want a keepsake, memento or souvenir. . .





To commemorate their time. . .





In the Southern Soul limelight.





Browse through all the Southern Soul satirical sketches in Daddy B. Nice's archives.





Browse through all the Southern Soul sketches in Daddy B. Nice's archives.





Browse through all the Southern Soul collectibles in Daddy B. Nice's Southern Soul Products Store. . .





"No Bootleg Baby"
Little Kim Stewart
July 1, 2010: Daddy B. Nice highlights Mid-Decade Stars of Southern Soul

(Artists who flourished in the mid-years of the first decade of the 21st century.)

Little Kim Stewart's "No Bootleg Baby" was one of the best recordings in a veritable flood of deserving new releases from Southern Soul debut artists in 2004 and 2005. Some of the other female artists who might just as well have taken Little Kim Stewart's place in your Daddy B. Nice's Top 100 were Monique Ford, whose "Mr. Do Right," "Work That Body" and "Another Lonely Night," recall LaKeisha; Tazz, or Theresa Calhoun ("Stroke It Easy" and "Broke Down Man") and Nellie "Tiger" Travis ("You Gone Make Me Cheat" and "If I Bag It Up"), who both give evidence of being artists with the "tough-lady" potential of Peggy Scott-Adams; Elfrieda Upshaw, whose "Sneak In The Night" shared Southern Soul chart positions with Little Kim Stewart's "No Bootleg Baby" in 2005; not to mention Lijuana, whose out-of-nowhere radio single "Wasn't None Of You" wedded a great melodic groove to a great, gritty, talking monologue in a way that recalled vintage Shirley Brown.

But Little Kim Stewart may be the most intriguing of these new artists. She can sustain notes with a girlish-but-streetwise tone that presses all the pleasure buttons. In her blend of innocence and resilience, she resembles the late, young Jackie Neal, and in her girlish charm she reminds one of the girl groups of yesteryear: Essex ("Easier Said Than Done"), the Chiffons ("He's So Fine"), and the Supremes ("Some Day We'll Be Together").

Moreover, judged purely as a song, "No Bootleg Baby" is worthy of early Lennon-McCartney or Goffin-King (whose songwriting powered many of those girl groups). It's as perfect yet unassuming as an egg. Verse and chorus, nothing fancy, which makes the song's longevity--the better part of a year on chitlin' circuit radio charts--all the more remarkable.

"My man bought me a brand new car.
Said it would take me very far.
Soon as I drove it around town,
You know, that car put me down.

Now I don't mind being in love with a man,
As long as that love is real.
No bootleg, baby."

There's more than a bit of masculinity in Little Kim's pubescent vocals, as there is in all of the harder-edged blues divas. You can imagine her singing with a stage mustache or a top hat, like Marlene Dietrich in a German cabaret, which is not to say Little Kim is not a red-blooded American woman.

It's just that her emotional range comes so naturally, so easily. When Little Kim gets nasty, she hints at reservoirs of untapped aggression. And what man of modest means doesn't get a little uncomfortable about the situation with his own woman when he hears Little Kim sing:

"My man wanted to marry me.
He said he bought me a diamond ring.
The diamond ring didn't shine too bright,
Soon as I held it up to the light."

"No Bootleg Baby" is a classically simple song sung with complete ease and authenticity, and it is by no means the only good cut on Little Kim Stewart's debut CD (Bootleg Baby, Hep'Me) or her follow-up effort (You Give Me Good Loving, Hep'Me).

Despite its socially-correct-sounding title, "Family Man" is a very sexy song. It's all about Little Kim's needs, and she needs that "family man" in order to satisfy them. The chorus is stupendous. The chord change sounds like a bridge--and a good one at that--but it's the chorus and thus we get to hear it again and again.

"Southern Soul Woman" (with an accomplished vocal by Little Kim) has amazing lyrics for this day and age:

"Stayed up late last night,
And made sure everything was all right,
Because you need clean underwear
And your uniform ready to wear.

Some call me an old-fashioned girl,
Because I put away my pride
For the man that I love.
Southern Soul hospitality--
I can't get beyond the way
My mama raised me to be."

Even if you disdain the old-fashioned sentiments, Little Kim can bring tears to your eyes before she's done. It's apparent that for the woman singing this song, the "Southern Soul" lifestyle is the epitome of spiritual peace.

"Southern soul woman,
The backbone of the family,
A tender woman,
Giving him just what he needs."

"Southern Soul Woman" challenges the prevailing view of feminine fulfillment and does so precisely because it sounds so comfortable and ordinary. When Little Kim sings, "I got the collard greens on the way," it takes on a nirvana-like level of well-being.

Conversely, "Take That Man To Court" finds Little Kim playing the modern-day woman, and doing it with all the fervor of a young woman for whom betrayal is a new experience. The song's heroine absorbs enough emotional pain to justify serious vengeance, and Stewart takes up the sword with relish.

"I'm going to take that man to court.
I'm going to get my child support.
I'm going to get all my respect.
I'm going to take that paycheck."

Little Kim's talent shimmers on the song's equally pleasing bridge. Her vocal takes wing and soars, maintaining all its young innocence and faux-toughness while unfurling a romantic vision:

"Tell the world
That I'm a single girl.
I'm finally free
From all your misery."

--Daddy B. Nice
About Little Kim Stewart
Not to be confused with the rapper Lil' Kim or tabloid celebrity Kimberly Stewart, Little Kim Stewart joined the ranks of Southern Soul artists in November 2004 (actually a little before) with the release of the radio single, "No Bootleg Baby," from the CD Bootleg Baby (Hep'Me). You Give Me Good Loving followed on the same label in 2005.

Little Kim's songs caught on with Southern Soul deejays and audiences. Of special note in terms of air play were "Southern Soul Woman," "Take That Man To Court," "Give It Up," "Family Man" and "You Give Me Good Loving."

Little Kim Stewart was a headliner along with Monique Ford, one her peers (who also debuted in 2004) at a Southern Soul concert held at Tri-County Park in Pickens, Mississippi on September 10, 2005. Stewart also headlined at the 42nd annual Medgar Evers and B.B. King Homecoming And Blues Weekend in the summer of 2005.

Song's Transcendent Moment
"I don't mind being in love with a man,
As long as love is real.
Don't bootleg, baby."
Tidbits
1. The following announcement was heard over chitlin' circuit radio stations in August of 2005:

"Hi, this is Little Kim Stewart from Hep'me Records with the hit song 'Bootleg'. This song speaks for itself. Please don't support bootleggers. It's against the law, and it hurts the artists' careers, our families and our communities. So remember. Don't bootleg, baby. Because when you steal our music, you steal our future. Thank you."

2. 3/2/06. Currently, your D.B.N.'s favorite Little Kim Stewart song is "Be My Lady," which contains new things to like each time it comes over the radio. The back-up vocals conjure vintage late-fifties and early-sixties girl groups, just like "Bootleg Baby" did--yumm!--and the Stewart vocal is even more of a marvel than "Bootleg's." Little Kim has a way of talking her way through a song, but it's not really talking, it's sophisticated singing, and just when you begin to believe it is the kind of talk that you or I could manufacture, Little Kim tosses out a breathtaking vocal phrase worthy of Ella Fitzgerald.

3. September 23, 2007. Up and down. Night and day. Hot and cold. Yin and yang. Opposites make the world go around. And just as your Daddy B. Nice recently wrote that Senator Jones' stable of Southern Soul artists has been a welcome counterweight to the hiphop trend in Southern Soul music, Little Kim Stewart concocts a new Senator Jones-produced CD that is surely the most hiphop-permeated disc to come out of rural Mississippi's Cox's Ferry Road.

The title cut, "Southern Soul Slide," in no less than three mixes, is Ms. Stewart's version of the Dirty South dance anthem.

"Come On Go To Whitehall" is an interesting cut, showcasing Little Kim's vocal prowess and personality. These songs and the balance of the album breathe the air of pure hiphop. As Ripley used to say: Believe It Or Not. DBN

(9/27/07 Note: A few days' of listening to Little Kim Stewart's "Southern Soul Slide" requires me to amend the statement that the album is all hiphop. If you examine Kim's vocal--the "Teach you, teach you, teach you" phrase, for instance--you'll see that she's bringing hiphop techniques (which surprised me at first) to her rendering, but "Southern Soul Slide" is a pop song in the finest Southern Soul tradition. Look for it in Daddy B. Nice's upcoming Top Ten Breaking Singles for Octorber 2007. DBN)





If You Liked. . . You'll Love
If you liked "He's A Rebel" by The Crystals, you'll find something to like in Little Kim Stewart's "No Bootleg Baby."
Honorary "B" Side
"Southern Soul Woman"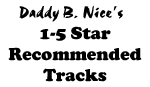 No Bootleg Baby


CD: Bootleg Baby
Label: Hot


Sample or Buy
Bootleg Baby








Southern Soul Woman


CD: Bootleg Baby
Label: Hep'Me


Sample or Buy
Bootleg Baby








Family Man


CD: You Give Me Good Loving
Label: Hep'Me









Be My Lady


CD: You Give Me Good Loving
Label: Hep'Me









Keep The Man I've Got


CD: Bootleg Baby
Label: Hep'Me


Sample or Buy
Bootleg Baby







Southern Soul Slide


CD: Southern Soul Slide
Label: Senator Jones









You Give Me Good Loving


CD: You Give Me Good Loving
Label: Hep'Me








Do Me Like You Do


CD: Bootleg Baby
Label: Hep'Me


Sample or Buy
Bootleg Baby






Give It Up


CD: You Give Me Good Loving
Label: Hep'Me