NEW!

Corner & Top 10


Concert Calendar
& Mailbag


Comprehensive Index


New CD Reviews


Index to Artist Guides
NEW!


Best of 2016


Top 100 Countdown:
21st Century Southern Soul Artists


Top 100
Southern Soul Songs
21st Century Countdown
(00's – 10's)


Top 100
Southern Soul Artists
(90's - 00's)


Top 100
Southern Soul Songs
(90's – 00's)


Forerunners of
Southern Soul
Southern Soul CD's, MP3's
Best of Pages
About the Music
About Us
Links
Home


Sample or Buy



From artists, their familes, friends and fans. . .





From Daddy B. Nice's archives. . .





Over 100 Southern Soul drawings. . .





Original Daddy B. Nice sketches. . .





All caricatures and satirical renderings are untitled. . .





It's a little piece of history. . .





Who want a keepsake, memento or souvenir. . .





To commemorate their time. . .





In the Southern Soul limelight.





Browse through all the Southern Soul satirical sketches in Daddy B. Nice's archives.





Browse through all the Southern Soul sketches in Daddy B. Nice's archives.





Browse through all the Southern Soul collectibles in Daddy B. Nice's Southern Soul Products Store. . .





"What Do You Do When You Love Somebody"
Little Milton
Composed by Bob Johnson & Sam Mosley
January 1, 2011 FEATURED ARTISTS:

Fallen Giants of Southern Soul Music (2000-2010)

**************************

See "Tidbits" below for the latest updates on Little Milton, including Daddy B. Nice's "Happy Birthday Little Milton" tribute from September 2010 (Tidbit #3).

To automatically link to Little Milton's charted radio singles, awards, CD's and many other references on the website, go to "Little Milton" in Daddy B. Nice's Comprehensive Index.

*****************

Daddy B. Nice's Original Critique:

One of the hardest things for a newcomer to get a handle on is the relationship of Southern Soul-style rhythm and blues to traditional blues. In my meanderings around the Delta through the years, I've come to the conclusion that every radio station and every deejay has a distinctive approach.

All Southern disc jockeys, however, would agree that Southern Soul does refer to a genre distinct from straight-ahead blues. Southern Soul descends from the classic R&B of the sixties (which, in addition to Motown, Philly, Memphis, and Chicago-style rhythm and blues includes rock, country, pop, and many other influences) while the "blues," of course, traces its roots through a decidedly narrower lineage of blues musicians.

The frustration of those of us who are spreading the gospel of the "new" rhythm and blues stems from the fact that the marketplace as reflected in "Billboard's" blues charts reflects only traditional blues. It's not the fault of the charts. Traditional blues is the only music the majority of the music-buying public associates with the genre, or even knows exists.

Naturally, this engenders a "circle-the-wagons" mentality on the part of Deep South deejays and station managers. They're naturally protective of the emerging Southern Soul scene, and they understand that frequent radio airplay is the "nourishment" the genre needs to grow.

When your Daddy B. Nice drives north to Memphis or southwest to New Orleans from the epi-center of the music in central Mississippi, he always does so with a certain regret because he knows that the magical and still-tenuous world of Southern Soul will begin to dissolve on his radio air waves, and that the more traditional blues legacies of Memphis and New Orleans will begin to take over--take over, at least, any "alternative" spots not already monopolized by commercial R&B.

But Southern Soul deejays do insert straight-ahead blues into their rotations. After all, who knows better than black deejays the significance of the blues? So you'll hear O.V. Wright's "A Nickel And A Nail." You'll hear B.B. King's "I Paid The Cost To Be The Boss." King, by the way, still comes back to his hometown, Indianola, Mississippi, for a celebration that annually embraces the current headliners of Southern Soul. And finally, you'll hear Little Milton.

Little Milton has been around for ages, and every sweet drop of that experience is distilled into "I Could Have Saved Our Love" (from the CD Guitar Man, Malaco 2002). "Guitar Man," the title track from the album, is perhaps the more well-known of the disc's top two radio singles. Written by the well-versed Southern Soul songwriter Harrison Calloway and the writer/performer Rue Davis , "Guitar Man" is in fact a long-deserved self-coronation of Little Milton, rendered in a fashion as natural and un-self-conscious as the tribute is overdue.

"I was born in Mississippi,
Raised in Leland-Greenville."

For those unfamiliar with the geography of the blues, Little Milton is talking about the birthplace and heart of blues country, Highway 82, the bottom of a fertile musical triangle extending north only to about Clarksdale, Ms. and Helena, Arkansas. More blues artists, past and present, have been born in this flat patch of hardscrabble river country than any other dozen similar areas of the country combined.

"I went to church on Sundays,
'Cause that was the golden rule.
And when I got older,
I bought me a guitar,
And learned how to play the blues."

When Little Milton's singing morphs into a rebel yell at the end of the verse, it's something to be reverenced. It's like watching a Derby-winning thoroughbred at the peak of its powers.

"And as I drove away they were waving,
And--you know--I waved back.
And all of a sudden I heard them scream,
'Play the blues, you guitar man.'"

"I Could Have Saved Our Love" showcases Little Milton's ability to deliver an achingly beautiful ballad. Indeed, Milton's history of slow jams is as storied as Bobby "Blue" Bland's or Johnnie Taylor's. "That's How Strong My Love Is," "Can't Hold Back The Tears," "Blind Man," "Walking The Back Streets And Crying," "Behind Closed Doors," and the blues opus "Eight Men, Four Women" are just a few of the many slow hits Little Milton has recorded throughout his career.

Southern Soul fans may embrace Little Milton more readily than other blues artists because he is more than just a guitar-based bluesman. Milton is a vocalist of the first order, and he has never surpassed the sensitivity or the life-wisdom poured into the atmospheric, keyboard-dominated arrangement of "I Could Have Saved Our Love."

"Instead of breathing life into our love,
Like a fool, I let it lay there and choke.

I should have seen those warning signs,
That her love for me was slowly dying.

I could have saved our love."

The words, composed by venerable chitlin' circuit songwriter George Jackson (who also wrote Little Milton's "Strugglin' Lady") are sung by Little Milton with unblinking simplicity.

Fellows, if you got a woman
That's trying to be true,
Take my advice,
You'd better treat her right.
Don't do her wrong,
Before she leaves you."

Southern Soul is so replete with references to cheating, freaking, creeping and partying that it's easy to forget the genre also has a moral compass: love, the need for love, the supremacy of love. Actually, what gives the juke joint hits their latent edge are the lighter, sweeter rays-of-sunshine moments of conventional domestic life--fidelity and monogamous bliss--against which the cheatin' and freakin' play out.

In the summer of 2005, two or three years after I had written the above review, I heard a Little Milton song called "What Do You Do When You Love Somebody". Little Milton was still alive, playing and touring, and I thought he had put out another great hit. It had all the ingredients of "I Could Have Saved Our Love," with the added virtue of sounding completely fresh:

"Do you keep holding on
Until the thrill is gone?

Do you start looking
For a brand new home?

Do you walk around
With your head hung down?

Or just face the fact
they don't want you around?

What do you do
When you love somebody

And you know deep down,
That they don't love you?"

Written by Bob Johnson and Sam Mosley (yes, he's related to Stan), this meditative lyric--chock full of emotional resonance--graced a masterful musical framework. The melody was beautiful enough to be called "pop" or "world music" or whatever label you ascribe the best music in the whole world to. This was--simply put--great music.

In other words, Little Milton in the stroke of a song took all of the distinctions between the "blues" and "Southern Soul" which your Daddy B. Nice went to so much trouble to formulate and made them sound superfluous. "What Do You Do When You Love Somebody" has gradually replaced "I Could Have Saved Our Love" as your Daddy B. Nice's personal favorite. And, as it turned out, the song wasn't new. It just happened that two of my favorite deejay's (WMPR's DJ Ragman and DJ Handyman in Jackson, Mississippi) kept playing the song in 2005 and 2006. They loved it too.

Like "I Could Have Saved Our Love" and a host of other Little Milton ballads, "What Do You Do When You Love Somebody" (from the Cheatin' Habit CD, 1996, Malaco) hits the moral base of everyday life with perfect pitch and balance. It's simultaneously humble and brilliant.

--Daddy B. Nice
About Little Milton
James Milton Campbell was born in 1934 in Inverness, Ms. and grew up in Greenville. His father, known as "Big Milton," was a farmer and a local blues musician, and by the time he was 15, Little Milton was performing in area clubs. He was "discovered" by Ike Turner, who recommended him to Sun Records' Sam Phillips, and by the time he was twenty, Little Milton had already made a series of recordings at Elvis' label.

Little Milton moved to St. Louis in the late fifties and put out some fledgling efforts before hooking up with renowned Chess Records for a series of sixties' R&B classics: "Grits Ain't Groceries," "We're Gonna Make It," "Baby I Love You" and others.

Milton went to Stax in the seventies and recorded another series of hits ("Walkin' The Back Streets And Cryin'," etc.) until that label's demise in 1975. A few lean years at last led to Malaco Records in Jackson, where he joined such artists as Johnnie Taylor, Denise LaSalle and Z.Z. Hill in what would become the cradle of the new Southern Soul. Since then, Little Milton's output has been staggering in quality and regularity.

He won the W.C. Handy Award for best blues musician in 1988, but if people thought he would walk into the sunset they were mistaken. He not only has continued to put out strong material in the nineties--Live at Westville Prison, Who's Cheatin' Who, I'm A Gambler, to name only a few--but is still going strong in the 21st century, as attested to by the tender "I Could Have Saved Our Love" and the radio-ubiquitous "Guitar Man," which was still receiving radio rotation in the Deep South more than a year after its 2002 release.

****************************

Little Milton Discography:

1965 We're Gonna Make It (Chess)

1968 Little Milton Sings Big Blues (Chess)

1970 If Walls Could Talk (MCA/Chess)

1972 Grits Ain't Groceries [Live] (Stax)

1973 Waiting for Little Milton (Stax)

1973 What It Is (Stax)

1974 Blues 'N Soul (Stax)

1974 Montreux Festival [Live] (Stax)

1975 Tin Pan Alley (Stax)

1976 Friend of Mine (Collectables)

1981 Walkin' the Back Streets (Stax)

1982 The Blues Is Alright (Evidence)

1983 Age Ain't Nothin' But a Number (Mobile Fidelity)

1984 Playing for Keeps (Malaco)

1987 Annie Mae's Cafe (Malaco)

1987 Movin' to the Country (Malaco)

1988 Back to Back (Malaco)

1988 I Will Survive (Malaco)

1989 Live (Passport)

1990 Too Much Pain (Malaco)

1992 Who's Cheating Who (Sound Solutions)

1992 Strugglin' Lady (Malaco)

1994 I'm a Gambler (Malaco)

1995 Live at Westville Prison (Delmark)

1996 Cheatin' Habit (Malaco)

1997 Count the Days (601/Malaco)

1997 Greatest Hits (Chess 50th Anniversary Collection) (Chess)

1998 For Real (Malaco)

1999 Welcome to Little Milton (Malaco)

199 Reality (Malaco)

2001 Feel It (Malaco)

2002 Guitar Man (Malaco)

2004 Blues Is Alright: Live at Kalamazoo (Varese)

2005 Think of Me (Telarc)

2006 Stax Profiles: Little Milton (Stax)

2007 Very Best Of Little Milton (Stax)
Song's Transcendent Moment
"'I beg you baby, please don't leave me.'
It was a little too late.

Wished I had started earlier, baby.
Trying to be straight."

Tidbits
1.

Pre-Obit

July 29, 2005. DJ Ragman announces on WMPR that Little Milton has suffered a stroke and is hospitalized in Memphis. "It sounds pretty bad," Ragman says. As with Tyrone Davis not so long ago, this is a reminder of how quickly our favorite performers can be laid low.

2.

Obituary

August 4, 2005. Soul Heaven Update: Little Milton died today. Here is the excerpt put out by Jackson, Mississippi's WMPR:

"It is with great sadness that we here at WMPR mark the passing of a giant in the Blues Industry. Little Milton Campbell passed this morning in Memphis, TN. As many of you already are aware, Milton suffered a stroke recently and lapsed into a coma from which he never recovered. . . He will be cremated according to his wishes. . . Also according to Mr. Campbell's wishes, fans and friends are asked NOT to send flowers but to make donations in the name of Mr. Campbell to The St. Jude's Children's Hospital."

3.

September 1, 2010:

HAPPY BIRTHDAY LITTLE MILTON

Little Milton Campbell's birthday is celebrated this month. He was born September 7, 1934, in the small Delta town of Inverness, Mississippi, and grew up in Greenville, the storied city on the banks of the Mississippi, and he died on August 5, 2004, leaving a legacy equalled only by such blues and R&B greats as B. B. King, Albert King and Bobby "Blue" Bland.

In honor of Little Milton's birthday I've added more songs to the "Recommended Tracks" section of this Little Milton Artist Guide, including such collector "must-haves" as "Poke Salad Annie," one of Milton's finest uptempo tunes from I'm A Gambler, and the impeccably-executed ballad "I Was Trying Not To Break Down," from arguably Milton's best compilation, Little Milton's Greatest Hits (Malaco) CD, originally recorded on the Back To Back CD (Malaco, 1988.

Many of the newly-added songs are now available as MP3's. In addition, two just-added Stax compilations feature Little Milton's early work, recommended for purists and the historically-minded. They are:

Stax Profiles CD, MP3's (Stax, 2006)

and. . .

The Very Best Of Little Milton CD, MP3's (Stax, 2007)

Little Milton's finest work in the Southern Soul genre, however, remains his recordings at Malaco Records in Jackson, Mississippi in the last decade and a half of his life, including the other-worldly ballads for which he will always be renowned: "I Could Have Saved Our Love," "I Was Trying Not To Break Down" and "What Do You Do When You Love Somebody."

--Daddy B. Nice

*****************



If You Liked. . . You'll Love
If you love Bobby "Blue" Bland's version of "What A Wonderful World," you'll love Little Milton's "What Do You Do When You Love Somebody."
Honorary "B" Side
"Guitar Man"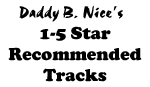 What Do You Do When You Love Somebody


CD: Cheatin' Habit
Label: Malaco











Guitar Man


CD: Guitar Man
Label: Malaco











I Could Have Saved Our Love


CD: Guitar Man
Label: Malaco











I Was Trying Not To Break Down


CD: Greatest Hits (Malaco)
Label: Malaco











You Were On The Right Street


CD: Guitar Man
Label: Malaco










Eight Men, Four Women


CD: Live At Westville Prison
Label: Delmark










Poke Salad Annie


CD: I'm A Gambler
Label: Malaco


Sample or Buy
I'm A Gambler








Strugglin' Lady


CD: Greatest Hits (Malaco)
Label: Malaco









Blind Man


CD: What It Is
Label: Stax









Come Back Kind Of Love


CD: Very Best Of Little Milton
Label: Stax









Let Me Down Easy


CD: Stax Profiles
Label: Stax


Sample or Buy
Stax Profiles







That's How Strong My Love Is


CD: Live At Westville Prison
Label: Delmark









The Blues Is Alright


CD: The Blues Is Alright
Label: Evidence









Think Of Me (Thinking Of You)


CD: Think Of Me
Label: Telarc









This Time They Told The Truth


CD: Cheatin' Habit
Label: Malaco









Walkin' The Back Streets And Crying


CD: The Blues Is Alright








Grits Ain't Groceries


CD: Greatest Hits (Chess Collection)
Label: Chess








I Feel So Bad


CD: Greatest Hits (Chess Collection)
Label: Chess