NEW!

Corner & Top 10


Concert Calendar
& Mailbag


Comprehensive Index


New CD Reviews


Index to Artist Guides
NEW!


Best of 2017


Top 100 Countdown:
21st Century Southern Soul Artists


Top 100
Southern Soul Songs
21st Century Countdown
(00's – 10's)


Top 100
Southern Soul Artists
(90's - 00's)


Top 100
Southern Soul Songs
(90's – 00's)


Forerunners of
Southern Soul
Southern Soul CD's, MP3's
Best of Pages
About the Music
About Us
Links
Home


Sample or Buy



From artists, their familes, friends and fans. . .





From Daddy B. Nice's archives. . .





Over 100 Southern Soul drawings. . .





Original Daddy B. Nice sketches. . .





All caricatures and satirical renderings are untitled. . .





It's a little piece of history. . .





Who want a keepsake, memento or souvenir. . .





To commemorate their time. . .





In the Southern Soul limelight.





Browse through all the Southern Soul satirical sketches in Daddy B. Nice's archives.





Browse through all the Southern Soul sketches in Daddy B. Nice's archives.





Browse through all the Southern Soul collectibles in Daddy B. Nice's Southern Soul Products Store. . .





"Only Time I Get Lonely"
Stephanie Pickett
Composed by Joyce Coffman, Dylann DeAnna & Carl Marshall
At her best, Stephanie Pickett conjures a formidable vocal presence, vibrating with emotional and even spiritual energy. Her finest song, "The Only Time I Get Lonely," honors a pedigree dating back to the pop-slash-soul of sixties' Motown and the hits written by Holland, Dozier & Holland, and the vocals of such larger-than-life singers as the Four Tops' Levi Stubs.

Most of all, the song adheres to what longtime music critic Dave Marsh calls the "cardinal virtues of bass, drums, percussion and gospel piano" promulgated by Motown's Berry Gordy.

Pickett's voice has a clarity and power not often heard even in vocalist-rich Southern Soul rhythm and blues.

Stephanie's first album, Finally Made It, neglected this signature strength and buried it for the most part in a number of quasi-urban R&B tracks, the most successful of which, "Run'N," transcended its smooth-R&B trappings in a legitimate shot at Carl Sims-like operatic soul.

Listen to Stephanie Pickett singing "Run'N" on YouTube while you read.

But even "Run'N" was uneven, its anthemic and full-bodied chorus undermined by weak prologue stanzas.

Ironically, the one track on Finally Made it that featured Stephanie Pickett's high-definition vocal power to best effect was also Pickett's least characteristic material: a melody-less, minimalist funk exercise written and produced by Carl Marshall called "Family Man."

This ersatz novelty tune features lyrics like:

"My mama looks good,
But she won't be no man's fool.
I don't need a man
Trying to sex up my mama, too.

I can't trust him around my grandma.
He pretends he truly respects her.
But I know if I turn my back,
He'll commit a sexual act.

He wants to sleep with me,
My sister, my mother, my cousin.
He wants to sleep with my whole family.

I'm talking about that low-down family man.
Not the kind that provides for his family."

The arrangement of "Family Man" required Pickett to deliver a rap-tinged, near-acapella vocal that amply illustrated how much force she could pack into four minutes, and it was this Tina Turner-like power that came to full fruition on the much more musically-rich "Only Time I Get Lonely."

Once again, Pickett chose a song perfectly suited for the chitlin' circuit, but one (in contrast with "Family Man") that possessed a truly memorable hook.

"I went out to this club
On the weekend,
Just to let my hair down
And have a little fun.

This young man walked up to me
And said, 'Stephanie P.,
You look like you're lonely
And you need some love.'

This is what I told him.

'The only time I get lonely
Is when it's time to pay the bills.'"

Listen to Stephanie Pickett singing "Only Time I Get Lonely" Live on YouTube while you read.

"The Only Time I Get Lonely" is one of those rare uptempo songs that singers despair of finding and recording. The track features what Billy "Soul" Bonds calls the "sock-it, sock-it" factor. It has real substance. Melody, rhythm track, vocal and arrangement--check, check, check, and check--and yet it has the simplicity of an old-fashioned roadside billboard.

The last stanza drops much of the background instrumentation and highlights Stephanie singing solo over hand-claps in a virtuosic acapella before rolling over into its bass-driven hook and chorus--

"The only time I get lonely
Is when it's time to pay the bills."

"The Only Time I Get Lonely" is the first single from A Woman's Soul (2011, Aviara), Stephanie Pickett's sophomore CD.

Listent to samples or buy MP3's of A Woman's Soul on I-Tunes.

--Daddy B. Nice
About Stephanie Pickett
Stephanie Hill was born on March 19, 1967 in Montgomery, Alabama. She gained the name Pickett when she married a Prattville, Alabama nephew of Wilson Pickett, Willie Pickett.

Stephanie sang in Montgomery school and church choirs as well as at Alabama State University, where she majored in music and vocals, before her professional career blossomed in 1992 as a back-up singer for Ronnie Lovejoy, who grew up in Wetumpka, just sixty miles north of Montgomery.

In the mid-nineties Pickett joined an Alabama rhythm and blues group named the Style Band as the female lead vocalist. The members were Melvin Spencer (bass, guitar), Richard Spencer (lead guitar), Perry Spencer (drums), Reginald Phillips (sax), Kent Hill (lead guitar) and Antonio Goldson (keys).

Pickett remained with the band for fourteen years. In 2008 a friend named Robert Moody became her informal manager and sent some demos to Dylann DeAnna (CDS Records), leading to her first record contract and solo album, Finally Made It (Aviara, 2009).

Much of the material was recorded in Montgomery, Alabama, using many of Pickett's current bandmates from the newly configured and named N-Style Band: Jeffrey Singleton (male vocalist), Kent Hill (lead guitar), Jesse Knight (lead guitar), Charlie Porter (keys), Arnold Henderson (sax), Michael Johnson (bass guitar) and Durrell Ellis (drums). Pickett performed both lead and background vocals.

Pickett composed and Melvin Spencer (along with Richard Spencer and Terrence Baldwin from the old Style Band) arranged the bulk of the tracks from Finally Made It, including the showcase song, "Run'N," not to mention "Still Want You Baby," "Let's Get It Together," and "Love Me Right."

Roosevelt Bradley (with three tracks), Carl Marshall (with the tune "Family Man") and Atlantan Charles Harmon (with the cabaret ballad "Stay With Me") filled out the disc.

In 2010 Pickett released a well-received Southern Soul single entitled "(The) Only Time I Get Lonely," an uptempo dance tune, and the album containing the single appeared the following year: A Woman's Soul (2011, Aviara).

The same year (2011), Stephanie Pickett won the Jus' Blues Music Foundation Award for New Female Southern Soul Artist of the Year. She had previously (in 2009) won a Best New Southern Soul Artist in Blues Critic's Readers' Poll.
If You Liked. . . You'll Love
If you liked The Four Tops' "I Can't Help Myself (Sugar Pie, Honey Bunch)," you'll love Stephanie Pickett's "Only Time I Get Lonely."



EDITOR'S NOTE

Over the last year I've been dropping hints to the younger musicians.

"Be watching because there's going to be something coming on the site that'll be a real blessing for the younger people."

And I've also been telling a lot of deserving new artists to bide their time, that their day to be featured in a Daddy B. Nice Artist Guide was coming, and long overdue.

Now, at last, the day has come.

The great Southern Soul stars are mostly gone. There's a new generation clamoring to be heard.

Rather than waiting years to go online as I did with the original Top 100, this chart will be a work-in-progress.

Each month five new and never-before-featured artists will be showcased, starting at #100 and counting down to #1.

I estimate 50-75 new Artist Guides will be created by the time I finish. The other 25-50 Guides will feature artists from the old chart who are holding their own or scaling the peaks in the 21st Century.

Absent will be the masters who have wandered off to Soul Heaven. And missing will be the older artists who for one reason or another have slowed down, become inactive or left the scene.

The older generation's contributions to Southern Soul music, however, will not be forgotten.

That is why it was so important to your Daddy B. Nice to maintain the integrity of the original Top 100 and not continue updating it indefinitely.

(Daddy B. Nice's original Top 100 Southern Soul covered the period from 1990-2010. Daddy B. Nice's new 21st Century Southern Soul will cover the period from 2000-2020.)

When I constructed the first chart, I wanted to preserve a piece of musical history. I heard a cultural phenomenon I was afraid might be lost forever unless I wrote about it.

There will be no more changes to the original chart. Those performers' place in Southern Soul music will stand.

But I see a new scene today, a scene just as starved for publicity and definition, a scene missing only a mirror to reflect back its reality.

The prospect of a grueling schedule of five new artist pages a month will be daunting, and I hope readers will bear with me as I gradually fill out what may seem at first inadequate Artist Guides.

Information from readers will always be welcome. That's how I learn. That's how I add to the data.

I'm excited to get started. I have been thinking about this for a long time. I've already done the bulk of the drawings.

In a funny way, the most rewarding thing has been getting back to doing the drawings, and imagining what recording artists are going to feel like when they see their mugs in a black and white cartoon. Hopefully----high! An artist hasn't really "made it" until he or she's been caricatured by Daddy B. Nice.

In the beginning months, the suspense will be in what new stars make the chart. In the final months, the suspense will be in who amongst the big dogs and the new stars is in the top twenty, the top ten, and finally. . . the top spot.

I'm not tellin'.

Not yet.

--Daddy B. Nice

Go to Top 100 Countdown: 21st Century Southern Soul
Honorary "B" Side
"Run'n"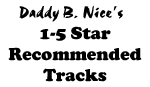 Only Time I Get Lonely


CD: A Woman's Soul
Label: Aviara










Run'n


CD: Finally Made It
Label: Aviara










Can't Get You Off My Mind


CD: Finally Made It
Label: Aviara










Family Man


CD: Finally Made It
Label: Aviara









Lie To Me


CD: A Woman's Soul
Label: Aviara









Stay With Me


CD: Finally Made It
Label: Aviara









We're Going To Swing Out


CD: A Woman's Soul
Label: Aviara








I'm Taking My Man Back


CD: A Woman's Soul
Label: Aviara








When Will You Leave Her


CD: A Woman's Soul
Label: Aviara