NEW!

Corner & Top 10


Concert Calendar
& Mailbag


Comprehensive Index


New CD Reviews


Index to Artist Guides
NEW!


Best of 2017


Top 100 Countdown:
21st Century Southern Soul Artists


Top 100
Southern Soul Songs
21st Century Countdown
(00's – 10's)


Top 100
Southern Soul Artists
(90's - 00's)


Top 100
Southern Soul Songs
(90's – 00's)


Forerunners of
Southern Soul
Southern Soul CD's, MP3's
Best of Pages
About the Music
About Us
Links
Home


Sample or Buy



From artists, their familes, friends and fans. . .





From Daddy B. Nice's archives. . .





Over 100 Southern Soul drawings. . .





Original Daddy B. Nice sketches. . .





All caricatures and satirical renderings are untitled. . .





It's a little piece of history. . .





Who want a keepsake, memento or souvenir. . .





To commemorate their time. . .





In the Southern Soul limelight.





Browse through all the Southern Soul satirical sketches in Daddy B. Nice's archives.





Browse through all the Southern Soul sketches in Daddy B. Nice's archives.





Browse through all the Southern Soul collectibles in Daddy B. Nice's Southern Soul Products Store. . .





"Love Under Arrest"
Lil Fallay
No one who followed gritty Southern Louisiana's local juke joint good-times purveyor Lil' Fallay from his modest beginnings in 2001 through the new century's first decade could have been faulted for relegating the artist to the modest expectations of a regional journeyman.

Hole-in-the-wall dance ditties like "Swing It" and "Can I Dance With You" and--later--even the fizzy "Zydefunk Slide" were rollicking good fun on the bayou dance floors but fairly unimpressive on record, indistinguishable from serviceable club music in many other regions of the country.

And yet, there were hints of a greater artist growing and building underneath the surface even then: in the musicality and accomplished balance of "Can I Dance With You's" arrangement, and in the exhilarating choruses and progressive, two-part structure of "Zydefunk Slide."

But nobody could have anticipated the quantum leap in artistry behind Lil' Fallay's triumphant single, "Love Under Arrest" in 2009, a song with the sophistication of the classic work of mainstream greats like Sam Cooke, Van Morrison, Al Green and Peter Gabriel.

Here was a song that over-achieved in every aspect: rhythm track, tempo, melody, arrangement and--last but not least--execution.

Listen to Lil' Fallay singing "Love Under Arrest" onYouTube while you read.

"Love Under Arrest" seemed to spring full-blown from some heavenly source of inspiration. With just a little stylistic difference, it might have originated in the British electronica and new wave of the eighties (Frankie Goes To Hollywood's "Relax"), or the charismatic early disco of the early seventies (the Bee Gee's "Staying Alive"), or--going back even further--the psychedelic rock and roll of the late sixties (It's A Beautiful Day's "White Bird").

Here was a song that had no identifiable roots, no discernible forbears, nothing to label it as zydeco or Southern Soul or funk or Lousiana-style club jam. Here was a song that burst out of nowhere, the way Michael Jackson's "Billy Jean" or the way Prince's "When The Dove Cries" exploded on the scene.

Lil' Fallay's young Louisiana counterpart Cupid may have garnered the six-figure record contract, but Lil' Fallay's "Love Under Arrest" was the finished song that really deserved the attention and affection of the country and the world.

Lil' Fallay begins the song with a voice-over intro with a percolating keyboard in the background and a one-of-a-kind, high-pitched accordion flourish.

"There she comes,
Pulling me over.
Same place, same time.
I can't help myself, y'all.
I keep coming back
For more and more and more."

The prelude is a perfect anticipatory mechanism, pregnant with promise, and the second it ends the drums and bass and horn section kick in. Another percussive line--an understated, monochromatic rhythm guitar--swings in with a half-way wild, barely-controlled line.

"Woooooo!" croons Lil' Fallay. The excitement is palpable.

"She's got that
Come-back kind of love--
The kind I find myself
Always thinking of.

She can lock me up
And throw away the keys.
If you had her goods,
You would be a fool like me."

Before two stanzas are negotiated, it's obvious the song is soul-gone-pop in the most dazzling sense, the sense of Jeff Floyd's "I Found Love (On A Lonely Highway)." And, just like Floyd's durable Southern Soul anthem, "Love Under Arrest" is all about falling in love with a wonderful woman.

"She's the kind
That takes full control
I'm giving her everything
My heart, body and soul.

My love
Under arrest.
My love
Under arrest.

My love
Under arrest.
My love,
My love, my love."

Fallay (pronounced "fall-ay") delivers a vocal that recalls Stevie Wonder at his best. His tenor has range to spare, and although the song doesn't require it, you can hear Fallay's ability to slide up into a falsetto (relegated to the exclamatory "Woooo's!") at any time.

More telling, Lil' Fallay's tone and timbre are as tight and focused as a knotted muscle, each note projected with a tough, hard lyricism that instantly connects with the listener.

And the lyrics just keep getting better and better:

"I don't know
How she does it,
But she's on top
Of every situation.

Creating a total
Body stimulation.
She can go
From zero to sixty
In no time flat.

Handcuffed to the bed
While I'm lying on my back
She graduated top
Of her class.
The moon, the skills.
Woooo....."

It makes you wonder what kind of sex education "classes" they have in the backwoods of Louisiana. It makes you want to take the first flight down and enroll.

Then that chorus kicks in--a veritable anthem to memorize and play in the mind all the day long. The strange-sounding, accordion-alarm sound with the extended fade pops in from time to time, always at the perfect intervals. Half of the song's enticement comes from these generous bells and whistles, perfectly placed, perfectly made.

The song ushers in a momentum-building bridge before lavishing an even more lushly-orchestrated chorus.

"Break it on down.
You can call it that
Ooo-la-la,
That magic,
That comeback
Kind of love."

This is part of a toned-down verse, heavy on the percussion, then the end arrives--quite as a surprise--with the extended alarm-bell sound as a coda. Few songs integrate so many aspects of an arrangement with such casual aplomb. Without ever sounding overblown, "Love Under Arrest" grabs hold of the spirit and invites the listener to soar with romance and hope.

--Daddy B. Nice
About Lil Fallay
Christopher J. Andrus, aka Lil' Fallay, grew up in Lafayette, Louisiana, half-way between Baton Rouge and Lake Charles in the southern part of the state. A firefighter by trade, Andrus adopted the performing name Lil' Fallay and recorded his first single, "Swing It," in 2000 and his first album, self-produced and published, Dreams Do Come True, in 2001.

It was quickly followed by Taste Me in 2002 and Back 2 Basics, produced by Philadelphia International Records' Charles Manns, in 2003.

In 2004 Lil' Fallay released one of the Southern Soul genre's first club-live dance videos showcasing "Can I Dance With You" from 2002's Taste Me CD, intent on capitalizing on the "swing out" dance style adopted on his many "swinging" songs, and helping to popularize the step in southern Louisiana. The same year, he released the CD Follow My Lead.

Two and a half years later, Fallay recorded his fifth album, Just For The Ladies, his most accomplished collection to date, with the singles "Zydefunk Slide," "One 4 The Ladies" and "They Trying To Stop The Party" gaining the artist greater exposure throughout the Deep South.

Strong Enough (A True Story), Lil' Fallay's most complete and successful set ever, followed in 2009. The album contained the Southern Soul hit single, "Love Under Arrest," which won Fallay fans far beyond the Louisiana borders, culminating in Fallay being awarded the "Best Southern Soul Artist Of The Year" honors by the Jus' Blues Foundation of Memphis, Tennessee.

Lil' Fallay's seventh album, Lucky #7, a set which brought together the music of Lil' Fallay and other south Louisiana performers, was published with little fanfare in 2010 and is available regionally through Floyd's Record Shop in Ville Platte, Louisiana or on their website.

Peruse Lil' Fallays albums in Daddy B. Nice's CD Store.


Tidbits
1.

December 26, 2011: Here are some YouTube videos for Lil' Fallay....

Listen to Lil' Fallay singing "Love Under Arrest" onYouTube.

Listen to Lil' Fallay singing "Zydefunk Slide" on YouTube.

Listen to Lil' Fallay singing "Can I Dance With You" on The Boogie Report.



If You Liked. . . You'll Love
If you liked Larry Milton's "Back In Love Again," you'll love Lil' Fallay's "Love Under Arrest."




EDITOR'S NOTE

Over the last year I've been dropping hints to the younger musicians.

"Be watching because there's going to be something coming on the site that'll be a real blessing for the younger people."

And I've also been telling a lot of deserving new artists to bide their time, that their day to be featured in a Daddy B. Nice Artist Guide was coming, and long overdue.

Now, at last, the day has come.

The great Southern Soul stars are mostly gone. There's a new generation clamoring to be heard.

Rather than waiting years to go online as I did with the original Top 100, this chart will be a work-in-progress.

Each month five new and never-before-featured artists will be showcased, starting at #100 and counting down to #1.

I estimate 50-75 new Artist Guides will be created by the time I finish. The other 25-50 Guides will feature artists from the old chart who are holding their own or scaling the peaks in the 21st Century.

Absent will be the masters who have wandered off to Soul Heaven. And missing will be the older artists who for one reason or another have slowed down, become inactive or left the scene.

The older generation's contributions to Southern Soul music, however, will not be forgotten.

That is why it was so important to your Daddy B. Nice to maintain the integrity of the original Top 100 and not continue updating it indefinitely.

(Daddy B. Nice's original Top 100 Southern Soul covered the period from 1990-2010. Daddy B. Nice's new 21st Century Southern Soul will cover the period from 2000-2020.)

When I constructed the first chart, I wanted to preserve a piece of musical history. I heard a cultural phenomenon I was afraid might be lost forever unless I wrote about it.

There will be no more changes to the original chart. Those performers' place in Southern Soul music will stand.

But I see a new scene today, a scene just as starved for publicity and definition, a scene missing only a mirror to reflect back its reality.

The prospect of a grueling schedule of five new artist pages a month will be daunting, and I hope readers will bear with me as I gradually fill out what may seem at first inadequate Artist Guides.

Information from readers will always be welcome. That's how I learn. That's how I add to the data.

I'm excited to get started. I have been thinking about this for a long time. I've already done the bulk of the drawings.

In a funny way, the most rewarding thing has been getting back to doing the drawings, and imagining what recording artists are going to feel like when they see their mugs in a black and white cartoon. Hopefully----high! An artist hasn't really "made it" until he or she's been caricatured by Daddy B. Nice.

In the beginning months, the suspense will be in what new stars make the chart. In the final months, the suspense will be in who amongst the big dogs and the new stars is in the top twenty, the top ten, and finally. . . the top spot.

I'm not tellin'.

Not yet.

--Daddy B. Nice

Go to Top 100 Countdown: 21st Century Southern Soul

Honorary "B" Side
"Zydefunk Slide"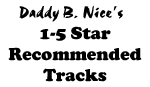 Love Under Arrest


CD: Strong Enough (A True Story)
Label: Hot Like Fire











Zydefunk Slide


CD: Just For The Ladies
Label: Hot Like Fire










Bone It Like You Own It


CD: Strong Enough (A True Story)
Label: Hot Like Fire










Good Night For Dancing


CD: Strong Enough (A True Story)
Label: Hot Like Fire










Just Won't Give In


CD: Taste Me
Label: Lil Fallay










Love Will Never Change (w/ Andre' Lee)


CD: Lucky #7
Label: Hot Like Fire










Monkey See Monkey Do


CD: Strong Enough (A True Story)
Label: Hot Like Fire










Strong Enouigh (A True Story)


CD: Strong Enough (A True Story)
Label: Hot Like Fire









Can I Dance With You


CD: Taste Me
Label: Lil Fallay









Don't Walk Away


CD: Follow My Lead
Label: Hot Like Fire


Sample or Buy
Follow My Lead







Eyes On The Prize (w/ Mel Waiters)


CD: Lucky #7
Label: Hot Like Fire









Nu Thang


CD: Taste Me
Label: Lil' Fallay









One For The Ladies


CD: Just For The Ladies
Label: Hot Like Fire








They Trying To Stop The Party


CD: Just For The Ladies
Label: Hot Like Fire