NEW!

Corner & Top 10


Concert Calendar
& Mailbag


Comprehensive Index


New CD Reviews


Index to Artist Guides
NEW!


Best of 2016


Top 100 Countdown:
21st Century Southern Soul Artists


Top 100
Southern Soul Songs
21st Century Countdown
(00's – 10's)


Top 100
Southern Soul Artists
(90's - 00's)


Top 100
Southern Soul Songs
(90's – 00's)


Forerunners of
Southern Soul
Southern Soul CD's, MP3's
Best of Pages
About the Music
About Us
Links
Home


Sample or Buy



From artists, their familes, friends and fans. . .





From Daddy B. Nice's archives. . .





Over 100 Southern Soul drawings. . .





Original Daddy B. Nice sketches. . .





All caricatures and satirical renderings are untitled. . .





It's a little piece of history. . .





Who want a keepsake, memento or souvenir. . .





To commemorate their time. . .





In the Southern Soul limelight.





Browse through all the Southern Soul satirical sketches in Daddy B. Nice's archives.





Browse through all the Southern Soul sketches in Daddy B. Nice's archives.





Browse through all the Southern Soul collectibles in Daddy B. Nice's Southern Soul Products Store. . .





"I Want You"
Bill Coday
Composed by Raymond Moore and John Ward
Bulletin: June 7, 2008: In Memoriam Bill Coday

Ecko Records' website reports that Southern Soul star Bill Coday passed away at the Methodist University Hospital in Memphis, Tennessee on Saturday night, June 7, 2008.

DBN

**********************

Author's Forward: June 29, 2008.

He was Southern Soul's "Everyman." He wasn't a musical genius, nor an innovator. He was very much in the shadow of the "greats"--O. V. Wright, Johnnie Taylor, Tyrone Davis and others whose material he so frequently championed. And yet, at his passing on June 7, 2008, the loss hurts with unexpected force.

Bill Coday knew Southern Soul so well, he lived and breathed the genre. And with his passing went a store of knowledge about Southern Soul in ever-shorter supply in this day of young artists eager to break into Southern Soul but woefully unaware of its essential sound.

Bill Coday knew that "sound." Every record he made was unmistakably Southern Soul rhythm and blues. And now that he is gone, one wishes to be sitting at a little table a couple steps from a little dance area in a hole-in-the-wall with Bill Coday in front of the microphone.

Like a little child wanting nothing more than to to be picked up and hugged by a big, warm, understanding adult, one mourns his death as one mourns the loss of a family-member.

His music was never brilliant enough to garner the accolades given the aforementioned mentors, whom he's now joined. And yet, with his death Bill Coday's music has been transformed into an incredible comfort zone, a musical legacy to bask in, a warm, nurturing reserve of material the value of which suddenly surpasses any value accorded it during his lifetime.

If the music as a whole is temporarily weaker for his passing, Bill Coday now looms as a larger and livelier character on the unfolding, historical tapesty of Southern Soul R&B. Coday joins Taylor, Davis, Ronnie Lovejoy, Little Milton, Quinn Golden, Ollie Nightingale and others, and stands among them as would a band of brothers.

--Daddy B. Nice

***********************

Daddy B. Nice's Original Critique:

Bill Coday is another one of those old rhythm and blues-saturated veterans, briefly triumphant in the soul paradise of the early 70's, subsequently washed away by the tsunami-like effects of disco, who nevertheless survived to return a generation later more or less intact.

Indeed, the title of Coday's first CD after a long musical hiatus was 95's Sneakin' Back. Since then Coday has navigated a middle road somewhere between fellow chitlin' circuit journeymen like Chuck Roberson, Rick Lawson, and Chuck Strong and Southern Soul's royalty: Tyrone Davis, Denise LaSalle, Marvin Sease, Bobby Rush and, above all, Johnnie Taylor.

In fact, when one thinks of the influence of Johnnie Taylor on Southern Soul peers, it is difficult not to think of Bill Coday standing in the master's shadow. Coday was one of the first artists to issue a posthumous tribute to Taylor in the months after his death in 2000. The song was notable for its graceful segues through some of Taylor's many hits, and the two tracks ("We're Going To Miss You Johnnie" and an extended remix) took up nine minutes on his Memories CD.

Yet still not content, Coday continued the encomiums to Taylor on his 2003 LP with two tracks again totaling nine minutes ("If Johnnie Were Here Today") that not only flirted with the heart-tugging melody of Taylor's "I Believe In You" but contained a pointed reference to the sometimes acrimonious relationship between the two performers:

"Every time we had a silly fight,
Oh Johnnie, he would make it right."

Coday's obsession with Taylor is puzzling given the fact that his career may have been better served by focusing on his own artistic persona. His vocal chops are considerable, and his knack for Southern Soul's humility and humanity unerring. The fact is, nevertheless, that the chitlin' circuit venues in which Coday earns his "bread and butter" have an insatiable hunger for the Johnnie Taylor catalog and ambience.

A Bill Coday song may not knock you off your feet, but neither will it totally disappoint. Bill Coday's songs (usually by John Ward's stable of tunesmiths at Ecko Records) may vary in quality, but the authority and assurance of credible, down-to-earth Southern Soul is guaranteed.

Coday's "I Want You" (from Take Me, Ecko 2003) is a strange but appealing example. The persistent chorus of "I want you" is supposed to be the hook that captures the fan, so much so that it's frontloaded uncharacteristically (and to your Daddy B. Nice's ears, a bit gratingly) before each stanza, rather than at the end of each stanza.

But the real meat of the melody comes through on the "stanza" bars. The song seems to shift key--in fact sounds like the bridge--if it weren't for the fact there are three such bridge-like stanzas. And it's those phrases that worm their way into the pleasurable corners of your memory bank.

"And when we're near,
It feels so good inside.
Life is wonderful
With a woman like you by my side."

Maybe it's Coday's perfect key, because his voice wraps around the words with a grace and care that is truly unique.

Coday's version of the O.V. Wright classic, "Ace of Spades," has gradually become the default choice of chitlin' circuit deejays whenever that dusty old Wright copy is just a little too inaccessible. Crisp guitar work, a sharp, motivated Coday vocal and the durable melody transport any blues fan who's heard the song twice to a state of nirvana-like gratification.

And such Coday songs as "When This Dance Is Over," "In The Room Next To The Room," and "If I Can't Cut The Mustard (I Can Still Lick Around The Jar)" are sparkling specimens of main-line Southern Soul.

They say you can't eat self-esteem, but the man who possesses it is both rare and blessed. Bill Coday may not own a recognizable name or make much money. However, consider what it means to hear your song queued up on the radio between Otis Redding's "Sitting On The Dock Of The Bay" and B.B. King's "The Thrill Is Gone." A lot of musicians would give their left ear for that honor. Yet it happens all the time on the chitlin' circuit, and not infrequently to "Wild" Bill Coday.

--Daddy B. Nice
About Bill Coday
Bill Coday was born May 10, 1942 in Coldwater, Mississippi, a hamlet even by Mississippi standards not far south of Memphis. By the time he was a teen, Coday was playing professionally in a band (along with Son Seals) in and around Blythedale, Arkansas, just up what is now Interstate 55 and the northern suburbs of Memphis.

Coday moved to Chicago in the early sixties, where he soon met and began a professional relationship with Denise LaSalle that would span decades. In the early years LaSalle was Coday's songwriter. Coday recorded for Crajon and Galaxy Records, the former owned by LaSalle and her husband, scoring his first and only big hit (#14 Billboard R&B), "Get Your Lies Straight," in 1971.

Coday left the music industry during the disco era, then returned to tour with LaSalle in the mid-eighties as her opening act. He also revived his recording career, signing with Ecko Records, which specialized in Southern Soul and--fortuitously--was headquartered in Coday's home turf of Memphis.

Since then Coday has been consistent and prolific, recording a CD roughly every two years since 95's comeback album, Sneakin' Back .

Coday's steady output has made him a favorite of Southern Soul deejays. If an award were given for the most appearances on Stations of the Deep South playlists over the last decade (especially by a non-"star"), Bill Coday would undoubtedly be among the finalists.



Song's Transcendent Moment
"I want you, girl.
I want you to be my only girl.
I want you, baby.
You're the only girl for me
In this whole wide world."

Tidbits
1. Feb. 11, 2007. Bill Coday left Ecko Records in 2005 to record on a new, self-run label, B&J Records. His first CD on the label was entitled Jump Start. Recommended cuts, both in the typical, low-key Coday style, include "I'm Headed To The Top" and another tribute song, this one eulogizing Tyrone Davis, "Play With Tyrone." DBN.

2. March 31, 2007. Ardent Bill Coday fans will likely enjoy his 2006 holiday offering, Christmas With Bill Coday and Karen Wolfe, in which the performer teams up with the respected Southern Soul songstress, Karen Wolfe, whose album First Time Out also debuted in 2006. DBN.
If You Liked. . . You'll Love
If you fondly remember Tommy Edwards' 50's classic, "It's All In the Game," you'll especially appreciate Bill Coday's "I Want You."

Honorary "B" Side
"In The Room Next To The Room"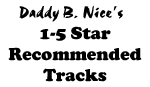 I Want You


CD: Take Me
Label: Ecko










In The Room Next To The Room


CD: Can't Get Enough
Label: Ecko










Ace Of Spades


CD: Can't Get Enough
Label: Ecko










If I Can't Cut The Mustard (I Can Still Lick...)


CD: Love Gangsta
Label: Ecko


Sample or Buy
Love Gangsta







Get Your Lies Straight


CD: Sneakin' Back
Label: Ecko


Sample or Buy
Sneakin' Back







If Johnnie Were Here Today


CD: Take Me
Label: Ecko









That's How Strong My Love Is


CD: Can't Get Enough
Label: Ecko









We're Gonna Miss You Johnnie


CD: Memories
Label: Ecko









When This Dance Is Over


CD: Love Gangsta
Label: Ember


Sample or Buy
Love Gangsta






Take Me


CD: Take Me
Label: Ecko