NEW!

Corner & Top 10


Concert Calendar
& Mailbag


Comprehensive Index


New CD Reviews


Index to Artist Guides
NEW!


Best of 2017


Top 100 Countdown:
21st Century Southern Soul Artists


Top 100
Southern Soul Songs
21st Century Countdown
(00's – 10's)


Top 100
Southern Soul Artists
(90's - 00's)


Top 100
Southern Soul Songs
(90's – 00's)


Forerunners of
Southern Soul
Southern Soul CD's, MP3's
Best of Pages
About the Music
About Us
Links
Home


Sample or Buy



From artists, their familes, friends and fans. . .





From Daddy B. Nice's archives. . .





Over 100 Southern Soul drawings. . .





Original Daddy B. Nice sketches. . .





All caricatures and satirical renderings are untitled. . .





It's a little piece of history. . .





Who want a keepsake, memento or souvenir. . .





To commemorate their time. . .





In the Southern Soul limelight.





Browse through all the Southern Soul satirical sketches in Daddy B. Nice's archives.





Browse through all the Southern Soul sketches in Daddy B. Nice's archives.





Browse through all the Southern Soul collectibles in Daddy B. Nice's Southern Soul Products Store. . .





"Baby Don't Go"
La Keisha
Composed by R. Burks and La'Keisha
October 31, 2008: UPDATE

LaKeisha appears on Sir Charles Jones' new album, My Story (Mardi Gras, 2008).

Author's Forward

In retrospect, LaKeisha's debut 2003 CD, Stop Drop & Roll, was a potent piece of Southern Soul music.

The mark of Sir Charles Jones at the early peak of his powers is evident in the Mardi Gras CD's production.

The album features a kind of updated, one-of-a-kind Southern Soul "midnight" music, and it has aged very well.

Your Daddy B. Nice recommends his readers and listeners to the first five songs of the Stop, Drop & Roll album--

"Baby, Don't Go," "Stop, Drop & Roll," "Just Another Love Song," "Already Gone" and the delectable and atomospheric "Morning Rain"

--as one of the more astonishing stretches of Southern Soul music by a female performer in the last decade.

Stop, Drop & Roll long ago went out of print. More's the pity. Add it to other hard-to-find Southern Soul music destined for collectors' status.

--Daddy B. Nice

*******************

Daddy B. Nice's Original Critique:

Your Daddy B. Nice hopes she's getting "younger," because the more La'Keisha sounds like a girl, the more her songs excel. This is not a recent phenomenon. Anyone who loves rhythm and blues can remember certain records in which the teen-sounding vocal absolutely made the song. My own favorite example is the Essex's "Easier Said Than Done."

"My friends all tell me
Go to him, run to him.
Say 'sweet nothing' things to him,
And tell him he's the one.

Deep in my heart I know it
But it's so hard to show it,
Because it's easier said than done."

La'Keisha's not in the girl-group business, but she conveys the subtle whiff of freshness, discovery and longing that permeates a young person's speech and by extension singing. And when we hear an especially young-sounding performance that "works," it's safe to say we react with a delight not often reserved for mature acts.

It's simply the seductiveness of youth--our fascination with our kids, our grandkids, the children of the world in general--whose bodies and thought processes and emotions are still relatively defense-mechanism-free.

La'Keisha is a far more accomplished singer than the lead vocalist for the Essex, but if accomplishment were all that went into making a hit song, we'd all be rushing out to buy the latest, technically awesome urban-R&B performance as defined by such TV shows as "American Idol."

What makes La'Keisha's vocals distinctive is her honey-rich confidence in being natural, not melodramatic--in other words, in taking a Southern Soul approach to her first-rate, self-written material. In "Baby, Don't Go," she says:

"Baby, I'm sorry,
For what I said last night.
I didn't mean to hurt you,
And I didn't mean to make you cry."

When La'Keisha follows this up with a chorus of "Baby, don't go," and her girlish voice cracks in mid-syllable on the long "gooooo," it's a goose-bump-up-the-neck moment. Maybe not on the first listening, but like any good hit song, just when you're not suspecting it, "Baby Don't Go" will worm its way into a deeper pleasure zone and seduce all but the most resolute ballad-haters.

If listeners who'll "pass on slow songs, thank you," really want to test their patience, they can refer to La'Keisha's duet with Sir Charles Jones on "Just Another Love Song." This song lurches forward so slowly, so tentatively, that you begin to wonder if the drummer's going to nod off and keel over backwards. The glacial pace puts the burden on the vocalists, and to their credit, Sir Charles and LaKeisha pretty much pull it off.

The melodies to both "Baby Don't Go" and "Just Another Love Song" swim in what by now has become the familiar Sir Charles Jones' "wash of sound": bass-dominated stanzas followed by choruses awash in a synthesizer mix of violins and xylophone-like keyboards. The technique creates depth, and lends emotional resonance to the lyrics.

"Stop, Drop And Roll" and "Already Gone" (from the same debut disc) rock out by comparison. Mid-tempo "Already Gone" is the better song and the more often played on Southern Soul radio

"Hey baby, you say you're leaving.
Well honey, go ahead.
Because the love I used to have for you,
Has long been dead."

Once again, it's the hint of youth that gives the song its "edge." In spite of the marital strife detailed within, La'Keisha gives the impression it's stress she's never encountered before. "The first cut is the deepest," and La'Keisha is at her best when we can feel the blade. It may come in a line of swagger such as:

"Oh, you thought I'd hang on, huh.
Well baby, you were wrong.
Because the night you left me,
I left you, and I'm long gone.
You can't leave me,
Because I'm already gone."

We can go right along with the young lady's bravado because we understand the pain behind it. The transparency of La'Keisha's emotion charms us, and of course that's part of her art.

--Daddy B. Nice
About La Keisha
La'Keisha Burks (La'Keisha) broke into the music business as a backup singer for Mel Waiters and Sir Charles Jones, touring the chitlin' circuit. She sang background on Marvin Sease's Playa Haters CD (Malaco), one of the highest-profiled releases of 2004.

La'Keisha's debut CD, Stop, Drop And Roll (Mardi Gras), also appeared that year, and it spawned chitlin' circuit radio favorites "Baby Don't Go," "Just Another Love Song" (featuring Sir Charles Jones) and "Already Gone."

Girl Talk, La'Keisha's anticipated second CD, arrived via Waldoxy Records (a subsidiary of Malaco) in the autumn of 2005, as this review was being written. The two songs getting the most air play ("1-800-Good Man" and "What You Won't Do") were on first impression faster and more mature than the material from Stop, Drop And Roll.
Song's Transcendent Moment
"Baby, don't go.
Baby, don't leave."

If You Liked. . . You'll Love
If you liked Luther Ingram's "(If Loving You Is Wrong) I Don't Wanna Be Right," you should love La'Keisha's "Baby Don't Go."
Honorary "B" Side
"Already Gone"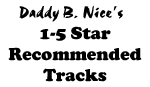 Baby Don't Go


CD: Stop, Drop And Roll
Label: Mardi Gras










Already Gone


CD: Stop, Drop And Roll
Label: Mardi Gras










Just Another Love Song (w/Sir Charles Jones)


CD: Stop, Drop And Roll
Label: Mardi Gras










Morning Rain


CD: Stop, Drop And Roll
Label: Mardi Gras









1-800 Good Man


CD: Girl Talk
Label: Waldoxy









Stop, Drop And Roll


CD: Stop, Drop And Roll
Label: Mardi Gras









What You Won't Do


CD: Girl Talk
Label: Waldoxy








Girlfriend


CD: Girl Talk
Label: Waldoxy