NEW!

Corner & Top 10


Concert Calendar
& Mailbag


Comprehensive Index


New CD Reviews


Index to Artist Guides
NEW!


Best of 2017


Top 100 Countdown:
21st Century Southern Soul Artists


Top 100
Southern Soul Songs
21st Century Countdown
(00's – 10's)


Top 100
Southern Soul Artists
(90's - 00's)


Top 100
Southern Soul Songs
(90's – 00's)


Forerunners of
Southern Soul
Southern Soul CD's, MP3's
Best of Pages
About the Music
About Us
Links
Home


Sample or Buy



From artists, their familes, friends and fans. . .





From Daddy B. Nice's archives. . .





Over 100 Southern Soul drawings. . .





Original Daddy B. Nice sketches. . .





All caricatures and satirical renderings are untitled. . .





It's a little piece of history. . .





Who want a keepsake, memento or souvenir. . .





To commemorate their time. . .





In the Southern Soul limelight.





Browse through all the Southern Soul satirical sketches in Daddy B. Nice's archives.





Browse through all the Southern Soul sketches in Daddy B. Nice's archives.





Browse through all the Southern Soul collectibles in Daddy B. Nice's Southern Soul Products Store. . .





"I'm Gonna Tear Your Playhouse Down"
Ann Peebles
Possibly the most delicious two-plus minutes of soul ever recorded, Ann Peebles' "I'm Gonna Tear Your Playhouse Down" is so little known outside the South that it sounds fresh today, more than thirty years after it was recorded. It was such a crucial mile-marker in my own conversion to Southern Soul that I can remember the exact details: driving across a causeway on the Louisiana Gulf coast, the sun twinkling over the water, the land a pencil-thin line in the distance, with the deejay on the radio intoning, ". . . Covering Mississippi, Alabama and Arkansas. . . "

Then came Ann Peebles' voice:

"You think you've got it all set up.
You think you've got the perfect plan.
To charm every girl you see.
And play with everyone that you can."

The vocal, nuanced yet light, swung with a bluesy gait across a pop/soul hybrid background.

"But I've got news for you.
I hope it won't hit you too hard.
One of these days, while you're at play,
I'm going to catch you off guard."

It sounded like the most quintessentially soulful Top 40 record I'd ever heard.

"I'm going to tear your playhouse down.
Pretty soon.
I'm gonna tear your playhouse down.
Room by room."

It's ironic that when it came out, "Playhouse" was obscured by the huge shadow of Aretha Franklin, whose tunes were on the downside of the peak reached with "Respect" and her mid-sixties masterpieces, yet now it's "Respect" that sounds dated--tied to a time and a place--while Ann Peebles' restrained but seething notice to a cheating man ("I'm Gonna Tear Your Playhouse Down") sounds timeless.

Like Johnnie Taylor, whose hit "Disco Lady" stuck to him like a tar baby for the rest of his career, Ann Peebles had the regrettable luck to have a hit, "I Can't Stand The Rain", that locked her into a kind of caricature of a ravaged, bitter, dead-end Aretha Franklin--a performer, in other words, lionized by the hip and decadent, but an artist considered somehow too cultish for the mainstream.

That is not, of course, the consensus opinion on "I Can't Stand The Rain", which has been routinely characterized as "the greatest R&B record ever" by luminaries as lofty as the late John Lennon, whose solo single "Mother" cloned "I Can't Stand The Rain" (and ended up sounding just as ravaged, bitter and dead-end). Your Daddy B. Nice's take on "I Can't Stand The Rain" is this: If torturous self-analysis interests you, why not get it first-hand, without the maudlin self-paralysis, in Syl Johnson's "Is It Because I'm Black," and spend some time listening to other overlooked Peebles' classics?

Missy "Misdemeanor" Elliot added to "Rain's" burden of hype with her popular hiphop version. Minimalist, monotonous, Elliot's "Rain" (and its glossy video) nevertheless hypnotized fans with its technically-fantastic arrangement by one of contemporary R&B's finest producers, Timbaland. But the nursery-rhyme simplicity of the Timbaland arrangement and the acapella, Chinese-water-torture repetitiveness of the Elliot vocal--once imbedded in the brain--were impossible to remove. It stressed the weird emotional paralysis of the original but salvaged none of the bluesy, chugging groove that made the Peebles-Mitchell version so potent.

Peebles' "Rain" had that great rhythm section and the entire Hi studio band--Howard Grimes, the Hodges brothers Mabon, Leroy and Charlie, aided by hornmen Andrew Love and Wayne Jackson--to make it interesting, to give it texture. For a glorious time in the early 70's, this group of musicians birthed rhythm-and-blues mini-masterpieces with casual ease, not just "Rain" but "Playhouse," "Trouble, Heartaches and Sadness," "99 Pounds," "I Feel Like Breaking Up Somebody's Home" and "Come To Mama," not to mention the hits of Al Green.

"You think love is just fun and games,
Trying to be a playboy.
All you do is run around.
Using hearts for playing toys."

The second minute of "I'm Gonna Tear Your Playhouse Down" comes with a single, captivating bridge, rendered with extraordinary economy and an exquisite sense of soul by the Hi musicians. The arrangement is almost anthem-like, and Peebles' vocal on the second and only other stanza trills like a tattered flag blowing in the wind.

"You've been playing daddy,
With every mama around.
Whatcha gonna say when you look up one day,
See your playhouse coming down?"

Peebles' vocal performance in "Playhouse" represents the antithesis of melisma, the alternative to everything slick and ornate that so-called "urban" or "smooth" R&B has become today. Peebles sings the hell out of "Playhouse," but she doesn't use the song as a springboard for verbal gymnastics.

"Melisma," for those who don't follow musical terminology, refers to the act of taking one syllable and stretching it out for several notes. The contemporary queen of this technique is the multi-platinum recording artist Mariah Carey. The bathetic side of Whitney Houston's catalog ("I Will Always Love You," etc.) is the template.

If this is what you're after, you don't need Southern Soul, and you won't like Ann Peebles. But if you're ready to trade in all that bathos for heartfelt blues with rhythm to burn, "I'm Gonna Tear Your Playhouse Down" delivers.

Ann Peebles filled her music with an elegance and straightforwardness that blues divas have been trying to emulate ever since. And make no mistake. Peebles possessed the poise, composure and poetry of movement of a fabled African queen--a regality we associate now, perhaps, with Erykah Badu, or in the past with Lena Horne or Nina Simone.

Her persona has been captured on film in a documentary called "Only The Strong Survive," which focuses on Jerry Butler (of the title) and other R&B "survivors." In the film Ann Peebles renders a scorching, live version of "I Feel Like Breaking Up Somebody's Home" that greatly improves on the familiar recorded track.

Others may wonder, "Well, what about Aretha Franklin? Wasn't she a much more important artist?" Peebles can sound like Aretha, whose best material was already laid down before her arrival on the scene. Check out "I Needed Somebody (Bright Lights, Big City)" or one of Peebles' covers of Aretha's material. However, Peebles' singing owed as much or more to Diana Ross, the era's other great anti-melismatic singer, as it did to Franklin.

And in terms of influence upon the younger generation of Southern Soul singers--artists like Jackie Neal, Toni Green, Vickie Baker and Syleena Johnson--the legacy of Peebles is without peer. Need proof? Of the female performers on your Daddy B. Nice's Top 100 Southern Soul chart, none comes to mind with a direct connection to Aretha Franklin by way of her songs. This comparison, of course, doesn't mean Aretha is any less of a superstar of modern R&B.

However, only a partial list of the connections to Ann Peebles' songs includes:

"Come To Mama" by Vickie Baker. A cover of the Peebles song. (DBN's #53-rated artist and song on the Top 100 Southern Soul chart).

"She's Got The License (I Got The Man)" by An-jay, I Understand Daddy, Mardi Gras, 02 (DBN's #62-ranked Southern Soul artist and song).

"You've Got The Papers (I've Got The Man)" by Toni Green, Mixed Emotions, 98 (DBN's #47-ranked Southern Soul artist).

The above two songs are variations on "You've Got The Papers (I've Got The Man)" by Ann Peebles from her Handwriting On The Wall CD, 1979--also written by Earl Randle, the author of "I'm Gonna Tear Your Playhouse Down."

"That's The Way We Roll" by Jackie Neal (DBN's #34-ranked Southern Soul artist). The late Jackie Neal's ode to her family ("With the Neal family, it's all about love. . . I had my brothers and sisters with me/ Because that's the way my mama wanted it to be.") harks back to Peebles' "St. Louis Woman (With A Memphis Melody)," with its family-upbringing ambience: "I was born in Missouri/That's where my journey began/ Singing in ----- County/ With my family and my friends."

"Tear Your Playhouse Down" by Pat Brown, Equal Opportunity, is an uptempo, extended version of the Peebles classic. Pat Brown is the #22-ranked artist on The Top 100 chart.

"99 Pounds," by Betty Padgett, 2006. Recently released, this song is just the latest cover of the raunchy Peebles rocker, one of the most powerful blues in the Southern Soul catalog.

These recordings testify to the primordial pull of Peebles' material on contemporary Southern Soul.

--Daddy B. Nice
About Ann Peebles
Ann Peebles was born in 1947 in East St. Louis, Missouri. Like her fellow St. Louisian, Barbara Carr, Peebles grew up immersed in gospel and as a teenager fell under the influence of local R&B bandleader Oliver Sain. In 1968, on a trip to Memphis, Hi Records' head Willie Mitchell (who himself was just beginning to transform Hi into a top R&B studio) heard Peebles sing and offered her a contract. Peebles' debut disc, This Is Ann Peebles, appeared in 1969, and a series of singles culminated in Peebles' first Top 10 R&B hit, "Part Time Love" (a cover of a chitlin' circuit hit by Little Johnny Taylor, not to be confused with Johnnie Taylor). This prompted a recycling of Peebles' first album under the title Part Time Love.

So began a decade of stellar albums and nearly two dozen R&B-charting singles on the Hi label under the tutelage of Mitchell, songwriter Don Bryant (later to marry Peebles) and the fabled Hi Records' house band. The three greatest Peebles' albums were produced in a burst of collective creativity between 1972 and 1976.

While largely ignored by the mainstream music industry, Straight From The Heart (1972), containing the songs, "99 Pounds," "Trouble, Heartaches And Sadness," "Slipped, Tripped, And Fell In Love," and "I Feel Like Breaking Up Somebody's Home," put the blues world on notice that Peebles was the blues diva of the day.

Al Green was the "king" of Memphis soul at the time, and Ann Peebles (who actually signed a contract earlier) became the "queen," achieving 19 "Billboard"-charting R&B singles over the decade.

I Can't Stand The Rain (1974), bolstered by the title cut and the alluring "I'm Gonna Tear Your Playhouse Down," gained even more airplay. "I Can't Stand The Rain" peaked at number six on the R&B charts and spawned countless imitators. Tellin' It (1976), with its overlooked gem, "Come To Mama," rounded out the trilogy.

The dominance of disco proved brutal for rhythm and blues in general and for Ann Peebles' career in particular. After spending some time raising a family (the usual fallow period of the 80's, when an R&B artist couldn't "buy" a contract), Peebles returned to the recording studio in the late 1980's and sporadically thereafter.

Although she continued to record songs that influenced the blues and chitlin' circuit world (for instance, "You're Gonna Make Me Cry" from 78's If This Is Heaven or "She's Got The Papers (I've Got The Man)" from 79's The Handwriting Is On The Wall), Peebles' career went into an eclipse from which it never emerged.

Call Me (Waylo, 89), a reunion with producer Mitchell, Full Time Love (Bullseye Blues, 92) and Fill This World With Love,(Bullseye, 96) proved to be interesting but non-essential CD's, over-shadowed by covers of Peebles' 70's hits during the same period by singers like Missy "Misdemeanor" Elliot (a popular hiphop version of "I Can't Stand The Rain") and Vickie Baker ("Come To Mama").
In recent years a number of excellent Peebles retrospectives appeared, many due to interest from overseas. (See Daddy B. Nice's "Recommended Tracks.")

But in an irony only the enduring could appreciate, Peebles' very obscurity and lack of mainstream success contributed to her cachet as a blues songstress without peer. Today her music, which--with the exception of "I Can't Stand The Rain"--never broke through the inhospitable blues climate of the 70's and 80's, is more popular than ever.



Song's Transcendent Moment
"I'm gonna tear your playhouse down,
Pretty soon.
I'm gonna tear your playhouse down,
Room by room."

If You Liked. . . You'll Love
If you liked the Pointer Sisters' "Slow Hand," you'll definitely love its inspired antecedent, Ann Peebles' "I'm Gonna Tear Your Playhouse Down."


EDITOR'S NOTE

In the late nineties, when I first began to visualize a charting of Southern Soul music, my overriding motive was to correct what I perceived to be a grievous wrong. When I searched the Internet for information on the great artists I heard on radio stations on my trips through the South, I could find nothing about them. I was able to find information on blues and soul artists up to about the 1980's, but anything more contemporary was still a "dark continent"--unknown, unexplored and unmemorialized. Even "southern Soul" was a suspect term, used mainly as an adjective to describe older artists geographically tied to the Deep South.

To help right that wrong, I went about constructing a Top 100 chart of the best Southern Soul artists from the 90's to the present, and I profiled those performers in "artist guides". But when I had finished that chart (Daddy B. Nice's Top 100) , I again found myself faced with a wrong. This time the oversight was my lack of attention to the artists whose best material had been recorded prior to the 90's and 00's, artists without whom the Southern Soul phenomenon would never have occurred. Yes, one could find information on these performers on the Internet, but not up-to-date information, and not in the context of contemporary Southern Soul.

That is what brought me to formulate the chart you are reading: "Forerunners." Rhythm & Blues as it's played, appreciated and revered in the Deep South. The Golden Oldies of the Chitlin' Circuit. The artists who "count" and the songs that "matter" to the artists, producers and deejays who understand and create the Southern Soul sound. And that's different--although not altogether different--from the soul music many of us grew up listening to outside the Deep South. Although fans may be coming to this music long after it was first recorded, I believe it will only whet their appetite for Southern Soul music all the more. DBN.

Honorary "B" Side
"I Didn't Take Your Man"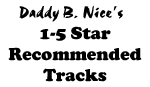 I'm Gonna Tear Your Playhouse Down


CD: The Complete Ann Peebles on Hi Records, Vol. 1
Label: Hi











I Didn't Take Your Man


CD: Best Of The Hi Records Years
Label: Hi











99 Pounds


CD: Best Of The Hi Records Years
Label: Hi











Come To Mama


CD: The Complete Ann Peebles on Hi Records, Vol. 2: 19
Label: Hi











I Can't Stand The Rain


CD: The Complete Ann Peebles on Hi Records, Vol. 1
Label: Hi











I Feel Like Breaking Up Somebody's Home


CD: Straight From The Heart
Label: Hi











Slipped, Tripped And Fell In Love


CD: Straight From The Heart
Label: Hi











Trouble, Heartaches And Sadness


CD: Straight From The Heart
Label: Hi










Full-Time Lover


CD: Full Time Love
Label: Bullseye Blues










Part Time Love


CD: This Is Ann Peebles
Label: Hi










St. Louis Woman (With A Memphis Melody)


CD: Full Time Love
Label: Bullseye Blues










You've Got The Papers (I've Got The Man)


CD: The Handwriting Is On The Wall
Label: Hi