NEW!

Corner & Top 10


Concert Calendar
& Mailbag


Comprehensive Index


New CD Reviews


Index to Artist Guides
NEW!


Best of 2017


Top 100 Countdown:
21st Century Southern Soul Artists


Top 100
Southern Soul Songs
21st Century Countdown
(00's – 10's)


Top 100
Southern Soul Artists
(90's - 00's)


Top 100
Southern Soul Songs
(90's – 00's)


Forerunners of
Southern Soul
Southern Soul CD's, MP3's
Best of Pages
About the Music
About Us
Links
Home


Sample or Buy



From artists, their familes, friends and fans. . .





From Daddy B. Nice's archives. . .





Over 100 Southern Soul drawings. . .





Original Daddy B. Nice sketches. . .





All caricatures and satirical renderings are untitled. . .





It's a little piece of history. . .





Who want a keepsake, memento or souvenir. . .





To commemorate their time. . .





In the Southern Soul limelight.





Browse through all the Southern Soul satirical sketches in Daddy B. Nice's archives.





Browse through all the Southern Soul sketches in Daddy B. Nice's archives.





Browse through all the Southern Soul collectibles in Daddy B. Nice's Southern Soul Products Store. . .





"A Friendly Reunion"
Willie Hill
Composed by Willie Hill
The son of a musician and sharecropper, Willie Hill had an itinerant childhood until his father started a business in Albany, Georgia and settled there. Hill's father Homer was a popular piano
player and gospel singer who entertained
with a group called the Singing Angels.

"I had one little song that I used to
do," Willie told a reporter for the "National Clothesline" in December 2010. "It was called 'I Got Heaven on My Mind.' They had a little theater down in Tifton, Georgia called the Roxy Theater, and they were on the show there with Sam Cooke and the Soul Stirrers.

"I remember he said, 'I'm going to let my little son come up and sing a song.' The place
was packed."

5-year-old Willie won over the crowd and the King of Soul, Sam Cooke, too and so began "a lifelong mission to sing onstage."

Sixty years later, Willie Hill is a well-kept secret to all but a few Southern Soul aficionados, with a hard-scrabble career of scaled-down dreams and a lifetime of musical seasoning.

His one-of-kind signature ballad, "A Friendly Reunion," was released in 1997 to little notice, and reprinted again in 2007, once again to scant response. (Critics--Jus' Blues, Blues Critic--touted Willie Hill, but deejays and fans weren't as receptive.) And yet, "A Friendly Reunion" is one of the most affecting ballads to come out of the world of Southern Soul in the last twenty years.

Hill's "A Friendly Reunion" has much in common with the gentle, 50's-era Pat Boone show tune that accompanied the Gary Cooper film, "Friendly Persuasion," from its title to its wafting-cloud-in-a-blue-sky tempo and delicacy.

It also owes something to the country-western stars Willie Hill listened to as a kid growing up--Hank Williams Sr., Ferlin Husky, Jimmy Dean, Marty Robbins and Hank Snow.

Johnnie Taylor used to do these kinds of ballads--"It Just Don't Pay To Get Up In The Morning" comes to mind. Ronnie Lovejoy--of course--with "Sho' Wasn't Me." Another of Hill's songs, "When Will I Stop Loving You," recalls Z.Z. Hill's "Cheating In The Next Room." For some reason, the ballads of the younger generation just don't sound the same.

Hill has a vocal tone like fine old hickory sanded to a smooth sheen, every syllable drips with goodness and humility, and yet on the phrases building to climaxes, Hill summons surprising power and scope.

"Now you belong to someone else,
And the only thing left
Is to say to myself,
'It's just a friendly reunion.'"

"A Friendly Reunion" is a slice-of-life snapshot of running into an old love and experiencing all the pain of what might have been. While it's a common enough subject I can't think of it ever being rendered more effectively. When Willie sings them, the words signify.

"We can never be together, baby.
We each belong to another."

Listen to Willie Hill singing "Friendly Reunion" Live on YouTube.

This live version doesn't do justice to the recorded version, a sample of which is available at "A Friendly Reunion" on the I'M A MAN ON A MISSION CD.

"Friendly Reunion" isn't the only good song Willie Hill ever recorded. "I'm A Man On A Mission" is a stellar tune, with a Theodis Ealey-like, galloping momentum. "Mission" showcases Hill in an uptempo style in which he's just as confident and competent.

"You Go Your Way And I'll Go Mine" is also a fine song. It's in the "Friendly Reunion" mold, with a tad less memorable a melody.

There's no way of getting around the fact, however, that Willie Hill is at his Southern Soul heavenly-best on "Friendly Reunion." If there had been no other Willie Hill music in my experience--and God knows there's been very little--the lure of Willie Hill's perfectly-modulated vocal, simultaneously husky and intimate, would have drawn me to him.

The song takes you to a very special place--a state of emotional contentment much like a child's innocent happiness--only the rich feeling is tempered with the wisdom of the years embedded in the lyrics. What more can one ask for?

Link to Willie Hill on I-Tunes.

Sample "A Friendly Reunion" on the I'M A MAN ON A MISSION CD.

--Daddy B. Nice
About Willie Hill
Willie Hill was born in rural Georgia in the mid-forties and grew up in Albany, Georgia, the son of a gospel-musician father.

While in the Army and stationed in Europe for an eight-year stint in the sixties, Hill gravitated toward entertainment, performing at USO's with American stars touring Europe.

Hill left the military in the 1970's and returned to Georgia, where he teamed up with
singer Anthony Fontaine to create a duo named Willy And Anthony, modeled on "Sam & Dave." They made three albums: "Groovin' on a Sunday Afternoon," "Selfish Lover" and "In a Mellow Mood."

In 1997 Willie Hill recorded his first solo album, Leavin' Won't Be Easy (Ichiban), which featured his signature single, "A Friendly Reunion."

In 2005, in association with Theodis Ealey in Atlanta, Hill released a new single, "I'm A Man On A Mission." It was followed by the Ealey-produced CD of the same title, I'm A Man On A Mission (Ifgam), in late 2007.

The album, which reprised "Friendly Reunion," won a Blues Critic citation for "Best Albums of 2008" and a Jus' Blues Music All Star Award, Male (2008).


Song's Transcendent Moment
"As I looked up
And you were standing there
I forgot all things,
Just didn't seem to care.
You looked like an angel
From the heaven above.
I knew then you were
The only one I ever loved."

Tidbits
1.

July 3, 2011:

"I'm A Man On A Mission" was composed by William Travis, the songwriting alter ego of Southern Soul singer El' Willie.

2.

July 3, 2011:

Here are some of the better videos of Willie Hill available on YouTube.

Listen to Willie Hill singing "I'm A Man On A Mission" Live on YouTube.

Listen to Willie Hill singing "This Love Of Mine" on YouTube.

Listen to Willie Hill singing "You Go Your Way And I'll Go Mine" on YouTube.

If You Liked. . . You'll Love
If you liked Certified Slim's "Birthday Suit," you'll love Willie Hill's "Friendly Reunion."


EDITOR'S NOTE

Over the last year I've been dropping hints to the younger musicians.

"Be watching because there's going to be something coming on the site that'll be a real blessing for the younger people."

And I've also been telling a lot of deserving new artists to bide their time, that their day to be featured in a Daddy B. Nice Artist Guide was coming, and long overdue.

Now, at last, the day has come.

The great Southern Soul stars are mostly gone. There's a new generation clamoring to be heard.

Rather than waiting years to go online as I did with the original Top 100, this chart will be a work-in-progress.

Each month five new and never-before-featured artists will be showcased, starting at #100 and counting down to #1.

I estimate 50-75 new Artist Guides will be created by the time I finish. The other 25-50 Guides will feature artists from the old chart who are holding their own or scaling the peaks in the 21st Century.

Absent will be the masters who have wandered off to Soul Heaven. And missing will be the older artists who for one reason or another have slowed down, become inactive or left the scene.

The older generation's contributions to Southern Soul music, however, will not be forgotten.

That is why it was so important to your Daddy B. Nice to maintain the integrity of the original Top 100 and not continue updating it indefinitely.

(Daddy B. Nice's original Top 100 Southern Soul covered the period from 1990-2010. Daddy B. Nice's new 21st Century Southern Soul will cover the period from 2000-2020.)

When I constructed the first chart, I wanted to preserve a piece of musical history. I heard a cultural phenomenon I was afraid might be lost forever unless I wrote about it.

There will be no more changes to the original chart. Those performers' place in Southern Soul music will stand.

But I see a new scene today, a scene just as starved for publicity and definition, a scene missing only a mirror to reflect back its reality.

The prospect of a grueling schedule of five new artist pages a month will be daunting, and I hope readers will bear with me as I gradually fill out what may seem at first inadequate Artist Guides.

Information from readers will always be welcome. That's how I learn. That's how I add to the data.

I'm excited to get started. I have been thinking about this for a long time. I've already done the bulk of the drawings.

In a funny way, the most rewarding thing has been getting back to doing the drawings, and imagining what recording artists are going to feel like when they see their mugs in a black and white cartoon. Hopefully----high! An artist hasn't really "made it" until he or she's been caricatured by Daddy B. Nice.

In the beginning months, the suspense will be in what new stars make the chart. In the final months, the suspense will be in who amongst the big dogs and the new stars is in the top twenty, the top ten, and finally. . . the top spot.

I'm not tellin'.

Not yet.

--Daddy B. Nice

Go to Top 100 Countdown: 21st Century Southern Soul

Honorary "B" Side
"I'm A Man On A Mission"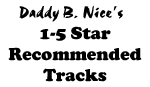 A Friendly Reunion


CD: I'm A Man On A Mission
Label: Ifgam










I'm A Man On A Mission


CD: I'm A Man On A Mission
Label: Ifgam










You Go Your Way And I'll Go Mine


CD: I'm A Man On A Mission
Label: Ifgam









Ain't Your Fool No More


CD: Leavin' Won't Be Easy
Label: Ichiban









I'm Your Man


CD: I'm A Man On A Mission
Label: Ifgam









Treat Her Right


CD: I'm A Man On A Mission
Label: Ifgam









When Will I Stop Loving You


CD: I'm A Man On A Mission
Label: Ifgam








Slippin' And Hidin'


CD: I'm A Man On A Mission
Label: Ifgam