NEW!

Corner & Top 10


Concert Calendar
& Mailbag


Comprehensive Index


New CD Reviews


Index to Artist Guides
NEW!


Best of 2018


Top 100 Countdown:
21st Century Southern Soul Artists


Top 100
Southern Soul Songs
21st Century Countdown
(00's – 10's)


Top 100
Southern Soul Artists
(90's - 00's)


Top 100
Southern Soul Songs
(90's – 00's)


Forerunners of
Southern Soul
Southern Soul CD's, MP3's
Best of Pages
About the Music
About Us
Links
Home


Sample or Buy



From artists, their familes, friends and fans. . .





From Daddy B. Nice's archives. . .





Over 100 Southern Soul drawings. . .





Original Daddy B. Nice sketches. . .





All caricatures and satirical renderings are untitled. . .





It's a little piece of history. . .





Who want a keepsake, memento or souvenir. . .





To commemorate their time. . .





In the Southern Soul limelight.





Browse through all the Southern Soul satirical sketches in Daddy B. Nice's archives.





Browse through all the Southern Soul sketches in Daddy B. Nice's archives.





Browse through all the Southern Soul collectibles in Daddy B. Nice's Southern Soul Products Store. . .





Donnell Sullivan
DONNELL SULLIVAN: Sugar Daddy EP (Donnell Sullivan) Three Stars *** Solid. The artist's fans will enjoy.
(12-7-14) Even southern soul insiders could be forgiven for mistaking this five-song EP for a debut. Donnell Sullivan's first album, Back It Up, appeared in 2011 and was actually a more distinguished collection, with twice the number of tracks, including a potential hit song, "Back Door Lover," but the song failed to make a strong enough impression with deejays and the CD fell off the radar. Two of the songs on the new EP, SUGAR DADDY, made Daddy B. Nice's Top Ten Southern Soul Singles Review, "Whistle (While You Twerk)" (#9 November 14) and "Sugar Daddy" (#5 December 14). Donnell Sullivan has what entertainers call a "facility" and he looks like a "keeper," and a guy who'll stick with it until he makes it. Without the soul, his music would register on the bubblegum side of pop, but like his influences (Tyrone Davis, Willie Clayton, T.K. Soul) before him, he's working hard on his technique. One doesn't become a southern soul singer overnight. DBN.

Sample/Buy Donnell Sullivan's SUGAR DADDY EP

Listen to Donnell Sullivan singing "Sugar Daddy" on YouTube.

*********

September 1, 2012:

DONNELL SULLIVAN: Back It Up (Turning Point) Three Stars *** Solid Southern Soul Debut by a New Male Vocalist.

First, confessions and amends. In Daddy B. Nice's Best of 2011, under the category Best Debut, your Daddy B. Nice listed among the nominees the song "Back Door Lover" by a new artist named Ronnie Love. 

Turns out that I was wrong. The artist behind "Back Door Lover" is in fact a young man named Donnell Sullivan from St. Francisville, Mississippi, a pretty and quaint little town perched above the Mississippi on a bluff so disorienting I once spent a night there not knowing if I was on the east or the west side of the river, in Mississippi or Louisiana.

After receiving Donnell Sullivan's Back It Up in the mail this month, and after initially reporting it as a "cover" song as follows on--

DADDY B. NICE'S TOP TEN "BREAKING" SOUTHERN SOUL SINGLES: AUGUST 2012

5. "Back Door Lover"----------Donnell Sullivan 

Unless I'm mistaken, this is a cover of a song by fellow youngster Ronnie Love, honored as a "Best Debut" Daddy Award nominee in 2011. It's certainly the same song, which points to a Southern Soul underground beneath even the underground that Southern Soul already occupies. . .

--Subsequently, after listening to both versions of the song, I can assure readers it is the very song I heard and was impressed by last year, and that Ronnie Love, a name I heard only over the radio, was a mistake.  (And, unless any new information is forthcoming in the near future, I'll be changing the citation for 2011 from Ronnie Love to Donnell Sullivan for the record.)  

The thing I like about this album is the way it aims at the heart of the Southern Soul sound. Sullivan has an easy-going tenor reminiscent of a young Tyrone Davis, and he writes songs that betray a thorough knowledge of Davis standards like "Carried Away," "Leavin' (On The First Train Smokin')" and "Come To Daddy."  

The performances aren't always successful, and as a whole Back It Up (Turning Point Records, 2011) is by no means a fully fleshed-out presentation.

However, in an era when even Southern Soul-friendly producers like Dylann DeAnna and Carl Marshall (CDS Records) and Mel Waiters (Britany Records) seem to favor young, urban R&B/hiphop-influenced artists over Southern Soul-oriented artists--ostensibly for commercial reasons--it's refreshing to hear a new collection that harks back to the heart of contemporary Southern Soul pioneered by artists like David Brinston, Ernie Johnson and Sir Charles Jones.

In fact, in its faithfulness to the turn-of-the-century Southern Soul sound, Donnell Sullivan's music reiterates one of 2011's most successful debuts: the Klass Band Brotherhood and their hit single, "Sugar Shack."

How ironic (and yet typical) then, that despite a plethora of YouTube offerings for the songs on Back It Up, Donnell Sullivan hasn't elected to feature "Back Door Lover" on the ubiquitous music video site.  Hopefully, this CD review will change that.

"Back Door Lover" has a simple but effective hook,  with an arrangement that is admirably focused and a lyrical framework that revels in its Jody-like naughtiness.       

"Now ladies, think about it.
I know you have a good man,
And he pays all your bills.
He keeps food on your table,
But he works hard all day.
When he gets home,
There's no time to play.
So if you ladies really
Want to feel good,
All you ladies have to do
Is open your back door
And let me in." 

Donnell Sullivan's Back It Up offers nine more songs, all plying the slow to mid-tempo time signatures of Southern Soul's mainstream.

"Baby I Got It" is an admirably-sung ballad in the mode of Brinston's "Hit And Run," albeit with less flair.

Slightly more uptempo, "Back It Up" negotiates the   Nathaniel Kimble/Sheba Potts-Wright/L.J. Echols-traveled territory of "bagging" and/or "backing" it up.

"Bedroom" borrows an oft-used, spot-on rhythm guitar lick you've heard in Southern Soul songs like Sterling Williams' "Secret Love Affair" before and fashions it into a mid-tempo invitation to lovemaking.

"No More Tears," like its predecessor, will have you scratching your head wondering where you've heard certain phrases and hooks--in this case, a more mainstream R&B ballad in the Charlie Wilson mode.

"Shake It Girl" perks things up in a Mel Waiters style, again with a surprisingly-relaxed vocal delivery for a debut artist.

"She Gave Me Some," with lyrics that say "You gave me some,/ I can't get enough," betrays the influence of O. B. Buchana and the Ecko Records studio sound, although Sullivan's vocal is nowhere near as idiosyncratic as the one-of-a-kind stylist Buchana.

"She's A Freak" and "Move Your Body" are mid-tempo, derivative exercises that feature Donnell Sullivan's sugary, breathy, mid-range, still-developing vocal style, while "My Sweet Woman" slips in one last slow-to-mid-tempo ballad in the Tyrone Davis manner. All of these songs except "My Sweet Woman" and "Back Door Lover" are available for listening from beginning to end on YouTube by clicking the links. 

As with so many aspiring singers vying for big-time exposure, Donnell Sullivan has an ace-in-the-hole in partner Antonio "Tony T" Turner, who provides all of the musical backgrounds and, along with Damon Turner and Sullivan, co-produced. Donnell Sullivan wrote all the songs and shares executive producer credits with Bennie Bolden.

--Daddy B. Nice 

Sample Bargain-Priced Donnell Sullivan Back It Up CD or MP3's

*************

--Daddy B. Nice




Tidbits

December 14, 2014:

Listen to R.J. Scott featuring Donnell Sullivan singing "Swing Out Tonight" on YouTube.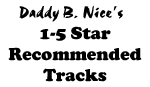 Back Door Lover


CD: Back It Up
Label: T.A.P.









Sugar Daddy


CD: Sugar Daddy EP
Label: Donnell Sullivan/CD Baby


Sample or Buy
Sugar Daddy







Whistle


CD: Sugar Daddy EP
Label: Donnell Sullivan/CD Baby