NEW!

Corner & Top 10


Concert Calendar
& Mailbag


Comprehensive Index


New CD Reviews


Index to Artist Guides
NEW!


Best of 2016


Top 100 Countdown:
21st Century Southern Soul Artists


Top 100
Southern Soul Songs
21st Century Countdown
(00's – 10's)


Top 100
Southern Soul Artists
(90's - 00's)


Top 100
Southern Soul Songs
(90's – 00's)


Forerunners of
Southern Soul
Southern Soul CD's, MP3's
Best of Pages
About the Music
About Us
Links
Home


Sample or Buy



From artists, their familes, friends and fans. . .





From Daddy B. Nice's archives. . .





Over 100 Southern Soul drawings. . .





Original Daddy B. Nice sketches. . .





All caricatures and satirical renderings are untitled. . .





It's a little piece of history. . .





Who want a keepsake, memento or souvenir. . .





To commemorate their time. . .





In the Southern Soul limelight.





Browse through all the Southern Soul satirical sketches in Daddy B. Nice's archives.





Browse through all the Southern Soul sketches in Daddy B. Nice's archives.





Browse through all the Southern Soul collectibles in Daddy B. Nice's Southern Soul Products Store. . .





"When A Woman's Fed Up"
R. Kelly
Composed by R. Kelly
Author's Forward: October 1, 2008

Whatever you think of R. Kelly's personal character or his legal travails (and I have taken a lot of heat for largely ignoring them), the man is (or was) a musical genius and he had a function in whetting the appetite of soul music lovers for the Southern Soul we know and love today.

But like Erykah Badu, R. Kelly has become less and less relevant to Southern Soul music. Unlike the late nineties and early 00's, when you could often hear a traditional R&B song by R. Kelly on chitlin' circuit-style stations, you no longer hear R. Kelly. That's because he's gone over entirely into the hiphop scene, and his music (again, like Badu's) is almost impenetrably unmelodic, un-swinging and overblown.

The young, supposedly-hip people who buy into this music you can't dance to apparently buy enough records to sway the artists away from tuneful, danceable, verse-and-chorus songwriting.

What's most ironic about the situation is that many of the artists who came out of the hiphop side of R&B in the R. Kelly mold over the last decade--Sir Charles Jones, T. K. Soul, Bigg Robb, Mr. Sam, Simeo and others--have actually crashed through the barriers and become in varying degrees fixtures on the Southern Soul scene.

Consequently, R. Kelly is now a historical footnote in the re-emergence of Southern Soul music--no longer an active or even semi-active player.

It's a shame--I don't know what else to say. Because I truly believe Southern Soul music is far superior to anything contemporary hiphop is producing. When I listen to the latest Kelly or Badu product, I just shake my head and wonder why people can't see that the "emperor" is not wearing any clothes.

--Daddy B. Nice


*************************

Daddy B. Nice's Original Critique:

Your Daddy B. Nice first became aware of R. Kelly's relevance to Southern Soul R&B in 1998, when--along with the release of his retro classic, "When A Woman's Fed Up"--he appeared in a stunning music video on BET and MTV for Kelly Price's debut single, "Friend of Mine."

On its simplest level, "Friend Of Mine" was the story of a girl (Kelly Price) betrayed by her sexy lover (R. Kelly) and her best female friend. Price called up her "godfather," Mr. Biggs (Ronald Isley) (at which point the song became a duet), pouring out her tale of misery, and Isley insisted on telephoning R. Kelly. At that point all three singers joined in a truly amazing call-and-response climax.

Now, in 1998, your Daddy B. Nice was hardly aware something called "Southern Soul" existed. Nor was he aware that as the millennium approached more and more R&B artists were pounding on the door of southern, if not national, radio stations. Underground R&B finally had momentum again. All that was lacking was recognition and interest, a spark that would light a fire under listeners beyond its core audience.

Listeners who had followed soul into disco into funk into rap and hiphop, always searching for the next great musical thing, had bought into rap because so-called "urban" R&B and "smooth" jazz had abandoned the grit and passion of 60's rhythm and blues.

When high-profile R&B newcomers like Erykah Badu and R. Kelly (who produced Price's "Friend Of Mine") decided to strike out with their own efforts at traditional R&B, it was a revelation and a turning point. Suddenly listeners like your Daddy B. Nice had a hint of what we wanted--and a reminder of how much we had lost, musically speaking, over the last quarter-century.

Erykah Badu's single "Tyrone," the very essence of Southern Soul, appeared in 1997. R. Kelly's equally soul-drenched "When A Woman's Fed Up," which turned the chords of Badu's "Tyrone" inside-out and transformed it into a virtual soul symphony, came out in 1998 (Jive). Embedded in its beginning lyrics was a nod to Badu's influence.

"I'm standing here looking in the mirror,
Saying 'Damn!' to myself.
I should have known the day would come,
That she would find somebody else.

And all the things I took her through,
Shit, I shouldn't have lasted this long.
Now I'm at this telephone,
Calling Tyrone."

When "When A Woman's Fed Up" pulled off the rare feat of "crossing over" from the millionaire's side of the tracks (commercial R&B) to the poor side (chitlin' circuit R&B), the character and legitimacy of Southern Soul were assured. For the fact that chitlin' circuit deejays and fans could recognize the accomplishments of a bona fide hiphopper, and bear him no prejudice, meant that Southern Soul was indeed strong enough, big enough, and confident enough to absorb anything "urban R&B" could produce.

Southern Soul's embracing of R. Kelly became complete, and even more remarkable, when chitlin' circuit deejays and devotees gave an enthusiastic response to Kelly's light-hearted Chocolate Factory dance anthem, "Step In The Name Of Love (Remix)" (Jive, 2003).

In spite of moral scandals and legal tribulations in Kelly's life, tried-and-true Southern Soul deejays who would have scoffed at playing Tevin Campbell or Usher embraced "Steppin's" champagne-scented optimism, playing the cut with a regularity that made it a chitlin' circuit staple.

"Step In the Name Of Love's" success on the Stations of the Deep South constituted a declaration that Southern Soul would continue to embrace every exotic influence possible. And sure enough, even Southern Soul stalwarts like young Rick Lawson ("The Babe of the Blues") were soon putting out their versions of the "Steppin'" song. It was what their juke joint audiences demanded and desired on Saturday nights.

The song that best personified R. Kelly's blues credentials was the chitlin' circuit favorite, "You Made Me Love You" (Chocolate Factory, Jive, 2003). One of the finest recreations of the vintage Al Green/Ann Peebles/Willie Mitchell sound ever recorded, Kelly's vocal conjures a musical daydream of what Green's "Love And Happiness" might have sounded like sung by Percy Sledge.

"This is not supposed to happen.
I've been hurt too many times before.
First I tripped, then I slipped, then I fell.
You made me love you, Babe."

It's a tour de force, and further proof--if any were needed--that the still-young R. Kelly remains one of Southern Soul's greatest "hopes" for the future.

--Daddy B. Nice
About R. Kelly
R. Kelly was born Steven Williams in 1969 in Chicago. Along with his band, Public Announcement, his professional debut was the LP Born Into The 90's (Jive) in 1992. It was an overnight success, and Kelly followed it with a second effort (12 Play, Jive 1993) that sold an astounding five million copies, making him a millionaire and celebrity by the age of 23.

Singles and CD's followed at regular intervals with Goldfinger-like success. (R. sold seven million copies.) Kelly perennially ranked at or near the top of "Billboard's" annual Top R&B solo artist and producer charts.

Legal woes slowed down his output in the late 90's and early 00's, and also expedited a gradual shift away from hiphop (i.e. Jay-Z's and Kelly's dance jam, "Fiesta") toward more traditional soul.

Kelly also continues to produce, write and arrange work for other artists, most notably Syleena Johnson's Southern Soul classic, "Guess What."

R. Kelly Discography:

1992 Born into the '90s (Jive)

1993 12 Play (Jive)

1995 R. Kelly (Jive)

1998 R. (Jive)

2000 TP-2.Com (Jive)

2002 The Best of Both Worlds (Jive/Roc-A-Fella/Def Jam)

2003 Chocolate Factory (Jive)

2004 Happy People/U Saved Me (Jive/Zomba)

2004 Unfinished Business (Def Jam)

2005 TP.3 Reloaded (Jive)

2007 Double Up (Jive/Zomba)

2008 12 Play: 4th Quarter (Jive)




Song's Transcendent Moment
"You can cry a river,
'Til an ocean starts to flow,
But she will always remember,
She was a woman scorned.
And if you ever get her back,
It'll never be the same."

Tidbits
Strangers to R. Kelly music who sample Daddy B. Nice's five-star recommended song, "Step In The Name Of the Love (Remix)" from the Chocolate Factory album, should be sure to sample the "remix" version, and not just the regular version of the song, which precedes it on the album. There is a world of difference between the two.
If You Liked. . . You'll Love
If you loved Percy Sledge's "When A Man Loves A Woman," you'll undoubtedly like R. Kelly's "When A Woman's Fed Up."
Honorary "B" Side
"You Made Me Love You"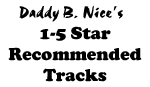 When A Woman's Fed Up


CD: R.
Label: Jive











You Made Me Love You


CD: Chocolate Factory
Label: Jive











Step In The Name Of Love (Remix)


CD: Chocolate Factory
Label: Jive










Heart Of A Woman


CD: Chocolate Factory
Label: Jive









Fiesta


CD: R. In R&B Collection
Label: Jive









I Wish


CD: R. In R&B Collection
Label: Jive









If I Could Turn Back The Hands Of Time


CD: R.
Label: Jive








Forever More


CD: Chocolate Factory
Label: Jive








Happy People


CD: Happy People/U Saved Me
Label: Jive








Ignition


CD: Chocolate Factory
Label: Jive