NEW!

Corner & Top 10


Concert Calendar
& Mailbag


Comprehensive Index


New CD Reviews


Index to Artist Guides
NEW!


Best of 2022

The Original Chart (1990-2010)

21st Century Chart (2000-2020)
NEW!

The New Generation Chart (2010-2030)
Southern Soul CD's, MP3's


Best of Pages
About the Music
About Us
Links
Home

"Strokin'"
Clarence Carter
Composed by Clarence Carter
The singing of Clarence Carter is so staggeringly robust it's almost impossible to hold the thought that he is one of the last, great, sightless bluesmen. Listening to "Slip Away" or "Strokin,'" the listener shakes and quakes with the sheer adrenalized, testosterone-laced power coursing through the man's vocals. The singer not only seems to have all five senses--sight, touch, smell, taste and hearing--but a few others denied ordinary mortals. When Clarence Carter sings, you imagine Jim Brown, the larger-than-life athlete and actor, in his lady-killing prime, or Marlon Brando in his tight, rolled-up t-shirt, screaming, "Stella! Stellll-aaaa!" in "A Street Car Named Desire," or the young Muhammad Ali bouncing and fronting and annoiting himself the "most beautiful man on the planet" before one of his fights. The music just doesn't conjure a mere blind musician.

Listen to Clarence Carter singing "Slip Away" on YouTube while you read.

But Clarence Carter is no "mere" musician. Along with Ray Charles and Stevie Wonder, he represents the last of the line of great blind black musical pioneers in 20th-century America, and with Ray Charles' passing in the summer of 2004, only two remain. If you read the obituaries for Ray Charles, you were reminded that being blind never kept a man from being sexually active. The legendary Charles quietly fathered enough children to fill an auditorium.

But when it comes to sex in all its glory, power, and amplitude, no artist--sightless or sighted--has surpassed the intensity and historical consistency of Clarence Carter. Carter married a woman reputed to be the most beautiful in R&B, Candi Staton, and he explored sexual passion through music as few have done before or since. He wrote at least two songs that form the very bedrock of Southern Soul: "Patches"--

"My papa was a great old man.
I can see him with a shovel in his hand."

--with its raw rural energy and imponderable responsibilities, and "Slip Away," which pretty much set the template for cheatin' and creepin' in rhythm and blues.

"What would I give
For just a few moments?
What would I give
Just to have you near?
Can you slip away?
I need you so."

Ironically, it was mainstream radio's exclusion of country-based R&B after the disco explosion of the seventies that emboldened Clarence Carter to throw off any remaining restraints on his sexual creed. In "Strokin'," his notorious chitlin' circuit hit, he plunged into a prurient vein of songwriting, explicitly referring to anal and oral sex, that appealed directly to the underground venues that were now his sole audience.

Listen to Clarence Carter singing "Strokin'" on YouTube.

More than any other song in contemporary Southern Soul music, "Strokin'" revels in its salacious content and as such attracts listeners who may be more interested in outright pornography than in the earthy sexuality that defines the genre. While songs like Marvin Sease's "Candylicker" and Barbara Carr's "Bone Me Like You Own Me" are too risque for mainstream radio, their musical underpinnings to some extent de-emphasize the lewdness of their lyrics.

"Strokin'," while blessed with the catchiest hook of the three, nevertheless eschews any such musical focus in favor of a "testifying" blues in which Carter sermonizes as if he were the minister of a congregation of lecherous old men, putting the explicit lyrics front and center.

"The other night I was strokin' my woman,
And it got so good to her,
You know what she told me?
Let me tell you what she told me.

Stroke it, Clarence Carter,
But don't stroke so fast.
And if my stuff ain't tight enough,
You can stick it up my ---."

If you just heard a door slam, it was probably the last of the remaining sanctimonious types. In "Southern Soul And Gospel", I wrote that R&B and gospel are the yin and yang of the South. How does Millie Jackson put it on one of her CD's? Not For Church Folk!? Dirty old men--bluesmen singing about school-girls, etc.-- are nothing new in the history of the Bible Belt.

And there is no getting around the fact that to truly love Southern Soul, you have to get a kick out of (and not be offended by) the "strokin'" of Clarence Carter and the "cheatin'" of Z. Z. Hill and the "candy-lickin'" of Marvin Sease. It's the root of the genre's charm and its claim to a specific niche of folklorish fame. The siren call of Southern Soul is in large part the promise of libertine pleasures and revelry.

What makes "Strokin'" the uncontested king of all such songs is its utter lack of guilt and its incomparable humor and openness. Those old enough to remember the remarkably-drawn Al Capp cartoons of yesteryear, "Li'l Abner," with the bulked-up (long before steroids) hillbilly white boy and his raggedly-dressed girlfriend Daisy Mae, her bust and thighs fairly bursting out of what little clothes she wore, have a good idea of the sexual charge of "Strokin'". It's barnyard sex in all its glory.

When Carter sings--

"I stroke it to the east,
And I stroke it to the west,
And I stroke it to the woman
I love the best."

--the braggadocio captures the joy of masculinity as well as, and perhaps better than, any song ever has. It's a tribute to a man's pride in his ability to get hard.

While "Strokin'" is one of the two or three seminal songs in contemporary Southern Soul, "Slip Away" is Carter's personal Mount Everest. Many R&B musicians have tried to climb its forbidding slopes (about which more in a minute). Few have made it to the top. And like Mount Everest, "Slip Away" resides above the misty clouds of the Carter discography, remote and dazzling, a testament to the performer's extraordinary talent at a time when he was barely embarking on his career.

You really don't listen to the lyrics to "Slip Away." You listen to the message, and you listen to the music. You listen to Carter's lyrical, stinging guitar. (Isn't this where the Allman Brothers learned their chops?) And you listen to Rick Hall's incredible Fame Studio backing band. (Isn't this where David Brinston and O. B. Buchana learned the powerful "muscle grooves" that made "Kick It" and "Let's Get Drunk" (respectively) so dazzling?") Above all, you listen to the vocal.

Clarence Carter's voice has diminished a good deal since then. Indeed, except for "Patches" and "Strokin'," it has never been the same. On recent efforts like One More Hit, one hears sustained flickers of the greatness of old, but they tend to remind one of how much of the energy of Carter's youth has been lost to the ravages of age.

"What Was I Supposed To Do," little-known but indelibly memorable, is perhaps the best of the many mid-to-late period Clarence Carter tunes. The arrangement teems with atmosphere and originality, a kind of bluesy lushness unlike anything Carter's ever done. Supposedly recorded in the 70's, your Daddy B. Nice has never found a printing of "What Was I Supposed To Do?" earlier than 1995's I Couldn't Refuse CD. Since then, on the other hand, "What Was I Supposed To Do?" has turned up on a series of compilation albums: Soul Jewels: Vol. 2 (2001, Demon), The Soul Troubadours (Fuel 2000, 2005) and Cheatin' Soul And The Southern Dream Of Freedom (a German issue). Clearly, others have taken note of the stature of this obscure Carter classic.

Listen to Clarence Carter singing "What Was I Supposed To Do?" on YouTube while you read.

The prologue--a leisurely instrumental interlude with sparkling lead guitar flitting over sensuous keyboard work in a way that recalls the mid-sixties, pre-psychedelic band Blues Project--floats effortlessly into the words:

"I'm sorry if I embarrassed you.
I let my jealousy show,
And that's something
I said I wouldn't do.

But tell me how far
Is a man supposed to go?
When another man tries to steal your woman,
And even lets it show?

He pulled on your hair,
And rubbed on your face,
And even had the nerve
To ask the color of your lingerie.

Tell me what was I supposed to do,
When he disrespected me,
And he disrespected you?"

This marvelous, five-minute-plus lament takes one back to the contradictions inherent in Clarence Carter's blindness, and why it's so easy to forget. For if the singer of this song was blind, how could he so convincingly sing:

"He bought you drinks
And gave you invitations to his table.
He insisted on dancing with you
When I said you weren't available.

Being nice to other men,
I really don't mind.
But I just couldn't stand
To see him rub on your behind."

"What Was I Supposed To Do" was written by Clarence Carter himself. As a composer and as an arranger, Carter surpasses himself, and if one needs a "fresh" tune--an unknown song from the Carter canon--to jump-start a renewed interest in this frankly under-rated artist, this is it. Along with "Slip Away" and "Strokin'," "What Was I Supposed To Do" resides far above the middling, day-to-day efforts of the Southern Soul community. Like a majestic eagle, it soars and glides with effortless grace in an airy realm few other artists ever reach, a testimony to the artistry of this singular forerunner of Southern Soul.

Listen to Clarence Carter singing "Patches" on YouTube.

Listen to Clarence Carter singing "Slip Away" Live Onstage on YouTube.

--Daddy B. Nice
About Clarence Carter
Clarence Carter was born blind in Montgomery, Alabama in 1936. He attended Alabama State College and, along with blind schoolmate Calvin Scott, started recording songs in the early sixties. A multi-instrumentalist with composing, transposing and arranging skills (all in Braille), Carter joined with Scott to form a duo called the C & C Boys.

The pair recorded songs for Fairlane and Duke before achieving some regional success at Rick Hall's Fame Studio in Muscle Shoals, Alabama.
By this time--the mid-sixties--they were also picked up by Jerry Wexler's Atlantic label's subsidiary, Atco. They worked on various material for both entities until Carter's relationship with Scott deteriorated after an accident in which Scott was seriously injured.

Carter pressed on as a solo act, and, with the creditable "Thread The Needle," which briefly crossed over into the pop charts, and "Tell Mama" by Etta James, a "response" song to a previous song by Carter called "Tell Daddy," big-label Atlantic signed him in 1968.

Atlantic soon released "Slip Away," a perfect amalgam of Carter's wrenching vocal and guitar styles and the fluid, muscular Muscle Shoals rhythm section (Rick Hall's Fame house band). The record broke into the national Top 10 and made the "Muscle Shoals sound" famous. Its successor, "Too Weak To Fight," also became a hit.

Between 1968 to 1970, Carter was a well-known fixture on the pop charts. The albums from this, his finest period, included This Is Clarence Carter, The Dynamic Clarence Carter, Testifyin' and Patches. Carter's last and biggest single, "Patches," was an R&B re-working of the folk and country-western styles of artists like Tennessee Ernie Ford, Burl Ives and Marty Robbins, and like "Slip Away" it was equally popular with blacks and whites.

After the success of "Patches" Clarence Carter fell from his lofty position as a national chart-maker. The big contract with Atlantic ended, and although he produced an album--with a few exceptions--on an annual basis on a host of small labels through the seventies and eighties (many of them substantially smaller than the standard 10-12 songs), a national hit eluded him. While Carter dabbled in blues and some other forms during this time, he remained remarkably true to his Southern Soul style--much more so than other R&B musicians.

The precise origins of "Strokin'," the chitlin' circuit hit that jump-started Carter's career, are as obscure as the kudzu-festooned hamlets of Mississippi and Alabama that furnished its small but eager audience. The single (and its follow-up, "Still Strokin'") is reported to have been recorded soon after Carter joined Ichiban, the Atlanta-based Southern Soul label, in the mid-eighties, but it never appeared on subsequent Ichiban CD's of the period, most likely due to its prurient content.

Meanwhile, word-of-mouth on the chitlin' circuit continued to build as Carter toured Southern venues, and "Strokin'" gradually became the Carter song audiences demanded to hear more than any other. The single made one of its first appearances on a sampler entitled Nasty Blues in 1989, and finally, in 1994, Carter released the song on two albums, Dr. C.C. (Koch) and Live With The Dr. (Peachtown).

Carter has continued to record to the present day. His last album, One More Hit (2005), generated substantial air play on the Stations of the Deep South, led by the radio single "Are You Ready For The Blues?". A new, remastered and modestly-priced retrospective (minus "Strokin'")-- The Platinum Collection--appeared in 2007.

Song's Transcendent Moment
"I stroke it to the east,
And I stroke it to the west,
And I stroke it to the woman
I love the best."
Tidbits
1. With its country-western and pop elements (for example, the commercial-sounding harmonica), "Patches" has long been viewed as Carter's most borderline, crossover-conscious hit. However, with its focus on the theme of family burdens and responsibility ("It's up to you to do the rest," Carter's father tells him), few people realize that it took much of its inspiration from The Band's ground-breaking 1968 record, "The Weight," written by Robbie Robertson, from the album Music From Big Pink, in which lead vocalist Rick Danko sings: "You take the load off Annie/And put the weight right on me." Numerous other R&B acts, including the Supremes, the Temptations, Aretha Franklin and the Staple Singers, recorded direct covers of "The Weight". DBN.
If You Liked. . . You'll Love
If you liked the Rolling Stones' "Satisfaction," you're bound to like Clarence Carter's "Strokin'".



EDITOR'S NOTE

In the late nineties, when I first began to visualize a charting of Southern Soul music, my overriding motive was to correct what I perceived to be a grievous wrong. When I searched the Internet for information on the great artists I heard on radio stations on my trips through the South, I could find nothing about them. I was able to find information on blues and soul artists up to about the 1980's, but anything more contemporary was still a "dark continent"--unknown, unexplored and unmemorialized. Even "southern soul" was a suspect term, used mainly as an adjective to describe older artists geographically tied to the Deep South.

To help right that wrong, I went about constructing a Top 100 chart of the best Southern Soul artists from the 90's to the present, and I profiled those performers in "artist guides". But when I had finished that chart (Daddy B. Nice's Top 100), I again found myself faced with a wrong. This time the oversight was my lack of attention to the artists whose best material had been recorded prior to the 90's and 00's, artists without whom the Southern Soul phenomenon would never have occurred. Yes, one could find information on these performers on the Internet, but not up-to-date information, and not in the context of contemporary Southern Soul.

That is what brought me to formulate the chart you are reading: "Forerunners." Rhythm & Blues as it's played, appreciated and revered in the Deep South. The Golden Oldies of the Chitlin' Circuit. The artists who "count" and the songs that "matter" to the artists, producers and deejays who understand and create the Southern Soul sound. And that's different--although not altogether different--from the soul music many of us grew up listening to outside the Deep South. Although fans may be coming to this music long after it was first recorded, I believe it will only whet their appetite for Southern Soul music all the more. DBN.

Honorary "B" Side
"Slip Away"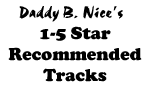 Strokin'


CD: Best Of: The Dr.'s Greatest Prescriptions
Label: Koch











Slip Away


CD: Slip Away
Label: Collectables











Patches


CD: Slip Away
Label: Collectables











Strokin' DVD


CD: Strokin' DVD
Label: Ryko


Sample or Buy
Strokin' DVD









What Was I Supposed To Do?


CD: Soul Jewels: Vol. 2
Label: Demon










I'm Between A Rock And A Hard Place


CD: Bring It To Me
Label: Cee Gee










Making Love (At the Dark End of the Street)


CD: Clarence Carter: The Platinum Collection
Label: Warner










Sixty Minute Man


CD: Soul Session: Various Artists
Label: Ripete










Slipped, Tripped, And Fell In Love


CD: Slip Away
Label: Collectables










Too Weak To Fight


CD: Patches/Dynamic Clarence Carter
Label: Collectables









Are You Ready For The Blues


CD: One More Hit
Label: Cee Gee


Sample or Buy
One More Hit







Let's Start Doing


CD: One More Hit
Label: Cee Gee


Sample or Buy
One More Hit







New Love


CD: One More Hit
Label: Warner


Sample or Buy
One More Hit