NEW!

Corner & Top 10


Concert Calendar
& Mailbag


Comprehensive Index


New CD Reviews


Index to Artist Guides
NEW!


Best of 2022

The Original Chart (1990-2010)

21st Century Chart (2000-2020)
NEW!

The New Generation Chart (2010-2030)
Southern Soul CD's, MP3's


Best of Pages
About the Music
About Us
Links
Home

"A Nickel And A Nail "
O. V. Wright
Composed by Deadric Malone & Vernon Morrison
Once upon a time, long before you needed a cigarette lighter to light a strike-on-cover wood match, long before there were people like Chico and Big K9 and Funky Larry spreading the sounds of Southern Soul music to all corners of the globe, adult rhythm and blues was a kind of primordial sea, undiscovered by all but the most intrepid. For those courageous souls who weren't born and bred to this vast and mysterious expanse, journeying out into its waters and deep-sea diving into its murky depths was a life-changing experience.

As one explored down from the surface, past the
relatively accessible work of Mel Waiters ("Hole In The Wall") and Peggy Scott-Adams ("Bill") and Ollie Nightingale ("She's In A Midnight Mood In The Middle Of The Day") to where the diminishing sun sparkled upon the dazzling coral reefs of Johnnie Taylor and Tyrone Davis, and--descending even further--plunged into the ever-darker reaches of the obscure and forgotten, like some deep-sea team from "National Geographic," past the work of denizens of the deep such as James Carr ("Dark Side Of The Street") and Dorothy Moore ("Misty Blue"), the very last and deepest of these creatures, starved of light, resistant to analysis, the darkest, blackest creature of the bedrock R&B deep, was O. V. Wright.

And so O.V. Wright remains to this day--out of sight, out of mind. Of our deceased stars, we like to say, "Gone, but not forgotten." Sadly, the two unassailable masterpieces that O. V. Wright recorded for posterity--"A Nickel And A Nail" and "Ace Of Spades"--may no longer even rate a blip on the sonar screens of today's musicians. And, like the disappearance of imperiled species worldwide, this loss rates as an incalculable impoverishment to everyone alive today who loves and cares about rhythm and blues.

If the root songs of today's Southern Soul music are in large part the "left-over" tracks of adult rhythm and blues, the soul music that time and the mainstream forgot, then O. V. Wright surely qualifies as the King of the Forgotten. His singing talents were as great--or greater--than the emperor of southern rhythm and blues himself, the distinguished Otis Redding. And Wright's classics--shaped by his wizard-wise collaborator Willie Mitchell--would blow deserving present-day Southern Soul hits like Carl Marshall's "Good Loving Will Make You Cry" and Billy "Soul" Bonds' "Scat Cat, Here Kitty Kitty" right off the charts, were they released today.

At least, your Daddy B. Nice thinks they would. On the other hand, would songs like "A Nickel And A Nail" and "Ace Of Spades," both written by the great Deadric Malone, be too tough, too passionate, too "real," too uncompromising for today's market? If so, it again rates as our loss. Because if we have drifted so far from our raw emotional core, if we have long ago ceded any interest in human personality stressed to its passionate extremes, what are we left with? Life seen from behind an emotional windshield--safe, medicated, culturally-correct?

"Ace Of Spades" resonates on so many levels it makes most of today's music seem almost infantile by comparison. "Spades" was a term commonly applied in a derogatory way to African-Americans in the past as a less offensive euphemism for the word "n----r," but a slur nonetheless. Here it mingles with the word "ace" and all of its connotations, from being the highest-value in cards to its meaning as the top-achiever in endeavors as diverse as aerial warfare or bedroom prowess.

So to be called the "Ace Of Spades" is the equivalent of someone from today boasting of being the "baddest". . . (fill in the blank), meaning the "best," but with a sense of poetry and history.

"That game you are playing,
Been played on me before.
And the girl that played it,
She's not here any more.

Listen to me, baby,
You just can't win.
The places you're trying to go,
I've already been.

I've been there, I've been there."

"Ace of Spades" rocks. The song lays out a base, a rhythm track, so contagious one could catch catch the "born-again" convulsions from it. The lead guitar lines constitute a feast fit for a Hendrix or Clapton, and the horns recall Joe Scott's charts on Bobby "Blue" Bland's early masterpieces.

The lyrics, cleverly fabricated around the numbers (and face cards) of a deck of cards, combine specificity with obliqueness with a mastery worthy of Bob Dylan. While the gist of the song is a put-down of a woman by her frustrated lover, the lyrics never give away exactly what domestic crimes the lover has committed. O.V.'s woman has over-stepped some boundary; she's impinged on O.V.'s pride.

"Ace Of Spades" is the resulting rant, in which O.V. uses the analogy of cards to re-assert his supremacy. He's not only the "Ace of Spaces." He's the Ace of Hearts ("love and misery"), the Ace of Diamonds ("something every woman craves"), and even the Ace of Clubs ("to keep my baby's place").

"But listen to me, baby.
Have no fear.
The game that you're playing,
I'm the one that brought it here."

I brought it here, I brought it here."

"A Nickel And A Nail," O.V. Wright's other undisputed classic, is if possible even blacker and deeper in musical "reverb" than the "Ace Of Spades." The ultimate down-and-out song, "A Nickel And A Nail" marshalls the same protean forces--O.V.'s remarkably expressive vocal skills, inspired songwriting (Deadric Malone and Vernon Morrison) and Mitchell's Memphis rhythm section and horns--to create the template upon which just about every "down-on-my-luck" R&B song since has been built.

"I once had love,
And plenty of money."

--The song begins. Pretty much sums it up for most of us fellas--at least us lucky ones--but has anyone ever glossed over it so fast?

"Someway, somehow,
Lord knows I failed."

Oh no. Even more of us have been there and done that. Starting with the first divorce, no doubt. In O.V.'s rendering, the words take on the density of a lifetime.

"Now all I have
In my pocket,
--All I can give account of--
Is a nickel and a nail."

With the Memphis horns wailing, the hook kicks in and the stanza rolls into the next, but not before you know you're listening to something rare, something special. You're witnessing the blues jumping on the back of rock and roll and having its way. I've often railed about the excesses of melismatic singing--sustaining single notes through bars of roller-coaster-like improvisations--and how Southern Soul vocalists have done music a favor by rejecting the practice. But here is melisma I can get into.

Wright sustains and bends notes with a religious intensity. And by the end of that first stanza, you know everything there is to know. You might be inclined to turn away (like you would from a panhandler coming down from a crack high) if the music and the vocal itself weren't so compelling. The very intensity that instinctively coaxes you to turn away also compels you to listen. That's when you know you're getting into a song's "deep waters," and since the experience is so rare, the music really does seem to enlarge and become something almost lifelike.

"My friends," O. V. continues,
"They just don't know.
They still, down in their hearts,
They think I'm doing swell."

In this verse you find the inspiration Homer Banks, Raymond Jackson and Don Davis drew upon when they wrote Carl Sims' classic, "Mr. Nobody Is Somebody Now."

"I look at all of my friends
Who went to school with me
Driving their fine cars
And bragging about their college degrees."

But even Sims' working-class hero doesn't bottom out as low as Wright's poor Everyman, who must jingle the change in his pockets to convince himself and others he has anything at all. Sadly:

"All you hear me jingling
Is a nickel and a nail."

This is Southern Soul bedrock. Southern Soul hardpan. And it's not a one-note, one-dimensional "downer" of a blues chant. "A Nickel And A Nail" is great melody, unparalleled delivery and "gutting-it-out" message (the rhythm AND the blues) masterfully fused into one of the greatest R&B songs of all time. If there were any justice in the world, there would be a statue erected to O.V. and "A Nickel And A Nail" at the junction of Highways 61 and 49.

--Daddy B. Nice
About O. V. Wright
Overton Vertis (O. V.) Wright was born October 9, 1939, in Leno, Tennessee. His career began on the gospel circuit, most prominently with the gospel group The Sunset Travelers, and--even by the Bible-drenched standards of Southern Soul--Wright remained influenced and intertwined with Gospel to an extent seldom seen among R&B artists. Wright also sang or was associated with the fifties and sixties-era gospel groups The Luckett Brothers, the Spirit of Memphis Quartet, the Reverend Julius Cheeks, and the Swan Silvertones.

In the liner notes to the gospel compilation Bless My Bones: Memphis Gospel Radio--The 50's , Grover Blake, musical director of the Sunset Travelers, states: "When I got O.V., we would let him sing just one song, and he could just stand straight, wouldn't even move, just stand. It was such a tremendous voice that when he'd get to a certain peak in his voice, people couldn't stand it anymore. When he left the Sunset Travelers he started with Pop. His first record he cut was a hit in Pop, 'You're Gonna Make Me Cry'. . . (But) He was a gospel lover. He would come back in many times and sang with the group. But we didn't let him sing on programs, because people knew he was singing rock and roll."

Wright was signed to producer Don Robey's Houston-based gospel label Peacock when he decided to record his first secular single, "That's How Strong My Love Is," in 1964 for Memphis' Goldwax Records. The single set in motion a number of events that would resonate throughout the rest of Wright's career.

"That's How Strong My Love Is" not only marked the emergence of a major R&B talent. It atracted the attention of Otis Redding, who covered the song, thereby stealing the spotlight and sales from Wright's version.

The quality of--and response to--the record also alarmed Mr. Robey, to whom Wright was under contract as a gospel act. He insisted that Wright return to Houston and record for his secular label, Backbeat. The result was 1965's "You're Gonna Make Me Cry," Wright's first rhythm and blues hit. The debut album containing the song, If It's Only for Tonight, appeared the same year.

By the time Memory Blues, Wright's second album (Backbeat/MCA), was released, another major player--the legendary Willie Mitchell--had become Wright's producer. Still working under Robey, the duo scored with the disc's single, "I'd Rather Be Blind, Crippled and Crazy," co-written by Charles Hodges, one of the soon-to-be-famous Hi Records rhythm-section Hodges Brothers. Nucleus Of Soul appeared later the same year.

The collaboration between O. V. Wright and Willie Mitchell reached its apex in the late sixties and early seventies with the songs "A Nickel & A Nail" and the "Ace of Spades." Recorded at the Hi Records studio in Memphis with Mitchell and his by-now fabled house band for Don Robey's Texas Backbeat label, these two songs, despite minimal radio exposure, became instant classics and standards of Southern Soul R&B. The album, A Nickel & A Nail & Ace of Spades, which long ago went out of print, is best memorialized in the 1992 Fontana/MCA compilation, The Soul of O.V. Wright.

With the demise of Backbeat Records, Wright made the obvious move to Mitchell's Memphis-based Hi Records, where he cut a number of albums--none as dazzling as his early work, however--in the late seventies. Two triumphant shows in Tokyo in 1979 with the Hi Record musicians as back-up, gathered together in Live in Japan, constituted Wright's last, significant claim to rhythm-and-blues fame. (See also the re-issue The Complete O.V. Wright on Hi Records, Vol. 2: On Stage.) The concerts also marked the Japanese people's appreciation of Wright, which continues to this day. Only a little more than a year later, on Nov 16, 1980, O. V. Wright--still a relatively young man--died, a victim of hard living.

Tidbits
1. The poverty at the heart of "A Nickel And A Nail"'s message--the reality of "living on the edge"--is the single most dominant feature of the landscape and geography of the chitlin' circuit to this day. Much of it was revealed to the world in the aftermath of Hurrican Katrina, which ravaged southern Mississippi, Louisiana and Alabama. But the hard times have always been there--"better" for each generation, perhaps--but hard nevertheless, especially by the standards of other regions of the USA. DBN.

2. December 30, 2007. Staunch O. V. Wright fans may be interested in the following letter regarding new O. V. Wright material issued through Japan's P-Vine label:

Hi Daddy B,

First off let me introduce myself.
My name is David Porter, no not the David Porter of Hayes & Porter songwriting fame, but a long time lover of Soul Music based in England.
What kind of Soul Music ?, Southern Soul most of all, but all types if it's gritty and deep. Be it recorded in New York, Chicago, LA, New Orleans or Miami

The reason I am contacting you is to inform you of a 5CD Box set + free CDR of all O.V.Wrights Backbeat recordings that will be released this month in Japan. All five of his Backbeat album's are included, plus his two Goldwax tracks. The CDR features him live in concert plus an interview.

The sad news is that this will be hard to find outside Japan as it is officially not for export.

It is released on the P-Vine label and I have been the UK distributor for the P-Vine for many years now and therefore I shall have copies to sell because of my long time business connection.
This set as 5 CDs was first issued many, many years ago and has always been hard to find. Copies have sold for big bucks on ebay.

If you already have this information I am sorry I troubled you but I wanted to make contact to say how much I enjoy your website and articles. Keep up the good work.

Best regards,

David Porter, director Vivid Sound UK, the UK's leading Soul Music mail order company, established 1985.

(Note from Daddy B. Nice: Fans who wish to purchase this material can follow up through David Porter's e-mail address as follows:)

David Porter [David.Porter@vividsound.co.uk]

The 5 CD box set of O.V.Wrights complete Back Beat, ABC and Goldwax recordings is now in stock from Japan.
There is a bonus CDR with the set of a rare interview with O.V. made when he last toured Japan.
This release is essential to any lover of true Southern Soul. The man was a GIANT !!
I can supply to USA. Contact me on this email address for details. D.P.
If You Liked. . . You'll Love
EDITOR'S NOTE:

In the late nineties, when I first began to visualize a charting of Southern Soul music, my overriding motive was to correct what I perceived to be a grievous wrong. When I searched the Internet for information on the great musicians I heard on radio stations on my trips through the South, I could find nothing about them. I was able to find information on blues and soul artists up to about the 1980's, but anything more contemporary was still a "dark continent"--unknown, unexplored and unmemorialized. Even "southern soul" was a suspect and tentative term, used mainly as an adjective to describe older artists geographically tied to the Deep South.

To help right that wrong, I went about constructing a Top 100 chart of the best Southern Soul artists from the 90's to the present, and I profiled those performers in "artist guides." But when I had finished that chart (Daddy B. Nice's Top 100), I again found myself faced with a wrong. This time the oversight was my lack of attention to the artists whose best material had been recorded prior to the 90's and 00's, artists without whom the Southern Soul phenomenon would never have occurred. Yes, one could find information on these performers on the Internet, but not up-to-date information, and not in the context of contemporary Southern Soul.

That is what brought me to formulate the chart you are reading: "Forerunners." Rhythm & Blues as it's played, appreciated and revered in the Deep South. The Golden Oldies of the Chitlin' Circuit. The artists who "count" and the songs that "matter" to the artists, deejays and producers who understand and create the Southern Soul sound. And that's different--although not altogether different--from the soul music many of us grew up listening to outside the Deep South. Although fans may be coming to this music long after it was first recorded, I believe it will only whet their appetite for Southern Soul music all the more. DBN.


Honorary "B" Side
"Ace Of Spades"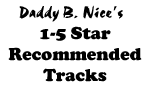 A Nickel And A Nail


CD: The Soul of O.V. Wright
Label: Fontana MCA











Ace Of Spades


CD: Eight Men, Four Women
Label: MCA











When You Took Your Love From Me


CD: The Soul of O.V. Wright
Label: Fontana MCA










Drowning On Dry Land


CD: The Soul of O.V. Wright
Label: MCA










Eight Men Four Women


CD: Eight Men, Four Women
Label: MCA










Gone For Good


CD: Eight Men, Four Women
Label: MCA










Medley: When God Blessed/When A Man/That's..(Live)


CD: The Complete O.V. Wright on Hi Records, Vol. 2: On
Label: Hi UK









I've Been Searching


CD: The Soul of O.V. Wright
Label: MCA









Monkey Dog


CD: Eight Men, Four Women
Label: MCA









Precious, Precious


CD: The Complete O.V. Wright on Hi Records, Vol. 2: On
Label: Hi UK









You're Gonna Make Me Cry


CD: The Soul of O.V. Wright
Label: MCA