NEW!

Corner & Top 10


Concert Calendar
& Mailbag


Comprehensive Index


New CD Reviews


Index to Artist Guides
NEW!


Best of 2022

The Original Chart (1990-2010)

21st Century Chart (2000-2020)
NEW!

The New Generation Chart (2010-2030)
Southern Soul CD's, MP3's


Best of Pages
About the Music
About Us
Links
Home

"How Do You Stop"
James Brown
Composed by Dan Hartman & Charlie Midnight
October 1, 2014: Read Daddy B. Nice's revisionist essay on James Brown, the subject of the new biographical movie playing to sold-out audiences across the country, "Get On Up."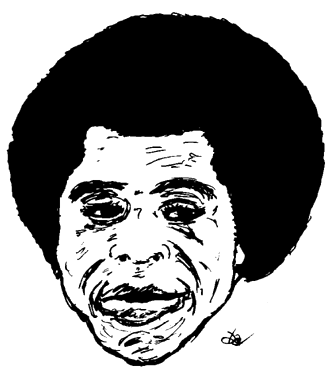 **********

Daddy B. Nice's Original Critique

James Brown was born May 3, 1933 in a "shotgun" shack in Barnwell, South Carolina. He grew up in poverty, picking cotton, shining shoes and "buck-dancing" for soldiers in the whore house run by his aunt. He spent three years in jail for car theft while still a teenager. (The sentence was 8-16 years, a harsh, racist, embittering prospect for a young boy to look forward to, but common in the South at the time.)

James joined a gospel group during his incarceration, and when he was paroled he became a member of a secular group led by Bobby Byrd. Brown also had talent as a boxer and flirted with a professional career during this time, but ultimately he channelled boxing's skills--speed, precision, power--into music.

Brown's energy and flamboyance soon propelled him into the "front man" role in the Byrd band, eventually called the Flames, and the group's first hit, "Please Please Please," sold over a million copies (1956). The early Flames singles were based on the most raw and fevered reaches of the Southern gospel canon, and in Brown's revolutionary style (also favored by Little Richard), soul music as Sam Cooke and his imitators knew it was transformed into the groove of the jungle, as the title of one of Brown's later albums proclaims.

As a result, Brown was a controversial figure, as threatening to many in the black audience--often dividing generations--as Elvis Presley was in white families of the fifties. The Flames' "Try Me" became an R&B chart-topper two years later, and in 1960 the single "Think" became a Top Ten R&B hit.

In the early sixties, as the British pop "invasion" was just beginning, the band (now called James Brown & The Famous Flames) performed a series of concerts at Harlem's famed Apollo Theater in New York City. The concerts were filmed, and at Brown's insistence (and, reportedly, his own financing) finally pressed on vinyl.

Released in 1963, the year the Beatles' first singles were trickling into the United States, the album Live At The Apollo went to number two nationally on the pop charts (an unheard of achievement for a "race" record, now called euphemistically "R&B") and crossed over into the nation's pop mainstream, influencing musicians far beyond the black circuit.

And that circuit, outside of a few urban outposts in the Northeast, was the South, the chitlin' circuit, the same core audience that is listening to Southern Soul today--the so called "bible belt," although Brown played the Devil to perfection, even naming one of his albums Hell.

Brown toured tirelessly. Fans raved about his concerts--they were events. As a performer, Brown was in a league all his own. Although he was influenced by Sammy Davis Jr., Brown's speed, his sense of balance, his spastic, robotic, spinning-top dance moves were without parallel in popular music. He looked like an exclamation point with tiny dancing legs.

This was the buttoned-down era of stationary crooners like Nat King Cole and Johnny Mathis and slow-stepping, romantically-choreographed groups like The Ames Brothers.

The James Brown sound and spectacle was analogous to coarse sandpaper rubbed with force against the most tender regions of fifties' smoothness. Brown's onstage fury merged with the already over-the-top passion in his material to make an unforgettable impression.

If you put the twelve greatest traditional R&B tracks from this era of Brown's career on one album, you'd have perhaps the greatest Southern Soul album extant. Strong candidates would be "Please Please Please," "Try Me," "Night Train," "Lost Someone," "The Boss" (the precursor of B. B. King's "Paid The Cost To Be The Boss"), "Doing The Best I Can," "Bewildered," "Devil's Den," and, above all, "Out Of Sight (The Way You Do The Things You Do)," the song that more than any other, perhaps, was the turning point in Brown's career.

In this quintessentially Southern Soul song, Brown takes soul music about as far as it can be taken in terms of power and beauty. It's got rhythm. It's got a killer melodic hook. It's got a vintage Brown vocal, simultaneously ground-breaking and traditional.

Most tellingly, "Out Of Sight" introduces the hook (a Latin-flavored figure with an easy-going horn arrangement) that Brown would strip down and percuss a litle over a year later in the seminal funk hit, "Papa's Got A Brand New Bag."

If one could freeze-frame that moment in time, one would have a "B.C." and "A.D." for Brown's career. One would have a Southern Soul-like catalog of Brown hits beginning in the mid-fifties (a catalog that smart R&B performers have been raiding for inspiration and material ever since) on the one hand, and--on the other hand--the blindingly fast, scorchingly precise, minimalist grooves that revolutionized world music and birthed funk, rap and hiphop.

That this is true can be readily seen by the musicians Brown brought in to record his cutting-edge percussive tracks. They were not vingage R&B performers. They were musicians who came up through the rarefied jazz of the fifties and sixties: jazz hornman Lewis Hamlin, keyboardist Alfred "Pee Wee" Ellis, guitarist Jimmy Nolen, saxaphonist Maceo Parker and brother Melvin , in addition to many others more versed in jazz than traditional R&B. And, of course, it shows in the recordings.

There are all the things we associate with Brown's greatness--the Spandex-tight arrangements, the fast and frenetic tempos, the on-the-one beats mutating into maze-like poly-rhythms.

The Brown singles that followed the triumph of Live At The Apollo in the mid to late sixties--"Papa's Got A Brand New Bag," "I Got You (I Feel Good)," "Cold Sweat," "Say It Loud (I'm Black And I'm Proud)," and "Mother Popcorn," to name only a few--constituted a conscious effort by Brown to move beyond the African-American audience that would always buy his traditional rhythm and blues records.

Ironically, not only did Brown successfully seduce all the white hipsters in America who may have previously followed the bebop of Charlie Parker and Theolonius Monk; he captured the imagination of the entire African continent and influenced a new, commercial generation of "mother"-continent musicians such as Fela and King Sunny Ade. It would not be inaccurate to call James Brown the father of contemporary African popular music.

And yet, Brown never entirely gave up traditional R&B songs, shuttling between his cutting-edge rhythmic tour de forces and traditional soul songs like "It's A Man's Man's Man's World" with an ease his newfound fans seldom matched.

Thus, whenever--later in his career--Brown released traditional fare, media pundits enthralled by his status as innovator never gave him the credit due someone who was as comfortable in the ocean of R&B as he was in the sea of funk.

They (the critics) would say, in so many words: "He's imitating his imitators. How sad that he'd sink to that."

They might have said (although no one ever did): "He's returned to his roots in these songs. He's reminding us that he's had just as much of a hand in creating R&B and Soul music as did the debonair Sam Cooke."

There were exceptions--for instance, "Living In America," which won a Grammy--but they only proved the general rule. More often than not, when Brown released incredible R&B classics such as "How Do You Stop," mainstream critics adopted an apologetic or dismissive tone. It was as if credit could only be given Brown in his role as enfant terrible, not in his role as a master and godfather of all of soul music.

In truth, the funk/jazz/hiphop side of the Brown oeuvre is no better than the traditional, southern-soul, rhythm and blues side, and may be less satisfying as pure music. As dance--as spectacle--funk and hiphop have just claims to being the dominant genre. And as a musical milestone, Brown is justifiably loved and respected for his pivotal role in emphasizing rhythm in contemporary music.

However, before he transformed R&B into funk, James Brown transformed a certain kind of rural Carolina gospel into R&B, and this too--although forgotten and absorbed and made invisible over time--was a revolution.

If, in the fifties or early sixties, you had never heard someone scream with the sheer euphoria of living--as Brown does on the keyboard-dominated masterpiece "Devil's Den" from his Southern Soul period--if you'd grown up, say, in an anal-retentive and repressed culture, then indeed that James Brown scream would sound "like a stuck pig," as a farm-raised friend once told me. I've appreciated that ever since as a pretty accurate simile for the barriers Brown broke down long before "Papa's Got A Brand New Bag" was even a glimmer in his eye.

Matter of fact, James Brown brought the entire barn yard into popular music--squeals, squeaks, twitters, crowing--not to mention every conceivable grunt and groan associated with the sex act. The marvel is that Brown did it with such discipline.

The best way to understand the shock waves sent by James Brown's R&B revolution of the fifties is to watch some movies from the late forties and fifties. You'll be surprised, first of all, by how "into" black music the white audience was at that seemingly "early" date. You'll see lots of black musicians in otherwise "white" movies.

But the second and most lasting impression you'll get is the strikingly different nature of music in those days. Jazz ruled. Sophistication was the key theme for entertainers. Smooth. Cool.

Time has a way of bending even the most traumatic and climactic moments in life and in art. Like the colors of a great painting fading over the years, "Devil's Den" and other great Brown masterpieces--ignored only because they're not hip and funky--await only listening to bring their musical colors back to full brilliance.

You'll hear the swinging, Latin-tinged, mid-range tempos (Southern Soul's home turf), the indescribably soulful James Brown organ fills, the to-die-for, classic R&B female choruses, not to mention the inimitable Brown vocals given the space to comment on the cultural, social and amatory issues of the day.

What your Daddy B. Nice is trying to say here is that there is more to James Brown than just the on-the-one "Cold Sweat"-style funk that everyone now associates with him. Why don't we ever hear it?

The stupendous single, "How Do You Stop," from Brown's album Gravity (1986), is my favorite example of this overlooked side of Brown's music. Because it's been so profoundly neglected, it constitutes the equivalent of a "new" James Brown song for most of the contemporary audience, and a revealing starting point to the "other" James Brown.

"Hard bodies,
Soft emotions. . . "

. . . Brown begins. And in those four words, drawn out over the rarest-vintage soul backdrop, one can hear decades of struggle and wisdom in the just barely perceptible cracks in Brown's weathered-like-leather vocal.

The mesmerizing rhythm track "clops" along like a carriage horse in a park, and a myriad of elements--horns, bagpipe-style sythesizers, a mixed-gender chorus (an especially neat effect)--swirl around Brown's center-stage vocal. The record seems to swing and amble amiably along even while the lyrics and Brown's rendering of the lyrics conjure a kind of majesty, a whiff of pomp and circumstance.

"You've had some success--
A new couple of friends.
You're caught in the good life.
You thought it would never, never end. . . "

The melody slowly but surely insinuates itself in your brain and refuses to leave. You clamor for more of its strong, unabashed chord changes. And the chorus simply etches itself into your memory

"How do you stop
Before it's too late?
You choose and you lose
If you hesitate."

The song is a meditation on love and career and the make-or-break decisions that destine a person for one or the other. The track doesn't state it, but it implies the two seldom go together--thus the tragic, bluesy ambience in Brown's words.

"How do you stop
A runaway train?
How do you stop
The pouring, pouring rain. . .

How do you stop
Love from slipping away? . . .

How do stop. . .
Before it's too late?"

To hear James Brown sing this classic rocking ballad will clue you into a world of Brown songs you never knew existed--or if you did, you probably forgot a long time ago.

I'd like to take credit, but I can't. It was DJ Ragman at WMPR--Southern Soul's flagship station in Jackson, Mississippi--who turned me onto this classic song and, by playing it often over the last few years amongst more contemporary fare, triggered my quest to find the real--or, should we say, the complete--James Brown.



--Daddy B. Nice




About James Brown

James Brown died early on Christmas day, 2006, at Atlanta's Emory Crawford Long Hospital of congestive heart failure, at the age of 73. His manager reported that Brown told him, "I'm going away tonight," from his bed the night before.

Brown was in Atlanta for a dental appointment when he fell ill and was admitted to the hospital over the weekend for pneumonia.

Brown had participated in an annual Christmas toy giveaway in Augusta, Georgia on Friday but had been hospitalized on Saturday. After canceling performances planned for midweek, Brown had secured his doctor's approval that very night to perform on Saturday in New Jersey and on New Year's Eve at B.B. King's nightclub in New York.

Here is a discography of James Brown's huge catalog of recordings, a list that more than any other accomplishment memorializes the almost superhuman output of the entertainer over a half-century from the 1950's to the 21st century:

1959: Please Please Please (Polydor)

1959: Try Me! (King)

1960: Think (Polydor)

1961: James Browns Presents His Band & Five Other Great Artists (King)

1961: Night Train (King)

1961: The Amazing James Brown (King)

1962: Jump Around (King)

1962: Shout & Shimmy (King)

1962: Tour The U.S.A. (King)

1963: Live At The Apollo (Polydor)

1963: Prisoner of Love (King)

1964: Pure Dynamite! Live at the Royal (King)

1964: Showtime (Smash)

1964: Out of Sight (Smash)

1964: Grits & Soul (Smash)

1965: James Brown Plays James Brown: Yesterday And. . . (Smash)

1965: Papa's Got a Brand New Bag (King)

1966: I Got You (I Feel Good) (King)

1966: James Brown Plays New Breed Smash

1966: It's a Man's Man's Man's World (King)

1966: Handful of Soul (Smash)

1966: James Brown & His Famous Flames Sing Christmas Songs (King)

1966: Mighty Instrumentals (King)

1967: James Brown: Sings Raw Soul (Polydor)

1967: Live at the Garden (King)

1967: James Brown Plays The Real Thing (Smash)

1967: Cold Sweat (King)

1968: I Can't Stand Myself When You Touch Me (King)

1968: I Got The Feelin' (Polydor)


1968: James Brown Plays Nothing But Soul (King)


1968: Live at the Apollo (Polydor)

1968: James Brown Sings Out Of Sight (Polydor)

1968: A Soulful Christmas (King)

1968: A Thinking About Little Willie/A Few Nice ... (King)


1968: James Brown Presents His Show Of Tomorrow (King)

1968: Soul Party (Polydor)

1969: Say It Loud - I'm Black And I'm Proud (Polydor)

1969: Gettin' Down to It (Polydor)

1969: It's a Mother (Polydor)

1969: The Popcorn (Polydor)

1970: Ain't It Funky (King)

1970: Soul on Top (Verve)

1970: It's a New Day -- So Let a Man Come In (Polydor)

1970: Sex Machine [Live] (Polydor)

1970: Hey America (King)

1971: Sho' Is Funky Down Here (King)

1971: Hot Pants (Polydor)

1971: Revolution Of The Mind [Live] (Polydor)

1971: Soul Brother No. 1 (Polydor)

1971: Super Bad [Live] (King)

1972: There It Is (Polydor)

1972: Get on the Good Foot (Polydor)

1973: Black Caesar (Polydor)

1973: Slaughter's Big Rip-Off (Polydor)

1973: The Payback (Polydor)

1974: Hell (Polydor)

1974: Reality (Polydor)

1975: Sex Machine Today (Hip-O Select)

1975: Everybody's Doin' The Hustle & Dead On The Double Bump (Polydor)

1976: Get Up Offa That Thing (Polydor)

1976: Bodyheat (Polydor)

1976: Hot (Polydor)

1977: Mutha's Nature (Polydor)

1977: Strangers (Polydor)

1978: Jam/1980's (Polydor)

1978: Take a Look At Those Cakes (Polydor)

1979: The Original Disco Man (Polydor)

1979: Mister Dynamite (Polydor)

1980: People (Polydor)

1980: Hot On The One [Live] (Polydor)

1980: It's A Man's Man's Man's World (Live In New York 1980) (Universe)

1980: Soul Syndrome (Rhino)

1981: Nonstop! (Polydor)

1981: The Third Coming (Polydor)

1981: Live in New York (Audio Fidelity)

1981: Special (Polydor)

1982: Mean On The Scene [Live] (Audio Fidelity)

1983: Bring It On! (Churchill/Augusta)

1986: Gravity (Scotti Brothers)

1988: I'm Real (Scotti Bros.)

1991: Love Over-Due (Scotti Bros.)

1992: Universal James (Scotti Bros.)

1994: James Brown [Bellaphon]

1995: Bodyheat [Single] (Bellaphon)

1995: Live at the Apollo 1995 (Scotti Bros.)

1998: Live in Paris 1971 (PSP)

1998: I'm Back (Mercury)

1999: The Merry Christmas Album (Waxworks)

2001: Too Funky [Polydor]

2001: Funky Christmas (Spectrum)

2002: Super Bad: Live (Orpheus)

2002: Startime Live (Universal)

2002: Feel So Good! (Kiddinx)

2002: In Concert [Live] (BCI Eclipse)

2003: Funky Men [MCP] (MCP Sound & Media GM)

2003: Hooked On Brown [Volcano]

2004: Music Legends: James Brown Live in Concert (BCI Music)

2004: Give It Up or Turn It Loose (Pazzazz)

2005: Night Of Super Soul [Live] (MPG)

2006: Live at Chastain Park (Music Avenue)






Tidbits

1. "It's A Man's Man's Man's World" charted on Billboard's top pop chart at #12 in June, 1966 (#1 on the R&B Chart). The album (It's A Man's Man's Man's World) was released in August of '66. "Man's World," a traditional R&B number, followed Brown's first funk breakthroughs--chart-toppers "I Got You (I Feel Good)" and "Papa's Got A Brand New Bag" by approximately a year.

2. Funk It! Remixed Hits is an album featuring deejay-remixed versions of James Brown's most ubiquitous hits. Whether the versions improve on the originals is doubtful, but for Brown aficionados there is some novelty inherent in the scratched, sampled and otherwise remixed hits.

3. James Brown's The Singles, Vol. 3: 1964-1965 is a fascinating compilation for history and discography buffs because it memorializes the sequence and by-fits-and-starts progress of James Brown's singles in the early sixties, at a time when singles--not albums--were his true musical focus. (One could say they always were.)

The collection is invaluable at this point in the 21st century because Brown's catalog of recordings is so voluminous and his pre-nineties recordings are out of print.

4. James Brown: The 50th Anniversary Collection is the ultimate James Brown collection. And to celebrate James Brown's half-century as an entertainer, the disc offers up fifty tracks covering all periods of the showman's career. If you're interested in James Brown and you covet the one disc that best sums up the man and the artist, this is it.

5. March 1, 2010:

If you think you know everything you ever wanted to know about James Brown, please sample this song before reading on. It will give you a whole new context--a Southern Soul context--in which to consider the artist.

"How Do You Stop"

--DBN

****************





If You Liked. . . You'll Love

If you liked "Don't Look Any Further" by Dennis Edwards, you'll love "How Do You Stop" by James Brown.




Honorary "B" Side

"It's A Man's Man's Man's World"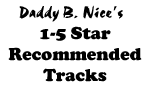 How Do You Stop


CD: Gravity
Label: Volcano











It's A Man's Man's Man's World


CD: Godfather Of Soul
Label: Madacy











Devil's Den


CD: Star Time
Label: Polydor/UMGD











Forever Suffering


CD: The Payback
Label: Polydor











I Got You (I Feel Good)


CD: Godfather Of Soul
Label: Madacy











Lost Someone


CD: Live At The Apollo
Label: Polydor











May Be The Last Time


CD: The Singles, Vol. 3: 1964-1965
Label: Hip-O Select











Night Train


CD: Live At The Apollo
Label: Polydor











Papa's Got A Brand New Bag


CD: 50th Anniversary Collection
Label: UTV










Doing The Best I Can


CD: The Payback
Label: Polydor










Funky Drummer


CD: In The Jungle Groove
Label: Polydor










Like It Is, Like It Was


CD: Black Caesar
Label: Polydor


Sample or Buy
Black Caesar








The Boss


CD: Black Caesar
Label: Polydor


Sample or Buy
Black Caesar








Try Me


CD: Live At The Apollo
Label: Polydor









Living In America


CD: Living In America
Label: Volcano