NEW!

Corner & Top 10


Concert Calendar
& Mailbag


Comprehensive Index


New CD Reviews


Index to Artist Guides
NEW!


Best of 2019


Top 100 Countdown:
21st Century Southern Soul Artists


Top 100
Southern Soul Songs
21st Century Countdown
(00's – 10's)


Top 100
Southern Soul Artists
(90's - 00's)


Top 100
Southern Soul Songs
(90's – 00's)


Forerunners of
Southern Soul




Daddy B. Nice's Top 100 Countdown: The New Generation (Chart In Progress)


Southern Soul CD's, MP3's
Best of Pages
About the Music
About Us
Links
Home


Sample or Buy



From artists, their familes, friends and fans. . .





From Daddy B. Nice's archives. . .





Over 100 Southern Soul drawings. . .





Original Daddy B. Nice sketches. . .





All caricatures and satirical renderings are untitled. . .





It's a little piece of history. . .





Who want a keepsake, memento or souvenir. . .





To commemorate their time. . .





In the Southern Soul limelight.





Browse through all the Southern Soul satirical sketches in Daddy B. Nice's archives.





Browse through all the Southern Soul sketches in Daddy B. Nice's archives.





Browse through all the Southern Soul collectibles in Daddy B. Nice's Southern Soul Products Store. . .





"Man Enough"
Karen Wolfe
February 1, 2014: NEW ARTIST GUIDE ALERT!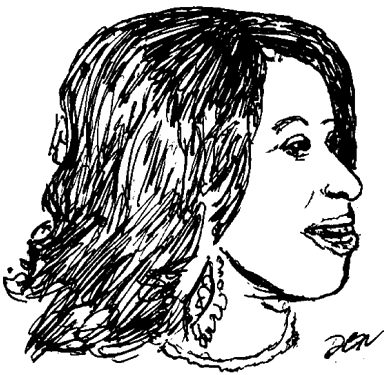 Karen Wolfe is now the #25-ranking Southern Soul artist on Daddy B. Nice's new 21st Century Top 100 Countdown.

Go to Daddy B. Nice's new 21st-Century Artist Guide to Karen Wolfe.

*************


October 21, 2012: NEW ALBUM ALERT!

Sample or Buy Karen Wolfe's TELLING IT LIKE IS CD, MP3's.

******************

See "Tidbits" below for the latest updates and CD reviews on Karen Wolfe. To automatically link to Karen Wolfe's charted radio singles, awards, CD's and other references throughout the website, go to "Wolfe, Karen" in Daddy B. Nice's Comprehensive Index.

******************

Daddy B. Nice's Original Critique:

"If you're man enough to leave,
I'm woman enough to let you go."
--"Man Enough"

Like so much else in life, the emergence of Karen Wolfe was a precarious event, blessed by good fortune and coincidence. Her career might never have happened had she not married Denise LaSalle's brother-in-law, Gary Wolfe. Denise recognized Karen's talent (Karen had sung in a defunct gospel group called Soul Unlimited for a decade) and hired her as a back-up singer. Denise also encouraged Karen to strike out on her own.

Karen's debut CD, First Time Out, appeared in 2006 under the tutorship of the late Bill Coday (whom Karen still affectionately calls "Paw Paw") and Anna Neal Coday, who became her manager. The album emerged just about the time a whole slew of potential Southern Soul divas--Ms. Jody, Nellie "Tiger" Travis, Miz B., Renea Mitchell and Tazz Calhoun among others--were making bigger splashes with better-executed hits.

No one song on First Time Out came close to matching the appeal of Travis' "If I Back It Up" or Miz B.'s "My Name Is $$$$'s" or Mitchell's "Seventeen Days Of Loving" or Tazz's "Stroke It Easy" or Ms. Jody's "I Never Take A Day Off."

By contrast, Karen's songs--most notably about sloppy, careless, clothes-tossing, nose-picking husbands as described in "Unloveable Habits," "Grown Ass Man" and "Back Door Love Affair"--sounded competent at best.

In short, the odds were against--if not nearly impossible--that this unique but somewhat bashful and slow-starting new vocalist would ever become popular.

Then, in the fall of 2008, Karen Wolfe dropped the bomb. I can still remember getting the copy of the promotional single for "Man Enough" in the mail. I slapped it into the CD player and almost fell out of my chair. All it took was one listen. I made it the number-one "breaking" Southern Soul single for that month, October, 2008. By year's end, the song had won the Daddy B. Nice Southern Soul Music Award for Best Mid-Tempo Southern Soul Song of 2008.

"Man Enough" has gone on to become a fixture of Southern Soul deejays' playlists--the finest Southern Soul treatment of a domestic dispute in memory.

Musically, compositionally, "Man Enough" is superb, comparing favorably, for example, with Syleena Johnson's (the daughter of bluesman Syl) one and only Southern Soul hit, "Guess What"--written, by the way, by R. Kelly.

But lyrically, it's even better. Omar Cunningham, a strong candidate himself for Southern Soul songwriter of the year, wrote "Man Enough" and sings along on the rousing and irresistable chorus, lending the song even more of a congregational hue.

"You must have woke up on the wrong side of the bed today. . . "

--the song begins, and the lyrics--for those who have never heard the song--are so razor-sharp you find yourself, as a fan, relishing the few lapses and tics in the composition, such as the very next line:

"Because you've been talking to me in any kind of way."

All of a sudden my eggs aren't scrambled right. . . "

Followed by a classic summation of the song to come--

"And everything I say starts a fight."

So begins a veritable pile-of-gold of real-life and Southern-Soul-certified imagery, anchored by the trusty, ultimately triumphant, gospel-and-country-drenched chorus:

"If you're man enough to leave,
I'm woman enough to let you go."

Here's another lapse that tickles the fan, just because the lyrics and Karen's delivery of them is so right-on:

"And I know she can't make that cornbread like you like. . . "--which follows "You've been creeping late at night" in a puzzling non sequitur.

Here's another favorite, this one spoken by Ms. Wolfe in a voice-over:

"You've been walking around slamming doors and not speaking. I ain't done nothin' to ya. . . I know what it is. Some hot-tailed girl out there done showed her teeth or batted her eyes at ya. . ."

These wonderful images, sung over a tireless melody by a singer who is so convincing she practically steps out of the music speakers, constitute just a little of the extraordinary appeal of "Man Eough."

The ironic thing, to fans already familiar with its many pleasures, is that "Man Enough" (I think we can admit this, can't we?) has a muddy production sound, with a weak, submerged-sounding bass and piano. (Oddly, according to the credits, it's the sole track produced by Omar Cunningham, who is usually technically polished.)

That Karen Wolfe's extraordinary vocal technique rises above the production--even triumphs--places her, actually, in a long tradition of sketchily-produced Southern Soul classics.

The good news, however, is that the rest of the album (under producers Anna Coday, Joe Jackson and Gary Wolfe), is a pleasant surprise, with crisp bass and overall production. In fact, by the time you get to "I Ain't Gone Take It No More" the band--synthetic or not--is really cooking.

But what makes the album special is the "difference" Karen Wolfe's vocals bring to the mix of curent Southern Soul artists. Even the somewhat pedestrian cuts--the obligatory bar blues of "Blues Me Up," the by-rote dance-funk of "Southern Soul Party"--are carried along by Karen's plaintive, street-wise and house-wise alto.

I confess to being in the first, powerful stage all fans are familiar with: the throes of falling in love with a new artist's very voice. Right about now, Karen Wolfe could sing the phone book and I'd be riveted.

"One Good Man" is a case in point. Karen extends the notes of "One. . . good. . . man. . . " with the confidence that eluded her on First Time Out and the result is soul of the most feverish order. "I Don't Wanna Play This Game" is as good as The Supremes or Betty Wright.

The surefire second hit on this album--the potential follow-up to "Man Enough," just lurking in the wings, just waiting for some of these deejays to give up on "Southern Soul Party" (Oops! Did I say that?) and discover it--is "It Ain't That Kind Of Party."

"It Ain't That Kind Of Party" is reminiscent of some of Nellie Travis's best work with songwriter Floyd Hamberlin. Spare in arrangement, with a great bass, snare and woodblock rhythm section and a subtle but fine hook driven along by a simple but solid keyboard riff and a nasty-fresh horn chorus, "It Ain't That Kind Of Party" has hit potential written all over it.

This album, in sum, is rich in overall material, but particularly outstanding are the title cut, "A Woman Needs A Strong Man," with its whole new and potent draft of imagery sung in Wolfe's finest-ever ballad; Man Enough" (of course); and the danceaholic "It Ain't That Kind Of Party";

. . . followed--on an only slightly-lesser level--by the excellent "One Good Man," "Broken Hearts Don't Last," "You Make Me Feel Like I'm Wanted," "I Don't Want To Play This Game" and "I Ain't Gone Take It No More."

I doubt that even Mss. Wolfe and Coday realize how special and possibly never-to-be-duplicated this particular set of songs, sung at this particular time by this particular singer, is. In the liner notes Karen writes:

"This CD is dedicated to the loving "memory" of my Paw Paw, Mr. Bill Coday. We miss you, Paw Paw. You would have liked this one."

He would have, indeed. This is a woman singing from a big heart. Karen Wolfe is that rarest of creatures: a grounded woman who has nevertheless retained a sense of innocence and openness to life. It's all there, in her voice.

And the album A Woman Needs A Strong Man is a shining moment--a defining moment--in her career. It places her in the select company of the dozen-at-most present-day Southern Soul singers who legitimately descend from Peggy Scott-Adams, the Southern Soul diva who started it all.


--Daddy B. Nice
About Karen Wolfe
Karen Wolfe was born in Pine Bluff, Arkansas August 14, 1959. She sang with her sister in an all-girl gospel group named Soul Unlimited for a decade. She recorded her first album, Stop By Here, with a gospel quartet group called The Harmonettes.

In 1992 Karen married Denise LaSalle's brother-in-law, Gary Wolfe. They moved to Jackson, Tennessee in 1997. Denise hired Karen as a back-up singer and her career in Southern Soul started.

Denise recognized Karen's talent and encouraged her to start a career, but Karen hesitated. Finally, Anna Coday (the late Bill Coday's wife), who was Denise LaSalle's road manager, became Karen's manager. Karen signed with B&J Records, Bill Coday's indie label, and released First Time Out in 2006.

Bill Coday, whom Karen still affectionately calls her "Paw Paw," died on June 7, 2008, too soon to witness Karen's remarkable second album, A Woman Needs A Strong Man (B&J), and her hit single, "Man Enough."

Every Woman Needs A Strong Man won Southern Soul RnB's Award for Best Southern Soul CD Of 2009 (B & J Records, Exec. Producer---Anna Coday).


Song's Transcendent Moment
"All of a sudden
My eggs aren't scrambled right,
And everything I say
Starts a fight.

You keep threatening to go,
And I don't know why,
But if you leave,
I ain't gonna die."
Tidbits
1.

September 1, 2010:

This is Karen Wolfe's long-anticipated Artist Guide and overdue debut on the Top 100 chart, a step necessitated--as most Southern Soul fans know only too well--by the now classic status of her song, "Man Enough," from the CD A WOMAN NEEDS A STRONG MAN.

And by coincidence Karen Wolfe's brand new single, "Stuttering," makes
Daddy B. Nice's Top Ten "Breaking" Southern Soul Singles for September 2010.


If You Liked. . . You'll Love
If you liked Glady Knight's "Midnight Train To Georgia," you'll love Karen Wolfe's "Man Enough."
Honorary "B" Side
"It Ain't That Kind Of Party"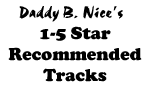 Man Enough


CD: A Woman Needs A Strong Man
Label: B&J











It Ain't That Kind Of Party


CD: A Woman Needs A Strong Man
Label: B&J











A Woman Needs A Strong Man


CD: A Woman Needs A Strong Man
Label: B&J










Back Door Love Affair


CD: First Time Out
Label: B & J


Sample or Buy
First Time Out








Broken Hearts Don't Last


CD: A Woman Needs A Strong Man
Label: B&J










One Good Man


CD: A Woman Needs A Strong Man
Label: B&J










Stuttering


CD: Telling It Like It Is
Label: Coday










You Ain't No Player


CD: Telling It Like It Is
Label: Coday









Confusion


CD: First Time Out
Label: B&J


Sample or Buy
First Time Out







I Ain't Gone Take It No More


CD: A Woman Needs A Strong Man
Label: B&J









I Don't Want To Play This Game


CD: A Woman Needs A Strong Man
Label: B&J









Southern Soul Party


CD: A Woman Needs A Strong Man
Label: B&J









What Kind Of Man Is This


CD: First Time Out
Label: B&J


Sample or Buy
First Time Out






Grown Ass Man


CD: First Time Out
Label: B&J


Sample or Buy
First Time Out






Mr. Claus Is Cheating


CD: Christmas With Bill Coday & Karen Wolfe
Label: B&J








Unlovable Habits


CD: First Time Out
Label: B&J


Sample or Buy
First Time Out