NEW!

Corner & Top 10


Concert Calendar
& Mailbag


Comprehensive Index


New CD Reviews


Index to Artist Guides
NEW!


Best of 2022

The Original Chart (1990-2010)

21st Century Chart (2000-2020)
NEW!

The New Generation Chart (2010-2030)
Southern Soul CD's, MP3's


Best of Pages
About the Music
About Us
Links
Home

"Cheating On The Back Street"
Adrena
June 12, 2016: Posted from Daddy B. Nice's New CD Reviews
June 12, 2016: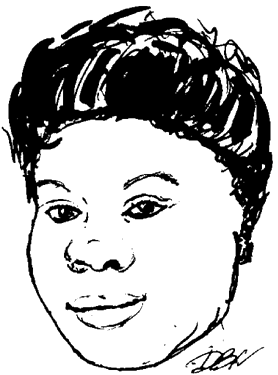 ADRENA: Better Days (Bone 40 Records / Select-O-Hits)
Five Stars ***** Can't Miss. Pure Southern Soul Heaven.
To say 35-year-old (36 later this month), Jackson, Mississippi-born Adrena (aka Adrienne Ervin) doesn't have a strong instrument is an understatement. Her vocals are neither accomplished and razor-sharp like an Aretha or Shirley (Brown), nor tough and aggressive like a Koko (Taylor) or Peggy (Scott-Adams). Her every note trembles like a leaf in the most gentle of breezes, quivering with a vulnerability and fragility that your Daddy B. Nice has often taken as evidence that her career, too, was on fragile grounds.

The perfect illustration of this trademark vulnerability was Adrena's duet with Nellie "Tiger" Travis--unfortunately the only track I wish she hadn't omitted from her otherwise marvelous new CD, Better Days. The song: "Another Woman's Man," a #1-ranked single in March 2013, in which I described Adrena's vocal as "a more fragile yet courageous counterpart to Travis's steel."

Adrena's wispy alto-soprano annoys you with its amateurism even as it beckons you with its earnestness, so that when you hear this waif-like voice (talented, but not uber-talented) you naturally assume that fragility carries over into the person herself, but in a phenomenon your Daddy B. Nice has witnessed repeatedly throughout life, the creative artist you least expect to persevere and succeed (and not necessarily the most talented) often turns out to be the one who DOES persevere and succeed, frequently on sheer want-to.

Adrena's first album, Thoughts Of A Woman, with the hit single "Cheatin' On Da Back Street," was a competent debut but gave no indication of the amazing and praiseworthy complexity and diversity that has gone into Adrena's brand new CD (her first in five years), BETTER DAYS.

As I listened to its tracks (all available on YouTube) I kept resisting first the possibility of a four-star ranking and then, with repeated listenings, a possible five-star ranking. The attention to detail on this album--and not least the exuberant singing by Adrena herself--is phenomenal. This CD has great composers, great producers, great live instruments (even sax and horn), and great background singers. See the List of Credits.

The first cut, the mid-tempo "Man Gone Do," Daddy B. Nice's #8-ranked single (March 15) transitions into the equally-melodious "Right Here With Me." (Another ranked single, "In This Club Tonight" (October 15), did not make the cut--further evidence of the scrutiny and care that went into this album's material.)

With its girl-group-like vitality and charm, the oft-played "Right Here With Me" is one of three songs composed/produced by Mike Darden, a talented newcomer whose infectious "Do It Up" is surely destined for chartdom.

And yet, as hit-worthy as these three songs are, the two "crowning achievements," if you will, from the CD belong to "He Won't Leave His Wife" and the "Better Thangs."

"He Won't Leave His Wife (For Me)," a #7-ranked single (June 14) continues the theme elucidated by Adrena and Nellie in "Another Woman's Man." According to the liner credits, it was composed by Shunda & Tony Baldwin. I don't know what's going on there: the song has Luther Lackey written (sic) all over it. In fact, although the songwriting credits are contradictory, I attributed this song (promoted and e-mailed to me by L.L.) to Lackey in my 2014 write-up:

7. "He Won't Leave His Wife"------Adrena

"Now I'm pissed off
And turned on at the same time."

Great line....by songwriter Luther Lackey, no less. He's devised an answer song to Adrena's and Nellie "Tiger" Travis's "Another Woman's Man," which charted #1 on Daddy B. Nice's Top Ten Singles Review for March 2013 (beating out Nellie's "Mr. Sexy Man" at #2). And by the way, this is the best treatment of a Luther Lackey project since the eponymous musician "retired" a year ago. (DBN notes: will clarify credits issue in the future.)

The lyrical point to "He Won't Leave His Wife" is that a married man has no legal incentive to leave his wife. He'd have to pay child support if he did. It's a phenomenon common but by no means unique to the chitlin' circuit.

Refreshed from his "retirement" (what? it lasted about 1-2 years?) Luther Lackey returns as composer and producer on two other tracks, the admonitory "Broke Man" (co-written with Gail Young) and the light-hearted, uptempo "Blue Diamond."

The Mike Darden-written "Better Thangs 2" is the other spectacular cut from the CD and, in spite of the slight difference in language, the default title tune and epicenter of the album. When I first played the CD, I went to "Better Thangs," which turned out to be a 1-plus minute instrumental track. And I kept shaking my head and thinking, "Why in the world wouldn't Adrena put some lyrics to this marvelous, deep, Carl Sims-like instrumental track--brimming over with lush, real instruments and a fabulous horn section? Then I found the vocal track, a five-minute mini-masterpiece confusingly called "Better Thangs 2."

Adrena has never sounded better--never as powerful, never as totally-in-control.

"All I ask is to show me a little respect,"

--Adrena sings, echoing Aretha's seminal R&B mantra, but this time she takes it to another level, more experienced, more decisive.

"I think we need to make a change...
...Because tomorrow I'll be gone with the wind."

--And in a remarkable transformation, that experience and decisiveness carries over into the technique, infusing Adrena's vocal with a maturity and power heretofore only hinted. Adrena's romantic ballad "Ready To Love" and female-Jody tune, "Joann," round out the album with class if not the panache of some of the more dazzling tracks.

Better Days is the first great surprise of the southern soul year, seamless, near-perfect in fully-realized material, a singer in charge, confident in her style, proclaiming she's the real thing. Her vocals may not warrant putting Adrena on the lofty level of stylists like Ms. Jody and Karen Wolfe, but your Daddy B. Nice would be hard-pressed to say they ever put out an album as good as this one.

--Daddy B. Nice

Buy Adrena's Better Days CD at iTunes.


June 1, 2016: NEW ALBUM ALERT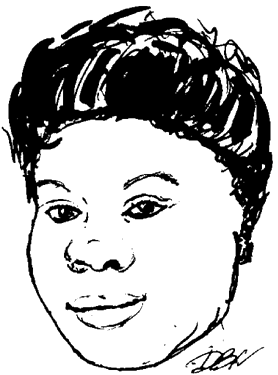 Sample/Buy Adrena's BETTER DAYS CD at iTunes.
Listen to Adrena singing "Man Gone Do" (from the new album) on YouTube.
Listen to Adrena singing "Right Here With Me" (from the new album) on YouTube.
Listen to Adrena singing "He Won't Leave His Wife For Me"--a Lather Lackey-composed song from the new album--on YouTube.
Daddy B. Nice notes: Produced by previously unknown Bone 40 Records, Adrena's new BETTER DAYS album boasts an especially fine backing band. The horns on "Better Days" (a steaming instrumental), "Broke Man" and "Joann" are as refreshing as Vanicream.

P.S. If you check Daddy B. Nice's Concert Calendar, you'll find the Independence Blues Fest July 3rd @ Warfield Point Park in Greenville, Mississippi. That concert happens to be promoted by an outfit called Bone 40 Productions. Lending credence to the connection is the fact that Adrena is one of the headliners.
See Bone 40 Productions on Facebook.
--Daddy B. Nice
About Adrena
Adrena is the performing name of Adrienne Ervin, born May 24, 1980 in Jackson Mississippi.

Her first CD, THOUGHTS OF A WOMAN, was self-published in 2010 at CD Baby. It contained Adrena's first single, "Good For The Goose," and her most significant hit, "Cheatin' On Da Back Street."

Sample or Buy Adrena's Thoughts Of A Woman CD at CD Baby.

*********************

To automatically link to Adrena's charted radio singles, awards, CD's and citations on the website, go to "Adrena" in Daddy B. Nice's Comprehensive Index.

**************


Tidbits
1.
June 1, 2016: More Adrena on YouTube:
Listen to Adrena featuring Nelli "Tiger" Travis singing "Another Woman's Man" on YouTube.
Listen to Adrena singing "So Addicted" on YouTube.
Listen to Adrena singing "Good Man Still" on YouTube.
Listen to Adrena singing "Good Thang" on YouTube.
Listen to Adrena singing "Right Here With Me" on YouTube.
Listen to Adrena singing "Broke Man" on YouTube.
Listen to Adrena singing the Luther Lackey-composed "He Won't Leave His Wife For Me" on YouTube.
Listen to Adrena singing "Do It Up" on YouTube.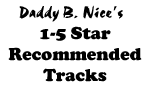 Cheating On The Back Street


CD: Thoughts Of A Woman
Label: Soul Diva