NEW!

Corner & Top 10


Concert Calendar
& Mailbag


Comprehensive Index


New CD Reviews


Index to Artist Guides
NEW!


Best of 2022

The Original Chart (1990-2010)

21st Century Chart (2000-2020)
NEW!

The New Generation Chart (2010-2030)
Southern Soul CD's, MP3's


Best of Pages
About the Music
About Us
Links
Home

"Cuttin' Up Sideways"
Joy
Composed by John Cummings & Percy T. Friends
October 21, 2012: NEW ALBUM ALERT!

Buy or Sample Gotta Find Me A Good Love at Barnes & Noble.

Buy or Sample Gotta Find Me A Good Love at CD Universe.

See Daddy B. Nice's #10 "Breaking" Southern Soul Single for October 2012.

***************

Wooly, rowdy and infectious, "Cuttin' Up Sideways" is a prime example of why it's often the rough-cut song that wins the race against the slick, complex and overly-thought-out song.

Listen to Joy singing "Cuttin' Up Sideways" on MySpace.

Fraternity kids could get drunk singing this song in their drinking games. The Rolling Stones could cover it as a rock and roll anthem. "Cuttin' Up Sideways" makes you want to jump up, stick out your elbows and duck-walk yourself into Southern Soul Heaven.

Its inspired mixture of Joy's coarse singing style with a rock-and-roll-styled arrangement, complete with a funky, percolating, lower-saxophone-ranged hook and a chorus as backwoods as an old burlap gunny sack morph it into the perfect party song, the epitome of inebriated, high-as-a-kite raunchiness.

What it's all about is as fuzzy and inconsequential as its low-to-the-gutter appeal.

"I got whiskey in my pocket book," Joy sings. "Got some more in my car." That tells you it's a BYOB hole in the wall.

Joy and her friends are going to this tacky juke joint and they're out to have some fun. Is "cutting up sideways" a dance step? If it is, none of Joy's entourage gives a damn how you do it. "Do the funky chicken," Joy suggests, "as long as you're cutting out."

"Cut it to the left, cut it to the right." You can visualize it, but the song is too unruly to bear with directions. Learning--even the simple "education" required to learn a dance step--is too antithetical to this anthem's insistent wildness.

Although Joy's vocal--husky and unpretentious--is perfectly suited to the subject matter, much of the credit for the success of "Cuttin' Up Sideways" must go to the often unheralded producer, in this case Percy T. Friends.

"Play it, Percy," Joy yells as Percy peels off a blistering guitar solo bridge midway through the song. "I like the way Percy's playing that," she adds, but it's the overall arrangement--crafted by Percy--that seals the deal.

You have to go back half-a-century to the great doowop-era novelty songs of The Coasters and The Marcels or the early rock and roll of Bo Diddley and Chuck Berry to discover the long-lost "abandon" and sense of mindless fun which "Cuttin' Up Sideways" captures with such unerring purpose.

Critics and producers who criticize Southern Soul music for its lack of technical sophistication, and--worse--encourage its budding artists to bury their wilder instincts in a misguided attempt to make their material sound more acceptable, homogenous and technically proficient are doing the music a gross disservice. What they are really doing is squeezing the inspiration out of the music.

"Cuttin' Up Sideways" shows us how a determined artist "cuts" through all that crap, delivering the real thing without compromise. It's exactly why we lovers of the music gravitate to Southern Soul. It's one of the few places where we can hear and dance to the unvarnished truth, the happiness stored far away inside our overly-protected, overly-regulated, overly-censured lives.

--Daddy B. Nice
About Joy
Joyce Glaspie was born on July 18, 1966 in West Memphis, Arkansas. Her sister, the renowned Southern Soul singer Shirley Brown, is nineteen years older.

In the early aughts Joy met Mr. Percy Friends and Wiley Brown, and they introduced her to her future manager, Aaron Weddington.

Friends created the instrumental tracks and produced and co-wrote (with John Cummings) the majority of the songs on Joy's debut record, A Woman Can Feel (Blue River Records, 2006).

Wiley Brown did the mastering, and Lee Glaspie (Joyce's son) provided backing vocals. Southern Soul artist Booker Brown also shared vocals with Joy on the song, "Trying To Hold On." Ecko Records' Morris Williams and onetime Stax Records' writer Henderson Thigpen also contributed.

A WOMAN CAN FEEL was never placed under national distribution and has been out of print for many years. At this article's posting (7/16/11) only one copy of the CD was available at Amazon.com for $69.98 (new).

However, song samples from the generous 14-track CD can be downloaded from Joy's website. Sample "Cuttin' Up Sideways" and other tracks from A WOMAN CAN FEEL on Joy's website.

"Cuttin' Up Sideways" became a hit single on the chitlin' circuit and charted on Daddy B. Nice's Top 25 Southern Soul Songs Of 2006, its #10 ranking even more remarkable considering the bottleneck of great competition that year, including Willie Clayton's "Going Crazy" and "Boom Boom Boom," Lenny Williams' "Can't Nobody Do Me Like You," Nellie "Tiger" Travis's "If I Back It Up," Theodis Ealey's "Francine" and William Bell's "New Lease On Life" among others.

In 2009, a Barbara Carr version of "Cuttin' Up Sideways" was featured on the CDS sampler, THEM DOWNHOME BLUES, VOL. 1.

Buy MP3 of Barbara Carr's "Cuttin' Up Sideways" on Them Down Home Blues CD at I-Tunes.

A couple of singles from Joy's CD, "So Good" and "Woo Woo Woo," never caught on as Southern Soul singles, but in 2010 she released a new song that achieved some attention on Southern Soul radio. "What Do The Lonely Do When The Lights Go Out," a mid-tempo ballad, elicited this notice on Southern Soul RnB.com.

Daddy B. Nice's Top 10 "BREAKING" Southern Soul Singles For. . .

JUNE 2010

5. "What Do The Lonely Do When The Lights Go Out"------------Joy

Joy finally breaks through with a song that, while not the equal of her one-of-a-kind "Cuttin' Up Sideways," is at least in the same ballpark.

Joy is still based in the Memphis, Tennessee area.


Song's Transcendent Moment
"Hey Mr. DeeJay,
Play something we want to hear.
We're trying to get our groove on
(To go along with). . . this whiskey and beer.

It can be something new.
It can be something old.
We really don't give a damn,
Just as long as it's something we like.

We cuttin' up sideways,
Everybody feeling all right.
We cuttin' up sideways,
Down at the club tonight."
If You Liked. . . You'll Love
If you liked Eddie Holloway's "My Mind Is Too Strong," you'll love Joy's "Cuttin' Up Sideways."


EDITOR'S NOTE

Over the last year I've been dropping hints to the younger musicians.

"Be watching because there's going to be something coming on the site that'll be a real blessing for the younger people."

And I've also been telling a lot of deserving new artists to bide their time, that their day to be featured in a Daddy B. Nice Artist Guide was coming, and long overdue.

Now, at last, the day has come.

The great Southern Soul stars are mostly gone. There's a new generation clamoring to be heard.

Rather than waiting years to go online as I did with the original Top 100, this chart will be a work-in-progress.

Each month five new and never-before-featured artists will be showcased, starting at #100 and counting down to #1.

I estimate 50-75 new Artist Guides will be created by the time I finish. The other 25-50 Guides will feature artists from the old chart who are holding their own or scaling the peaks in the 21st Century.

Absent will be the masters who have wandered off to Soul Heaven. And missing will be the older artists who for one reason or another have slowed down, become inactive or left the scene.

The older generation's contributions to Southern Soul music, however, will not be forgotten.

That is why it was so important to your Daddy B. Nice to maintain the integrity of the original Top 100 and not continue updating it indefinitely.

(Daddy B. Nice's original Top 100 Southern Soul covered the period from 1990-2010. Daddy B. Nice's new 21st Century Southern Soul will cover the period from 2000-2020.)

When I constructed the first chart, I wanted to preserve a piece of musical history. I heard a cultural phenomenon I was afraid might be lost forever unless I wrote about it.

There will be no more changes to the original chart. Those performers' place in Southern Soul music will stand.

But I see a new scene today, a scene just as starved for publicity and definition, a scene missing only a mirror to reflect back its reality.

The prospect of a grueling schedule of five new artist pages a month will be daunting, and I hope readers will bear with me as I gradually fill out what may seem at first inadequate Artist Guides.

Information from readers will always be welcome. That's how I learn. That's how I add to the data.

I'm excited to get started. I have been thinking about this for a long time. I've already done the bulk of the drawings.

In a funny way, the most rewarding thing has been getting back to doing the drawings, and imagining what recording artists are going to feel like when they see their mugs in a black and white cartoon. Hopefully----high! An artist hasn't really "made it" until he or she's been caricatured by Daddy B. Nice.

In the beginning months, the suspense will be in what new stars make the chart. In the final months, the suspense will be in who amongst the big dogs and the new stars is in the top twenty, the top ten, and finally. . . the top spot.

I'm not tellin'.

Not yet.

--Daddy B. Nice

Go to Top 100 Countdown: 21st Century Southern Soul

Honorary "B" Side
"What Do The Lonely Do When The Lights Go Out"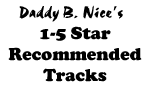 Cuttin' Up Sideways


CD: A Woman Can Feel
Label: Blue River










What Do The Lonely Do When The Lights Go Out


CD: Gotta Find A Good Love
Label: West City










Good Love


CD: Gotta Find A Good Love
Label: West City










So Good


CD: A Woman Can Feel
Label: Blue River









A Woman Can Feel


CD: A Woman Can Feel
Label: Blue River









Trying To Hold On (w/ Booker Brown)


CD: A Woman Can Feel
Label: Blue River









Woo Woo Woo


CD: A Woman Can Feel
Label: Blue River