NEW!

Corner & Top 10


Concert Calendar
& Mailbag


Comprehensive Index


New CD Reviews


Index to Artist Guides
NEW!


Best of 2022

The Original Chart (1990-2010)

21st Century Chart (2000-2020)
NEW!

The New Generation Chart (2010-2030)
Southern Soul CD's, MP3's


Best of Pages
About the Music
About Us
Links
Home

"Still Crazy"
Queen Emily
Queen Emily Sings is a head-turning, four-song EP published by Malaco Records, which in addition to swearing off Southern Soul in 2011 experienced the extraordinary misfortune of having its studio facilities in north Jackson, Mississippi destroyed by a tornado.

The extra-play set marks the debut of Emily David, a Houston-bred, Stockton, California-based housewife who gained fame as a contestant on the TV talent show "America's Got Talent" singing, among other things, Aretha Franklin's "Chain of Fools."
Listen to Queen Emily singing "Chain Of Fools" on America's Got Talent on YouTube.

The video has logged over one million plays, a rare accomplishment for a contemporary, tradition-rich, rhythm and blues record. Tommy Couch, Jr. was so taken with the raw talent of Ms. David, who (now famously) gave up a musical career to raise children--both her own and her sister's--that he signed her to a contract sight unseen. For Emily, who finished as a semi-finalist, the reward of her talent-show experience WAS the Malaco signing.

"I think around a year after the show, Tommy Couch from Malaco Records made a call to me out of the blue saying 'We wanna record you, and we wanna give you a contract!," Emily told "Blues & Soul Magazine's" Pete Lewis last year.

"And I was like 'Get OUTTA here!' You know, they had so much confidence in me, they signed me before even MEETING me! Like I signed the contract with Malaco talking to Tommy over the phone after he'd faxed it to me in Las Vegas!"

Queen Emily has a strength and range most divas only dream of, but the greater significance of her debut is being swept up by Southern Soul's flagship label. No one knows better than Southern Soul performers how elusive a contract with Malaco is.

Musical purists who keep Southern Soul music at arm's length (based on the electronic instrumentation) openly embrace Malaco Records, and justifiably so, because Malaco publishes music with professional--even lavish--care in the grand tradition of Stax, Hi and Muscle Shoals. The company's credentials are impeccable (Johnnie Taylor, Z. Z Hill, etc.), as is the label's orbit of producers, writers and studio musicians (Frederick Knight, Harrrison Calloway, etc).

With powerful vocals and stellar backgrounds, the Queen Emily Sings EP leaves the competition far behind. Which is not to say the extended play disc is perfect.

True-blue Southern Soul fans will recognize a conservative approach to the song selection, with a decided bent toward the academic and uplifting as opposed to the brazen, below-the-belt craziness of more low-brow southern soul.

Johnnie Taylor's "Still Crazy," Bill Withers' "Use Me" and Bobby "Blue" Bland's "No Way To Say Good-Bye" are given reverential covers along with a remake of a recent contemporary country hit by James Otto entitled "Just Got Started Loving You."

Left largely untapped and undiscovered is what Queen Emily would sound like singing original material. If Emily lacks anything, it is an identity--at present she's a young-Lebron-like goliath of raw artistry.

That's why the Queen Emily CD--Extended Version, released in England last year (still to be released in the U.S.) will whet fans' appetites even more.

It combines the four songs from the American-released EP with eight more tunes recorded for Malaco in the same sessions. The best place to sample Queen Emily's England-based Queen Emily CD is on Amazon, which furnishes a full list of the titles and samples.

The sheer amount of studio talent brought together on this 12-song set (including the four songs from the Queen Emily EP) comprises a "Who's Who" of vintage and contemporary Southern Soul, including Tommy Couch, Jr., Frederick Knight, Harrison Calloway, Vick Allen, James Robertson, David Hood, Jimmy Johnson, Reggie Young, Clayton Ivy, Tonya Youngblood and Wolf Stevenson.

The selections break down as follows:

1. "Just Got Started Loving You"
The cover of the former #1 contemporary country single by James Otto, also on the EP. Produced by Tommy Couch, Jr.

2. "Use Me"
The cover of the Bill Withers standard--from the Still Bill CD, 1972--also on the EP. Produced by Couch.

3. "Hold You To Your Promise"
A remake of Don Covay's single from his CD, Checkin' In With Don Covay. Composed by Paul Kelly.

4. "Angel In Your Arms"
A cover of Millie Jackson's classic.

5. "Throw Me Away"
A George Jackson-written song that to your Daddy B. Nice's knowledge has never been recorded. British fans have singled out this song as one of their favorites.

6. "Don't You Know"
A mid-tempo song written and produced by Stax/Malaco legend Frederick Knight.

7. "Going Crazy"
A cover of Willie Clayon's recent classic, written by Clayton, from his Malaco-released Full Circle album.

8. "Your Used To Be"
A ballad written by Frederick Knight and David Camon, produced by Knight. Another favorite in the U.K.

9. "I Betcha Didn't Know That"
Written by Frederick Knight and Sam Dees, produced by Frederick Knight. KC & The Sunshine Band recorded it back in the 70's, and it also garnered some reggae covers.

10. "Still Crazy"
A cover of the Johnnie Taylor standard, produced by Tommy Couch, Jr. Taylor's version graced the Malaco sampler The Last Soul Company. Queen Emily's first American single, a Southern Soul chart-topper in 2011 (also on the EP).

11. "Keep Gettin' Up"
Frederick Knight wrote and produced this uptempo track. Here is how Emily described her experiences working with Frederick Knight to "Blues & Soul's Lewis::

"He was just a great guy--though we did record his songs a little differently, in that I had to sing the lines in exactly the way he told me to. So we'd do it like word-for-word, line-for-line; then we'd stop, and he'd be like 'Can you sing this line right here like that?'... Which was very difficult for me. Because he was very firm and he didn't play in the studio at ALL! He just got right down to business! But in the end I learnt a lot FROM him, and his songs came out sounding great... And the fact that I was standing there with the man that wrote (1979 worldwide disco smash) 'Ring My Bell'--a song I grew up with and that I'd been singing all my life--and he was writing songs for ME, was just a wonderful feeling!"

12. "No Easy Way To Say Good-Bye"
The Bobby "Blue" Bland classic, composed by Frank-O Johnson, reworked by Emily. Also on the EP, whose liner notes indicate Bland's blessings :

"Queen Emily can sing with me any time. She puts plenty of feeling in her singing. She means it... she's makin' the lyrics mean something to everybody listening. Emily's got plenty of soul...and I can tell she's got class."

In her "Blues & Soul Magazine" interview Queen Emily also addressed what her goals for the debut CD were and what the experience of working with the best in the business was like:

"I knew that there weren't too many people today singing this type of Southern soul that goes way back to the Seventies and Sixties. So I basically wanted to let people know that there ARE still some great soul singers out there and that they shouldn't forget about this type of music. Because this is exactly the kinda music I grew UP with! You know, I remember running through the apartment with my mom sitting there with her friends, listening to Aretha Franklin, Bobby Bland, Z.Z. Hill? So yeah, the fact that that music is now coming out again, and that I'm the one that's gonna have a lot to do with bringing it back to the forefront is a great FEELING!"

And on working with Malaco's legendary figures and the fabled Muscle Shoals studio musicians:

"When I first went in the studio and opened my mouth, Clayton Ivey--the keyboardist--was like 'Wow! We have somebody in here that we don't have to tune up! You have RAW TALENT!.. You know, he RECOGNISED that!"

The string sections (usually arranged by Harrison Calloway) and brass sections (usually arranged by Frederick Knight) on this Queen Emily debut are perhaps the most telling difference in the quality of this Malaco release vs. average CD's by other indie Southern Soul labels.

Time and again, critics and fans are told by run-of-the-mill producers (and artists acting as their own producers) that the latest synthesized horns are state-of-the-art, practically indistinguishable from the real thing, when of course they aren't. The comments are really rationalizations, and we lovers of the Southern Soul sound are left wondering why--with sax players, for example, willing to work for near-free inhabiting nearly every city block in America--the cost of incorporating live horns (or strings) is so prohibitive.

Listen, for instance, to the horn charts carrying the melody in George Jackson's "Throw Me Away" and you'll be transported in time to your finest memories of Southern Soul songs heard unexpectedly over the radio.

What the addition of these precious background elements really requires is organization and commitment to excellence--all of which takes time, often equated with money--and here's where the collaboration of this fiercely-endowed new singer, Emily David, and Southern Soul's fickle flagship label really becomes a match made in Southern Soul Heaven.

That Europeans have been listening to these future Queen Emily classics for nearly a year already under the unfamiliar guise of "deep soul" while we Americans are still deprived of our own home-grown Southern Soul product is one of the more bitter ironies of the current scene.

But Malaco's Tommy Couch, Jr. tells your Daddy B. Nice the full Queen Emily CD will be released in the United States by "probably late summer." This may translate to a realistic release happening before year's end. Good news indeed. Until then, the Queen Emily Sings EP is an enticing taste of the lady who signifies to be Southern Soul's next big thing.

--Daddy B. Nice

Queen Emily Sings EP on I-Tunes

Queen Emily Sings EP at CD Universe

Queen Emily CD--Extended Version (UK) at CD Universe

Queen Emily CD Extended Version (UK) on Amazon

--Daddy B. Nice
About Queen Emily
A Houston Texas native and prominent singer in local schools and churches as a girl, Emily David began to take music "very seriously as a career" after winning a Sammy Davis, Jr. award in an H-Town talent contest in 1999.

After moving to California and raising two daughters who had finally come of age, David was poised to resume her musical pursuits when her sister came to visit, deposited two boys with her and never returned. So David again put her career on hold and stayed home to mentor her sister's boys.

In 2008 Emily auditioned for and was accepted by the TV show "America's Got Talent," where she impressed judges and fans alike and eventually finished as a runner-up.

Queen Emily's appearances came to the attention of Malaco Records CEO Tommy Couch, Jr., who--in spite of the label's recent decision to phase out their Southern Soul division--signed Ms. David to a contract.

Her debut four-song EP Queen Emily Sings EP was released in England in November of 2010 and in the U.S. in 2011.

David's debut 12-song album Queen Emily was released in England shortly thereafter. However, the album's stateside release was delayed after a tornado decimated the studios of Malaco Records in Jackson, Mississippi in 2011.

Two of the songs from Queen Emily's EP gained substantial Southern Soul radio chart success in 2011: "Still Crazy" and "No Easy Way To Say Good-Bye."

In April of 2011 Malaco's Tommy Couch Jr. told Daddy B. Nice that Malaco's staff would be moving into their new offices in a few weeks and that the label was shooting for a late-summer 2012 American release for the full, 12-song, debut CD, Queen Emily.

Tidbits
1.

April 28, 2012: Queen Emily on YouTube

Listen to Queen Emily singing "Chain Of Fools" on America's Got Talent on YouTube. (This video has logged over one million plays.)

Listen to Queen Emily In The Studio at Malaco Records on YouTube.

Read Blues & Soul Interview with Queen Emily.


If You Liked. . . You'll Love
If you liked Shirley Brown's "Sleep With One Eye Open," you'll love Queen Emily's "Throw Me Away."
Honorary "B" Side
"No Easy Way To Say Good-Bye"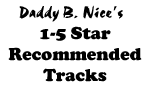 Still Crazy


CD: Queen Emily Sings EP
Label: Malaco/Nova











No Easy Way To Say Good-Bye


CD: Queen Emily Sings EP
Label: Malaco











Don't You Know


CD: Queen Emily CD (UK)
Label: Malaco/Nova











Throw Me Away


CD: Queen Emily CD (UK)
Label: Malaco/Nova Sales










Angel In Your Arms


CD: Queen Emily CD (UK)
Label: Malaco/Nova










Going Crazy


CD: Queen Emily CD (UK)
Label: Malaco/Nova










I Betcha Didn't Know That


CD: Queen Emily CD (UK)
Label: Malaco/Nova










Your Used To Be


CD: Queen Emily CD (UK)
Label: Malaco/Nova









Hold You To Your Promise


CD: Queen Emily CD (UK)
Label: Malaco/Nova









Just Got Started Loving You


CD: Queen Emily Sings EP
Label: Malaco









Keep Gettin' Up


CD: Queen Emily CD (UK)
Label: Malaco/Nova









Use Me


CD: Queen Emily Sings EP
Label: Malaco