NEW!

Corner & Top 10


Concert Calendar
& Mailbag


Comprehensive Index


New CD Reviews


Index to Artist Guides
NEW!


Best of 2022

The Original Chart (1990-2010)

21st Century Chart (2000-2020)
NEW!

The New Generation Chart (2010-2030)
Southern Soul CD's, MP3's


Best of Pages
About the Music
About Us
Links
Home

"I Won't Let My Baby Down"
Raw Shaw (Lewis Shaw)
RAW SHAW: Feeling Soulful (Malindy) Three Stars *** Solid Southern Soul Debut by a New Male Vocalist. 12-13-14.

California-based Malindy Music is one of the few non-Deep-South record labels to break into the hard-to-crack Southern Soul market. The breakthrough came with Lina's stunning "I Won't Let My Baby Down," which came from out of nowhere (California) in 2010. Malindy artist Raw Shaw's (aka Lewis Shaw's) cover of "I Won't Let My Baby Down" is the centerpiece of this 7-song debut CD, Feeling Soulful. Lina sings background on "I Won't Let My Baby Down" as well as pairing with Raw Shaw on the hiphoppish "Ghetto Tactics," arguably the next-best track. Shaw's rendering of the melodramatic McKinley Mitchell classic, "End Of The Rainbow," is also outstanding. Shaw also recycles Johnnie Taylor ("Just Because"), Wilson Pickett ("In The Midnight Hour") and Etta James ("I'd Rather Go Blind") with less success. But with a larger-than-life voice that resounds through coliseum-sized spaces, Feeling Soulful marks Raw Shaw as one of southern soul's finest current interpreters. DBN.

Sample/Buy Raw's Shaw's FEELING SOULFUL at CD Baby.

Listen to Raw Shaw singing "I Won't Let My Baby Down" on YouTube.

*********
--Daddy B. Nice
Honorary "B" Side
"The End Of The Rainbow"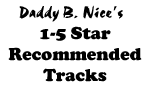 I Won't Let My Baby Down


CD: I Won't Let My Baby Down
Label: John Swanson / Malindy





The End Of The Rainbow


CD: Feeling Soulful
Label: Malindy