NEW!

Corner & Top 10


Concert Calendar
& Mailbag


Comprehensive Index


New CD Reviews


Index to Artist Guides
NEW!


Best of 2022

The Original Chart (1990-2010)

21st Century Chart (2000-2020)
NEW!

The New Generation Chart (2010-2030)
Southern Soul CD's, MP3's


Best of Pages
About the Music
About Us
Links
Home

J Cenae (New Album Alert!)
J'Cenae is now the #19-ranked southern soul artist on Daddy B Nice's new Top-100 Chart---The New Generation of Southern Soul. Click here.

January 1, 2022:
NEW ALBUM ALERT!
Buy J'Cenae's new DECENCY album at Apple.
DECENCY TRACK LIST:
1
You Ain't Gotta Cry No More feat. Wendell B

2
I'll Be Down in a Minute feat. Wendell B

3
On the Avenue (feat. Kami Hooligann)

4
You Don't Want a Good Woman

5
Decency

6
I Ain't No Side Piece Lover

7
You Bout To Make A Girl Work (feat. Kami Hooligann)

8
Aint Nobody

9
I Don't Ever Wanna Break Up (feat. Wendell B)

10
I Just Wanna Thank You


Daddy B. Nice notes: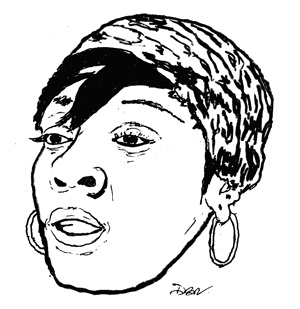 J'Cenae was discovered by Wendell B and this new album was produced and published by the "Boss" himself, Wendell Brown. In 2019 the pair teamed up (J'Cenae on lead vocal, Wendell on background vocal) on J'Cenae's southern-soul, gate-crashing debut, "I'll Be Down In A Minute". In two years the song has achieved "classic" status, amassing five million views on YouTube. J'Cenae (Jacqueline Cenae Williams of Rolling Fork, Mississippi) toured for a time with Marvin Sease and has one other album, GOOD STUFF (2016), to her credit, but DECENCY is on a whole 'nother level. In addition to "I'll Be Down In A Minute," the set offers J'Cenae's popular 2021 single, "I Ain't No Sidepiece Lover" and the title cut, "Decency," which has accrued 180,000 YouTube views in less than two months. Wendell B appears on two other tracks, "I Dont Ever Wanna Break Up" and a powerful tribute to motherhood, "You Aint Gotta Cry No More". Another tune begging to be released as a single is the lovingly produced, "Ain't Nobody" (not a Chaka Khan cover). This is a masterful album by a singer who has surpassed all expectations in a difficult marketplace for female southern soul performers.

Buy J'Cenae's new DECENCY album at Amazon.

Listen to all the tracks from J'Cenae's new DECENCY album on YouTube.

Listen to J'Cenae's new DECENCY album on Spotify.



--Daddy B. Nice
About J Cenae (New Album Alert!)
From J'Cenae's Official Biography:

Jacqueline Cenae Williams a.k.a. (J'Cenae), was born February 6, 1986 to Murindia and the late Clanater Williams in Rolling Fork, MS. J'Cenae began singing at her local church and also competed in talent shows, and pageants. In 2004 she auditioned for the local American Idol and won a spot to audition in New Orleans, LA and in Denver, Colorado in 2005. Her ability lead her to a music scholarship at Alcorn State University, where she performed with ASU Gospel Choir, ASU Concert Choir and Singers With A Purpose (S.W.A.P). Once leaving Alcorn around 2008, she began singing background for Blues singer Nathaniel Kimble and Chris Ivy.

In 2010 she began traveling with the legendary Marvin Sease. After his passing she began concentrating on her own music career. She continued to sing background for artist such as Vick Allen, Lacee, and Nellie Tiger Travis. In 2016 J'Cenae released a single entitled Good Stuff. J'Cenae has performed at numerous of venues with her band. She has performed in MS, LA, AL, AR, TX, AND at a number of Blues Festivals and Casino's. She has also performed on shows with Tucker, Avail Hollywood, Dave Mack, Pokey, Bobby Rush, Grady Champion, Sweet Angel, Karen Wolf, Magic One, Rhomey and Calvin Richardson just to name a few.

In 2018, J'Cenae's career started to flourish, when National recording artist Windell B took her under his wing. They began appearing on shows together, and in 2019, recordedher hit new single "I'll Be down in a Minute" featuring The Boss Windell B. This single was released in 2020 and is now being played throughout the United States and Africa. J'Cenae has been nominated for a Jackson Music Award (Best Engineered track) "I'll be down in a minute.