NEW!

Corner & Top 10


Concert Calendar
& Mailbag


Comprehensive Index


New CD Reviews


Index to Artist Guides
NEW!


Best of 2022

The Original Chart (1990-2010)

21st Century Chart (2000-2020)
NEW!

The New Generation Chart (2010-2030)
Southern Soul CD's, MP3's


Best of Pages
About the Music
About Us
Links
Home

Sweet Nay (Debut CD Review)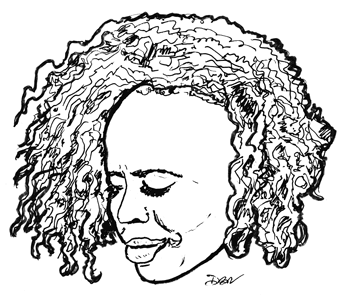 March 1, 2022:
Sweet Nay: Good Vibes (It's A Party)--- (Been A Boss Records) Four Stars **** Distinguished Debut by a New Southern Soul Artist.
Most debut albums feature a hodgepodge of styles due to first-time-out uncertainty about artistic identity. That's not the case with Sweet Nay's first long-play release, Good Vibes (It's A Party). Versatile, yes. But although there's variety from zydeco to r&b, the thick caramel center is pure, on-the-mark southern soul.

Sweet Nay's been quietly accumulating accomplished southern soul singles for three years. Many people don't realize she sang on Jeter Jones' "I Ain't Gone Cheat No More" in 2018, the same year she broke into southern soul with her first big single, "Do You (If I Ain't The One)," a lush, finely-sung ballad not soon forgotten. Written by Sweet Nay and produced by Lawrence Lee, it charted on Daddy B. Nice's Top 10 Singles in July of that summer.

Sweet Nay (the stage name of Shreveport native Renee Caldwell) actually has some of the qualities of her near-namesake, Memphis's Sweet Angel. Like the latter, Sweet Nay tends toward a slicker, produced-to-a-sheen style. She's also a flamboyant, multi-talented alpha female who does most of her own writing, with previous credits on Carl Sims "Hell On My Hands" and others.

Listen to "I've Been A Boss" and you'll get an idea of the energy and pounding-the-pavement it took for Caldwell to bring this ambitious project to completion. She's taken the utmost care and patience in presenting her music, working with the finest producers in the business to showcase her songs.

Beat Flippa produced the catchy club jam "Been A Boss," while Ron G. Suggs produced "Thick Thighs" and "Cloud Nine". Even the peripatetic Omar Cunningham shares writing credits with Nay on the Bo Richardson-produced "Get Closer".

"Whooped (I Put That Nookie On Him)" won the #3 spot in Daddy B. Nice's Top 10 Singles for February 2022, while Sweet Nay's duet with Poka Jones, "Thunder And Showers" took the #6 spot on the same month's charts. "Whooped" was written by Sweet Nay & P2K Dadiddy and produced by Avail Hollywood. "Thunder and Showers" was written by Sweet Nay & Poka Jones and produced by Neal Jones.

The high-profile collaborations on the set include "Action" featuring Roi Chip Anthony and "When We Make Love" featuring Avail Hollywood, both of whom bring their considerable production skills to Nay's table. Anthony also produced the title track, "Good Vibes".

Chris "Bubba" Washington produced "Just What I Need," the sumptious anthem "You're A Queen" and "Door #1," which tweaks the old story of the "lady and the tiger," but behind which door? Sweet Nay frames it as a romantic triangle and sheds no tears for the man who made the disastrous choice.

As debuts go, "Good Vibes" is one of the most wide-ranging and masterful in recent memory.

--Daddy B. Nice

Buy Sweet Nay's Debut CD Good Vibes at Apple.


--Daddy B. Nice