NEW!

Corner & Top 10


Concert Calendar
& Mailbag


Comprehensive Index


New CD Reviews


Index to Artist Guides
NEW!


Best of 2022

The Original Chart (1990-2010)

21st Century Chart (2000-2020)
NEW!

The New Generation Chart (2010-2030)
Southern Soul CD's, MP3's


Best of Pages
About the Music
About Us
Links
Home

Marcellus The Singer (New Album Alert!)
September 1, 2023:
New Album Alert!
Listen to Marcellus The Singer singing "Toxic Love" on YouTube.
Buy Marcellus The Singer's debut album MUSIC THERAPY at Apple.
MUSIC THERAPY TRACK LIST
1.
Intro

2.
Prelude

3.
Slow Jam

4.
The Letter

5.
Witcha When Ya Right

6.
Ole Ahh Uncle

7.
Trail Ride Shawty (feat. Jeter Jones)

8.
Better With Me

9.
Shot Of Moonshine

10.
Dig One Ditch

11.
Back Door Shawty

12.
Love Me Right

13.
Write My Name

14.
Outro (Pull Out) (feat. Squirt Kelly)

15.
Toxic Love


Daddy B. Nice notes: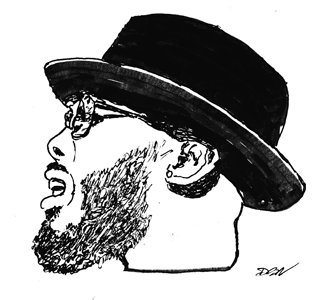 Louisiana native Marcellus The Singer's album debut features a full-fledged balladeer with a style more urban than southern soul. Recently, however, his single "Toxic Love" has crossed over into southern soul, and rightfully so. "Toxic Love" is as good as it gets for a southern soul ballad. You know it within the first sixteen bars, and it sounds better now than it did a year ago. The moniker "the singer" is apt. Marcellus kills the vocal, exhibiting both heart and technique.

As for the album as a whole, it's less interesting from a southern soul perspective, tailored for mainstream R&B. But there are exceptions---the puzzling reggae track "Don't Rush" and the winsome zydeco/barbershop-blended "Trailride Shawty".

But the real proof that he could do well in the southern soul genre (and that he's beginning to smell the money and the roses) came earlier this year with the arrival of Marcellus' new single "Shot Of Moonshine"---also from MUSIC THERAPY---which charted in January on Daddy B. Nice's Top Ten Southern Soul Singles. It's a worthy follow-up to "Toxic Love".

Listen to all the tracks from Marcellus The Singer's MUSIC THERAPY album on YouTube.

Buy Marcellus The Singer's debut album MUSIC THERAPY at Apple.
--Daddy B. Nice