NEW!

Corner & Top 10


Concert Calendar
& Mailbag


Comprehensive Index


New CD Reviews


Index to Artist Guides
NEW!


Best of 2022

The Original Chart (1990-2010)

21st Century Chart (2000-2020)
NEW!

The New Generation Chart (2010-2030)
Southern Soul CD's, MP3's


Best of Pages
About the Music
About Us
Links
Home

"Been Such A Long Time (w/ Karen Brown)"
X-Man Parker
Composed by X. Parker and Karen Brown
October 2, 2016: NEW SINGLE ALERT!

Listen to X-Man Parker singing "Boo Thang" (the official video) on YouTube.

See Daddy B. Nice's #3-ranked Southern Soul Single for October 2016.


After a long absence, X-Man Parker, who was both part of the traditional nineties' southern soul scene with Willie Clayton and Bobby Jonz, and a key contributor to the revolutionary Mardi Gras Records album, Ultimate Southern Soul, that ushered in the new southern soul of Sir Charles Jones and The Love Doctor in the early aughts, has returned.

X-Man's "Boo Thang" is receiving air play predominantly in the Delta area of Jackson-Vicksburg. It's a quality song, with another single's official video, "Crown Royal" (from 2013), reportedly on the way. Parker has also worked as a musician and producer in the hiphop and reggae genres. "Boo Thang" was produced by D.C. Cooper.

F.Y.I. to X-Man fans:

Parker has still not posted his award-winning duet with Karen Brown, "Been Down So Long," on YouTube. See #98 position on Daddy B. Nice's Top 100 Southern Soul Songs.

Listen to X-Man Parker singing "Boo Thang" (the official video) on YouTube.




Listen to X-Man Parker singing "Two Birds" on YouTube.

Daddy B. Nice's Original Profile:


Your Daddy B. Nice first became acquainted with X-Man (X. Parker) via Mardi Gras Records' influential 2003 Ultimate Southern Soul sampler, the compilation that introduced The Love Doctor's "Slow Roll It" and "Lies," Sir Charles Jones' "Friday," Big Ike's "Teddy Bear" and Cicero Blake's "Waiting On You" to the Southern Soul audience. X-Man's "Two Birds" didn't initially stand out among a lineup of the finest work ever by such peaking Southern Soul luminaries as The Love Doctor and Sir Charles Jones (whom fans would soon be calling the "King of Southern Soul"). Nevertheless, X-Man's "2 Birds" quietly anchored the disc.

A ballad sung by a cuckolded man more preoccupied with his own foolhardiness than the double-dealing and one-upsmanship of his wife, his lover, and his best friend, X-Man's "2 Birds" was an unusually deep and detailed account of a man shaking his head at his own amatory blindness. And when he found out how blind he really was, the "two birds" of the title took on an entirely new meaning.

"I wondered why my business
Was always in the street.
Seems like whatever I did,
Someone was always watching me."

You see, everything X-Man did with his "woman," his wife found out about it. And everything he did with his wife, his "woman" found out about it. And one day he realized his best friend was fooling around, too. "2 Birds" touched the jealousy button of male hormonal fury with unerring precision, all the time expressing it within the calm-before-the-storm, awakening self-discovery on the part of X-Man's singer/hero. And yet there was still one final, Hitchcockian twist to the plot.

"But then I doubled back,
To catch him with my spouse,
And there was a familiar car
In the driveway of my house.

I bust through the bedroom door,
And surprise, surprise,
My wife and my woman
Was making love inside."

A quivering, lover-not-a-fighter vocalist in the lineage of Al Green, Marvin Gaye and Curtis Mayfield, X-Man possessed an unusually polished technique for a young performer. "2 Birds," which subsequently anchored X-Man's finest album, Next Level (Mardi Gras, 2003), was soon joined by another chitlin' circuit favorite from the album, "Gotta Good Woman," also a delicate ballad with plenty of space for X-Man to showcase his Al Green chops. X-Man pulled down the writing credits on both songs, collaborating with L. Parker on "2 Birds" and with R. Burks on "Gotta Good Woman."

The Next Level CD had been preceded by Love Potion (Mardi Gras, 2002), whose title cut--also written by the R. Burks/X. Parker team--was more noteworthy for its distinctive lead guitar work (reminiscent of Ronnie Lovejoy's "Sho' Wasn't Me") than X-Man's competent but less original vocal. But as these tunes occasionally popped up on Southern Soul Radio, another X-Man song from an earlier era was also surfacing from time to time.

A majestic melody, tender and affecting vocals, inspiring backup singers, a rap verse for spice and contrast: "Been Such A Long Time," with its full-blown, old-fashioned arrangement sounded like something that might have been made in the 60's or early 70's. In a tidal-pull rhythm that rocked back and forth like a sailboat on a white-capped sea, X. Parker (as he called himself then) joined with the unashamedly vintage-sounding Karen Brown to produce a song that recalled some of the best duets by Marvin Gaye and Tammi Terrell, or--for chitlin' circuit insiders--J. Blackfoot and Ann Hines.

X-Man: "Been such a long time
Since I saw you.
How long has it been?
I'm so glad to see you,
'Cause you are my only friend."

Karen Brown: "Been such a long time.
Boy, I still love you,
And I guess I always will.
But in my soul at night,
I love to hold you tight,
'Cause it's you that I really need."

A rap verse followed, but if ever a spoken verse reinforced the "throwback" thrust of a melody, this one did. The long, almost wailing notes of X-Man, Karen Brown and the gospel-like chorus resumed and washed over the rap verse like a hurricane-force gale blowing over a flimsy beach palapa.

X-Man: "I've been missing you, baby.
And here's what you gotta do for me.
I got to understand you.
You got to understand me.
We got to hang on in there, baby."

"Been Such A Long Time" (Mr. 69, X. Parker, Ace 1997) has taken its place as one of those great, overlooked Southern Soul songs: a classic that has fallen through the cracks of the intervening years. Yes, it sounds "retro"--out of style, somehow--and yet, it sticks to the soul long after more contemporary songs have faded away. It is a magnificent aural vehicle, a veritable "cathedral" of sound that never fails to lift one's spirits.

--Daddy B. Nice
About X-Man Parker
X-Man began his recording career in the 90's as X. Parker and changed to just X-Man in the 00's. Parker cut his teeth on a number of hiphop and rap records in the nineties, garnering producer, arranger, and performer credits on discs by TLC, Kriss Kross, and the Set It Off soundtrack, among others.

He also produced Southern Soul material, including Willie Clayton's Ace In The Hole album (Ace, 1996) and Bobby Jonz' signature album, In The Mood For Love, for Ace in 1997. He's continued to do studio work in the 21st century (5C Soldjaz, Percy X, etc.) while pursuing his solo recording career.

Rap comprised a verse in X-Man's first radio-friendly, R&B-steeped single, "Been Such A Long Time," from the CD Mr. 69 (Ace, 1997) under the name X, Parker. The song was a duet with Karen Brown, who also shared writing credits on the tune.

X-Man dropped his last name when, almost six years later, he released his first CD on Mardi Gras Records, Love Potion. The title cut, composed by R. Burks and Parker, was the only song to gain substantial chitlin' circuit airplay.

New Orleans-based Mardi Gras released X-Man's CD Next Level in November of 2003. It contained the single "2 Birds," which had already become a chitlin' circuit hit thanks to its inclusion in the popular Mardi Gras compilation, Ultimate Southern Soul, earlier in the year. "Gotta Good Woman," another song from the CD, also received Deep South radio rotation.

Song's Transcendent Moment
"It's been so long
Since we've been together, baby.
It's been so long
Since we've been together, baby."

Tidbits
1. Sheba Potts-Wright ("Slow Roll It," "Lipstick On His Pants") performs a duet with X-Man on the track, "Common Ground," from the Next Level CD.

2. X-Man released a "response" song to Syleena Johnson's popular "Guess What" radio single (Chapter 2: The Voice, Jive). The song, "Know What," was featured on the Hot New Southern Soul Vol. 2 sampler from Mardi Gras Records.

If You Liked. . . You'll Love
If you liked Marvin Gaye and Tammi Terrell's "Your Precious Love," you'll love X-Man Parker and Karen Brown's "Been Such A Long Time."
Honorary "B" Side
"Gotta Good Woman"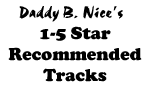 Been Such A Long Time (w/ Karen Brown)


CD: Mr. 69
Label: Ace










Gotta Good Woman


CD: Next Level
Label: Mardi Gras










2 Birds


CD: Ultimate Southern Soul
Label: Mardi Gras









Know What


CD: Next Level
Label: Mardi Gras









Love Potion


CD: Love Potion
Label: Mardi Gras








Kiss It


CD: Love Potion
Label: Mardi Gras








She's My Lollipop


CD: Kings & Queens Of Ace
Label: Ace








Take Me To Heaven (w/ Willie Clayton & Pat Brown)


CD: Mr. 69
Label: Ace