NEW!

Corner & Top 10


Concert Calendar
& Mailbag


Comprehensive Index


New CD Reviews


Index to Artist Guides
NEW!


Best of 2022

The Original Chart (1990-2010)

21st Century Chart (2000-2020)
NEW!

The New Generation Chart (2010-2030)
Southern Soul CD's, MP3's


Best of Pages
About the Music
About Us
Links
Home

"Bare Mouth Woman"
Bobby Rush
Composed by Bobby Rush
February 1, 2014: NEW ARTIST GUIDE ALERT!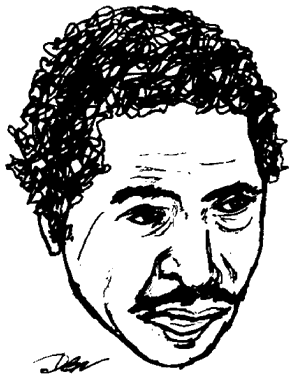 Bobby Rush is now the #5-ranking Southern Soul artist on Daddy B. Nice's new 21st Century Top 100 Countdown.

Go to Daddy B. Nice's new 21st-Century Artist Guide to Bobby Rush.

*************

See "Tidbits" below for the latest updates on Bobby Rush. To automatically link to Bobby Rush's charted radio singles, awards, CD's and other references, go to "Rush, Bobby" in Daddy B. Nice's Comprehensive Index.

**********************

Daddy B. Nice's Original Critique:

Not quite as brazen as Marvin Sease, nor quite as melodic as Tyrone Davis, nor quite as gifted as Johnnie Taylor, Bobby Rush has spent much of his career laboring in the shadow of those towering master stylists. Nevertheless, he has parlayed his own considerable talent and charisma into an underground following that has grown as Rush has matured.

How much so can be gleaned from his hilarious collaboration with Vickie Baker on "I Don't Want You To Leave Your Wife."

(Knock, knock, knock.
Knock, knock, knock.)

Vickie Baker (in irritated voice): "Who's that knocking on my door this time in the morning?"

Rush: "Bobby Rush."

Baker: "Bobby Rush!"

Rush, in his best lost-little-puppy voice: "Yeah, yeah."

Baker: "Whatcha want?"

Rush: "What do ya mean, what I want?"

Baker: "Whatcha doin' here?"

Rush: "I'm. . . I'm . . . I want to move in. My wife put me out."

"And?" says the incredulous Baker.

Rush is stammering. "And I thought, well, we've been dealin' and all."

"Now, you know you can't come in here and try and move in with me," Baker says. "You just can't do that."

You can visualize perfectly the hangdog expression on the deeply dismayed man Bobby Rush serves up with perfect pitch and tone.

It's not that Bobby Rush hasn't been tickling funny bones for years. Who else could deliver the song "Garbage Man" ("My wife ran off with the garbage man. . . ") with a perfectly straight face? Yet underneath the poker face, deep down inside, his audience always knows Bobby Rush is chuckling. The ultimate con man, he's sincere, and yet he isn't. He's chuckling, and yet he's never condescending. He's humble. That's the secret of Bobby Rush's special charm.

In "Big Fat Woman" (from the Lovin' A Big Fat Woman CD, Waldoxy, 1997), Rush goes through every possible permutation on the subject of sleeping with a big woman in a "tiny little bed." Johnnie Taylor, Clarence Carter, Bobby Bland, and Tyrone Davis are some of the "fellas" who Bobby invokes to take the woman off his hands, but she wants only Bobby Rush, and Bobby succumbs in the end.

"Don't rub up on me, woman," he says. "Now you done made me change my mind."

So the humor and charisma have always been there. We tend to forget that Rush's chitlin' classic "Sue" was recorded way back in 1982. Maybe it's the music that's gotten better. The arrangements of Rush favorites like "Sue" sound a little thin and old-fashioned by today's standards, although that's quickly forgotten as Rush gradually warms to the chore and lathers up the vocal tracks.

In "Bare Mouth Woman" (from Rush's Hoochie Man CD, Waldoxy 2000), all the humorous and musical components Rush is known for mesh perfectly. The spoken introduction is as funny as anything Bobby Rush has ever done, updating the ragamuffin Rush persona with a zest and attention to detail that have you laughing before the music even starts.

"She's a bare mouth woman
And she's sleeping in my bed.
She's a bare mouth woman,
With no teeth in her head."

A funky, organ-braised beat provides the perfect backdrop as Rush tosses off the vocal as blissfully as a cowpoke in a bathtub.

"She got the kind of love
That'd make a dead man rise.
When loving is the contest,
The little girl will win first prize."

"Bare Mouth Woman" comes from one of Bobby Rush's most popular CD's, Hoochie Man (Waldoxy 2000). In addition to the aforementioned "Garbage Man," there are many other outstanding tracks. "Beat Me Rockin'" catches hold of a nifty little riff and just won't let go, and the title cut, "Hoochie Man," is a funky number about a man berating his woman for sliding into decadence.

"Used to wear your dress/Down to your ankles," Rush notes. "Now you wear them so short/You can see your twinkle."

"Dirty Dog (You Liar, You Cheater)" (from the CD Undercover Lover (Deep Rush, 2003) is equally good in a less characteristic fashion. This is a song that could easily have fallen apart in the hands of an artist with less personality. The melody is fragile and the rhythm track is negligible. The arrangement offers no audience-priming introduction, and the saccharine violins are typical of Rush's earlier work (and reminiscent of the thinner R&B of the late-disco era).

Somehow, though, Bobby Rush turns this "lump of coal" into a diamond. It's partly due to the gritty guitar (complete with rock and roll bridge) and savvy production (a bit of the Bootsy Collins style used in Rush's "Henpecked"), and partly due to the sheer expressiveness and conviction of Bobby's vocal.

The vocal builds slowly through the opening stanzas, until the song is gradually transformed into an unrelenting portrait of a betrayed wife's sorrow and bitterness. A cheating husband tells the story, never once apologizing or denying or rationalizing his behavior, setting up dramatic tension of the kind Aristotle first explained over two thousand years ago.

Coming home to find his wife in tears, Rush's "cheater" has "seen that face before," and asks her what's wrong. She tells him her girlfriend stopped by and brought her some unwelcome news.

"She brought me a picture,
Of her and you,
And a child about two.
And it looked just like you."

The way Rush's hero deals with this--or doesn't deal with it--is to give her the silent treatment. He says not a word. His only agenda is to communicate his woman's pain and outrage.

"She said, 'You liar,
You cheater.
No good.
You dirty dog, you.'"

And as the hero's perfidy crescendos to an almost unbearable climax, no relief is forthcoming. The listener is left with the moment of domestic anguish--nothing else--reprised over and over by Rush's leavening chorus and impassioned conclusion.

"Dirty Dog" appeared in 2003 and was still going strong on radio stations of the Deep South well into 2004. Evidently its no-frills message that men can be real bastards appealed to both the life experience of women and the guilty consciences of men.

--Daddy B. Nice
About Bobby Rush
Bobby Rush was born Emmit Ellis Jr. in Homer, Louisiana in 1940. His family moved to Chicago in the fifties, and in the sixties he began singing in West Side blues bars. But by the early seventies he had left traditional blues for a musical style more suited to the chitlin' circuit, where his performing skills and his penchant for adult-rated material were a natural draw.

Two early hits on small labels, "Chicken Heads" and "Bow-Legged Woman," gained him a reputation in the seventies, but the eighties were a mixed bag. Unlike many soul artists who were frozen out of the recording industry, Rush continued to put out product, but his work was often compromised or uneven, and frequently so X-rated he refused to recreate it live.

In the mid-nineties Bobby Rush at last found a home at Waldoxy, a label committed to the emerging Southern Soul sound, and his discs on Waldoxy and other labels such as La Jam and Deep Rush over the last decade have made Rush a senior statesman of the genre.

Bobby Rush's Discography:

1979 Rush Hour (Philadelphia International)
1982 Sue (La Jam)
1984 Gotta Have Money (La Jam)
1985 What's Good for the Goose Is Good for the Gander (La Jam)
1990 Man Can Give (La Jam)
1991 I Ain't Studdin' You (Urgent!)
1992 Handy Man (Urgent!)
1995 She's a Good 'Un (It's Alright) (Ronn)
1995 One Monkey Don't Stop No Show (Waldoxy)
1996 Wearing It Out (La Jam)
1997 It's Alright, Vol. 2 (Ronn)
1997 Lovin' A Big Fat Woman (Waldoxy)
2000 Hoochie Man (Waldoxy)
2003 Undercover Lover (Deep Rush)
2003 Live At Ground Zero (Deep Rush)
2004 Folkfunk (Deep Rush)
2005 Hen Pecked (601)
2005 Night Fishin' (Deep Rush)
2007 Raw (Deep Rush)

Song's Transcendent Moment
"She's the kind of woman
Who don't talk too much.
The little girl
Has that loving touch.
She's a bare mouth woman,
And we have so much fun."
Tidbits
1.

December 1, 2006. Bobby Rush released his Night Fishin' CD in October of 2005 (Deep Rush). The light-hearted, tuneful disc immediately spawned a chitlin' circuit hit with the bass-hook-dominated title cut, "Night Fishin'," with its chorus: "I'm going night fishin'/That's when the catfish love to bite."

"Night Fishin'" became so ubiquitous across the Stations of the Deep South that two artists appeared on the Southern Soul charts in 2006 with "response" songs: Sterling Williams with "You Better Know Your Hole From Mine" (Brand New Man, Ecko Records) and Sheba Potts-Wright with "Private Fishing Hole" (Big Hand Man, Ecko).

2006 saw at least three more songs from the Night Fishin' CD achieve hit status on the chitlin' circuit. I'm Tired Of That Who Said Mess dominated air play through much of the spring and summer, and Who's Fooling Who and Up In Here were deejay favorites through the fall and winter. All in all, Night Fishin' underscored Bobby Rush's status as one of the half-dozen top entertainers in all of Southern Soul. DBN.

2.

June 24, 2007. Bobby Rush is scheduled to release a new CD, Raw (Deep Rush) this month. To say this record is eagerly anticipated is an understatement. Last year's Night Fishin' proffered an embarrassment of musical riches--Bobby Rush's best album, perhaps, since Hoochie Man--and if the new disc has a similar impact, chitlin' circuit audiences might start carrying Bobby around in a Southern Soul throne chair. DBN.

3.

August 8, 2007. Bobby Rush and his band will visit China for a nine-day tour of China beginning August 21, 2007. Rush has been invited to appear at the Yuling International Music Festival in Shanxi Province, where he will join performers from around the world as representatives of authentic folk music from their home nations. Beaty Four Entertainment, Inc, and Rush Up productions will produce a documentary film of the tour. DBN.

4.

From the Blues Festival Guide 12/15/07:

Mississippi blues legend Bobby Rush made such a favorable impression on his Chinese hosts during a four-city tour in August that they appointed him their U. S. cultural representative in the planned campaign to promote the Great Wall of China as one of the new Seven Wonders of the World in tandem with the 2008 Summer Olympics in Beijing.

This honor is the result of Rush's performance before a crowd estimated at more than forty thousand at the Second International Yulin Chinese Shaanbei Folk Festival on August 26, at the foot of the Great Wall near the city of Yulin.

When asked what the Great Wall of China and Bobby Rush had in common, one of the concertgoers said "they both have stood the test of time."

DBN


5.

May 26, 2008:

Bobby Rush may be the hardest-working performer in Southern Soul, and as I write this his newest single, "Bobby Rush For President," is eating up the Southern Soul air waves, as has just about everything else he's released in the last couple of years.

The new single acknowledges his newfound, well-deserved, and long-time-in-coming popularity not only among loyal Southern Soul fans but the begrudgingly-slow-to-respect blues community, which took to Rush's bare-bones acoustic set, Raw, like a yuppie to a new cell phone. It wasn't so long ago--the nineties--when blues purists spoke of Rush as a blues "wannabe".

"You know, somebody came up to me the other day," Bobby says on the new single, "They say, 'You gettin' so popular, you ought to run for president.'"

"I said, 'No, no, not me. I didn't have to think about it twice."

And Bobby Rush goes on to list all the reasons he wouldn't like the job:

"Too many obligations,
Dealing with all these terrorists and things,
And all these old investigations.
Now just suppose I run for president,
And suppose I win.
Now I couldn't stand around like I used to do,
And I'd lose a whole lot of my friends."

It's a blues riff you've heard a hundred times before, but in the hands of Rush the "everyman" witticisms rain down faster than hail stones, and just when Bobby senses it's all a little too routine he whips out the mouth harp and turns up the energy.

Bobby Rush has been riding a huge wave of momentum since 2005's Night Fishin' album, but in truth the momentum has been building much longer, going back to 2003's Undercover Lover and 2000's Hoochie Man. In fact, your Daddy B. Nice has lately been wearing the grooves out of a Bobby Rush song that would be a number-one hit today, a song that dates back to 1992's Handy Man album.

The song is "Crazy 'Bout You" : a pure, heartfelt Southern Soul ballad on the order of Little Milton's "What Do You Do When You Love Somebody" and Tyrone Davis's "Where Are You, Lady?"

There's not a hint of humor in this one. "Crazy 'Bout You" is totally earnest and--if I may say so--beautiful, so much so that you'll have a hard time adjusting to the fact that it's actually Bobby Rush. It's just another facet of Rush's bounteous talent.

In fact, ol' Bobby Rush has been working so hard that your Daddy B. Nice felt compelled to improve his Artist Guide for the master. Here are some improvements:

Added sound samples, at long last, to "Dirty Dog (You Liar You Cheater)" and "Undercover Lover" (See Recommended Tracks).
The Undercover Lover CD is available at Barnes & Noble.

Added the Bobby Rush compilation The Essential Recordings, Vol. 1 , which showcases the ballad "Crazy 'Bout You." I've also moved "Crazy 'Bout You" into the "B" side on Daddy B. Nice's Top 100 Southern Soul Songs (90's-00's) (Bobby Rush #9), displacing the equally pleasurable "Up In Here" (from Night Fishin'), at least for awhile.

Added The Essential Recordings Vol. 2, which contains "I Ain't Studdin' You" and other Bobby Rush hits.

Found, at long last, a seller (and added the album) for Bobby's classic, "Sue." I discovered it on the Bobby Rush compilation Best Of Bobby Rush.

DBN


6.

September 6, 2008: New CD ALERT

Look At What You Gettin'

Bargain-Priced Look At What You Gettin' CD

(See Daddy B. Nice's Top 10 "Breaking" Southern Soul Singles for October 2008: "Get Up, Show Me What You're Working With.")

7.

June 1, 2010: New CD ALERT

Bargain-Priced Blind Snake CD

Comparison-Priced Blind Snake CD, Blind Snake MP3's

Get the Bobby Rush Live At Ground Zero Blues Club DVD. This is Morgan Freeman's club in Clarksdale, Mississippi, where they could bring in many more Southern Soul acts than they presently do.

8.


June 4, 2011: New CD ALERT

Sample or buy MP3's of "Sniffers" and "Show You A Good Time" on Bargain-Priced Show You A Good Time Cd

Comparison-Priced Show You A Good Time CD

Recommeded Singles: "Show You A Good Time," "Sniffers."

See Daddy B. Nice's Top 10 "Breaking" Southern Soul Singles for June 2011.


9.
March 16, 2013: NEW ALBUM ALERT!

Sample/Buy Bobby Rush's new DOWN IN LOUISIANA CD.

See "Down In Louisiana," Daddy B. Nice's #6-Ranked "Breaking" Southern Soul Single March 2013.

***********

March 16, 2013: Featured in Daddy B. Nice's Corner

Daddy B. Nice's Top 10 "BREAKING" Southern Soul Singles Review For. . .

MARCH 2013

3. "No Hard Feelin' With Me"-----Bobby Rush

When I heard DJ Handyman playing this autobiographical nugget of pure acoustic blues on WMPR (Jackson, Ms.) afternoon after afternoon the past couple of weeks, I thought it was from Rush's new DOWN IN LOUISIANA album. I wrote it down as, "Bobby Rush, stunning new acoustic blues." It's the most primal Bobby Rush I've ever heard, kind of an "Ain't Nobody's Business But My Own" take-off, but also much more, and although it dates back to the BLIND SNAKE LP, "No Hard Feelin' With Me" is too vivid and full of life not to recommend to others who also missed it.

Sorry. No YouTube, which points to its being overlooked.

Sample/Buy Bobby Rush's "No Hard Feelin' With Me" mp3

See write-up on Daddy B. Nice's Corner: Top 10 "Breaking" Singles March 2013.


If You Liked. . . You'll Love
If you loved Wilbert Harrison's "Kansas City," you should fall right into the comfort zone of Bobby Rush's "Bare Mouth Woman."
Honorary "B" Side
"Crazy 'Bout You"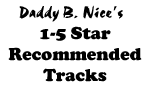 Bare Mouth Woman


CD: Hoochie Man
Label: Waldoxy











Crazy 'Bout You


CD: The Essential Recordings, Vol. 1
Label: Deep Rush











Dirty Dog (You Liar, You Cheater)


CD: Undercover Lover
Label: Deep Rush











Live At Ground Zero Blues Club DVD


CD: Live At Ground Zero Blues Club DVD











No Hard Feelin' With Me


CD: Blind Snake
Label: Deep Rush











Show You A Good Time


CD: Show You A Good Time
Label: Deep Rush











Sniffers


CD: Show You A Good Time
Label: Deep Rush











Undercover Lover


CD: Undercover Lover
Label: Deep Rush











Up In Here


CD: Night Fishin'
Label: Deep Rush


Sample or Buy
Night Fishin'








Beat Me Rockin'


CD: Hoochie Man
Label: Waldoxy










Big Fat Woman


CD: Lovin' A Big Fat Woman
Label: Waldoxy










I'm Tired Of That Who Said Mess


CD: Night Fishin'
Label: Deep Rush


Sample or Buy
Night Fishin'








Night Fishin'


CD: Night Fishin'
Label: Deep Rush


Sample or Buy
Night Fishin'








Two Eyes Full Of Tears


CD: Hoochie Man
Label: Waldoxy









Blind Snake


CD: Blind Snake
Label: Deep Rush









Booga Bear


CD: Lovin' A Big Fat Woman
Label: Waldoxy









Down In Louisiana


CD: Down In Lousiana
Label: Deep Rush









I Ain't Studdin' You


CD: The Essential Recordings Vol. 2
Label: Deep Rush









I'm Tired


CD: Raw
Label: Deep Rush









Sue


CD: Best Of Bobby Rush
Label: La Jam








Get Up, Show Me What You're Working With


CD: Look At What You Gettin'
Label: Deep Rush








Henpecked


CD: One Monkey Don't Stop No Show
Label: Waldoxy








Hoochie Man


CD: Hoochie Man
Label: Waldoxy