NEW!

Corner & Top 10


Concert Calendar
& Mailbag


Comprehensive Index


New CD Reviews


Index to Artist Guides
NEW!


Best of 2022

The Original Chart (1990-2010)

21st Century Chart (2000-2020)
NEW!

The New Generation Chart (2010-2030)
Southern Soul CD's, MP3's


Best of Pages
About the Music
About Us
Links
Home

"It's Only You (w/ Roy Roberts)"

Barbara Carr (21st Century)



Note: Barbara Carr also appears on Daddy B. Nice's original Top 100 Southern Soul Artists (90's-00's).  The "21st Century" after Barbara Carr's name in the headline is to distinguish her artist-guide entries on this page from her artist-guide page on Daddy B. Nice's original chart.

*********

November 22, 2012:

The finest all-around Barbara Carr album is The Best Of Barbara Carr (Ecko, 2002). It has all of the songs that define her: "Bone Me Like You Own Me," "I've Been Partying At The Hole In The Wall," "Bo Hawg Grind," "Footprints On The Ceiling," "Make Me Feel It Like You Feel It Too" and more.

The Best of Barbara Carr, Vol. 2 (Ecko, 2011) is by comparison a disappointment ("Scat Cat, Here Kitty Kitty" and little else), and your Daddy B. Nice went back through Carr's discography since 2003 to see if Ecko Records' John Ward had overlooked Barbara's best stuff. But there isn't a lot that could be called defining on Carr's subsequent three albums on Ecko. (She left the label after 2007.)

Barbara Carr's career in Southern Soul mirrored that of Peggy Scott-Adams and both divas excelled in the late nineties. Barbara was never on the lofty level that the ultra-talented Peggy was, nor did Barbara have the musical and lyrical genius of writer/producer/humorist Jimmy Lewis behind her.

So again like Scott-Adams (who'd left R&B for Gospel), Barbara Carr was beginning to become an afterthought in recent years, although she still recorded albums of scant note.

But gradually, after the break-up with Ecko Records and a stint with CDS Records (one album), Carr rejuvenated her career, taking it through uncharted waters via a series of well-received collaborations, first with Uvee Hayes, then--most notably--with Roy Roberts, and most recently with both Roberts and Johnny Rawls.

Listen to Barbara Carr and Roy Roberts singing "It's Only You" on GooglePlay.

The duets with Roy Roberts in particular have made Barbara Carr's name a buzzword throughout the chitlin' circuit again. They've also opened up a conceptually-rich new musical direction for Carr.

No longer can Barbara Carr be known exclusively for her hard-hitting, relentless, blush-provoking blues numbers. Now, by way of a tenderness coaxed out of her by her male counterparts, Carr legitimately covers the entire spectrum of the female experience, and does so with a vocal seasoning gained from a lifetime of singing the blues.

Longtime Carr fans sat up and took notice of the strong, clear and emotionally-true Carr vocal set against the fluid smooth-blues guitar of Roy Roberts on "It's Only You." Carr's vocal had a newfound authority by way of contrast with a deep male counterpart and an unusually melodic backing track.

Similarly, the highlight of Carr's partnering with Uvee Hayes on Southern Soul Blues Sisters (Aviara, 2009) was Carr's duet with Roy Roberts on "Don't Let Our Love Slip Away" that had the same rich qualities catalyzed by the call-and-response between a man and woman in "It's Only You."

(Uvee Hayes had a similar boost from her subsequent, sepia-steeped collaboration with Otis Clay on "Let's Steal Away To The Hideaway" from her True Confessions album.)

Listen to Barbara Carr and Roy Roberts singing "Don't Let Our Love Slip Away" on GooglePlay.

Roy Roberts and Barbara Carr don't make a technically-overwhelming pair. Neither puts much store in vocal acrobatics. Roberts' has a William Bell-like straightforwardness, and Carr's anguished-sounding alto seems to expand and focus in the presence of Roberts.

Delicate, simply-spun and quickly absorbed, the Carr-Roberts duets grow on you as surely as bulbs grow in the light, exhaling more soulfulness with each listen. Together, Roy Roberts and Barbara Carr achieve a kind of perfect balance.

--Daddy B. Nice




About Barbara Carr (21st Century)

Barbara Carr was born Barbara Crosby on January 9, 1941. She sang gospel in a family group called the Crosby Sisters while growing up in St. Louis, then began singing R&B in St. Louis-area groups (most notably saxophonist Oliver Sain's band) as Barbara Carr, adopting her husband's name.

Eventually, Carr was signed to Chess Records, where she recorded a series of singles in the sixties without much success. She continued to work with Sain's band and other St. Louis groups through the seventies, and in the eighties Carr and her husband formed their own label and produced more singles, most recorded in Muscle Shoals, Alabama.

The years of material became the basis of Carr's first LP's, issued on Barr-Carr and other small labels from 1989 to the mid-nineties. Finally, in 1997, Barbara Carr hit the chitlin' circuit big time with Footprints On The Ceiling (Ecko).

1998's Bone Me Like You Own Me solidified her reputation as one of the premier blues belters in Southern Soul. More CD's and two Ecko compilations appeared with admirable regularity between 1997 and 2003.

Carr published one album, Talk To Me, on Mardi Gras in 2003 before returning to Ecko for two more CD's, Down Low Brother (2006) and It's My Time (2007).

Carr moved to new Southern Soul indie label CDS for the Savvy Woman CD in 2009. (Scroll down this page to TIDBITS #2 to read Daddy B. Nice's contemporaneous CD Review.)

The same year, Carr joined singer Uvee Hayes in recording Southern Soul Blues Sisters (Aviara, 2009). The set also featured Carr's first duet with Roy Roberts, "Don't Let This Love Slip Away."

Ecko issued a second "best-of" collection, The Best of Barbara Carr, Vol. 2, in 2011.

Three Pair: Roy Roberts, Johnny Rawls & Barbara Carr appeared on the Ocean Beach label in 2012. The album included the Barbara Carr/Roy Roberts duets, "It's Only You" and "Don't Let This Love Slip Away."

In 2012 Carr moved to the Catfood label to release Keep The Fire Burning, a set of songs separately written by Johnny Rawls and Bob Trenchard.






Song's Transcendent Moment

Barbara:

"I've always dreamed
Of having someone like you.
And I never thought
That dream would come true."

Roy:

"Real true love
Is so hard to find.
We both searched and searched
Time after time."

Chorus:

"It's only you,
It's only you,
It's only you."






Tidbits

1.

November 19, 2012: YouTube offerings for Barbara Carr

Listen to Barbara Carr singing "Bone Me Like You Own Me" on YouTube.

Listen to Barbara Carr singing "Make Me Feel It Like You Feel It Too" on YouTube.

Listen to Barbara Carr singing "I've Been Partying At The Hole In The Wall" on YouTube.


Listen to Barbara Carr singing "Bone Me Like You Own Me" Live Onstage on YouTube.

Listen to Barbara Carr singing "Messing With My Mind" on YouTube.

Listen to Barbara Carr singing "My Mama Told Me" on YouTube.

Listen to Barbara Carr singing a rare 1955 Chess recorded, Oliver Sain-written & produced "My Mama Told Me" on YouTube.

Listen to Barbara Carr singing "While You Was Out Playing With Jody" on YouTube.

Listen to Barbara Carr singing "One Sided Relationship" on YouTube.

Listen to Barbara Carr singing "Mississippi Boy" Live Onstage on YouTube.

2.

November 19, 2012: FROM THE ARCHIVES:

Daddy B. Nice's New CD Reviews, August 16, 2009:


BARBARA CARR: Savvy Woman (CDS) Four Stars **** Distinguished effort. Should please old fans and gain new.
Savvy Woman is a fine album--quite possibly the best Barbara Carr has ever done. And I admire what CDS Records has done for Barbara Carr, presenting one of Southern Soul's most overlooked divas in a state-of-the-art production: "Real horns, real B-3," (whatever that is) "a real rhythm section--first class all the way," as Dylann DeAnna writes in the fine liner notes.

The first time I played the album, I kept marveling at the fresh horn charts and even livelier back-up choruses, identifying this one and that one with this or that soul hit from yesteryear, although after a couple of listenings the songs gradually took on their own identities and those references dissolved, leaving me with a lingering appreciation and a vague feeling of deja vu.

But Barbara's core audience may be taken aback by how much the arrangements expose her unadorned vocal style, in the past so often buried in the fuzz and buzz of more bawdy Southern Soul tunes. The sophistication of the CD sets that style in high relief.

On a certain kind of raucous and irreverent song (such as her classic, "Footprints On The Ceiling"), Barbara's trademark, strafed-and-striated vocals mesh perfectly with the subject matter.

But on the crisp and lavishly produced set pieces producers Clarence Dobbins and Roy Roberts (with a guest cameo by the renowned Harrison Calloway) assemble for her, Carr's vocals stand out stark and naked in their simplicity--sometimes working, sometimes not--like a country rube in front of a concert hall filled with tuxedos and designer dresses, or like straightforward Jimmy Stewart in "Mr. Smith Goes To Washington," filibustering in front of a bunch of jaded and skeptical politicians.

The title track, "Savvy Woman," epitomizes these issues. Barbara sounds hoarse, like she smokes a pack of cigarettes a day. She sounds like (notice I say "like," not "is") one of those bar-stool women, weathered and vulgar, that male saloon patrons in search of companionship scope out instantly as infertile territory--unless it's five minutes before closing time.

Understand, this is not a bad thing. In the topsy-turvy world of Southern Soul, it's a mark of distinction. If Shirley Brown's singing, for example, can be compared to a velvet rope, then Barbara Carr's singing can be likened to a tree-trimmer's or dock-worker's rope: coarse, thick, strong and harsh.

Like many of the sixties-vintage soul hits that the album's arrangements recall, "Savvy Woman" has a pop melody with which Carr may be a bit uncomfortable, but as she proceeds through the CD's tracks, her confidence increasingly brims over with an intensity that you won't find on any other contemporary album.

"The Heart You Break," for example, is a blues-based tune with a vintage Aretha Franklin arrangement, and Carr responds to the material with a relish not often heard since the heyday of Franklin, Irma Thomas and Ann Peebles.

"How Long" is a duet with Roy Roberts, who also partners with Barbara on the achingly-beautiful (but Carr-rough) "It's Only You." "After She's Gone" is pure Otis Redding territory, which Barbara slips into as comfortably as Otis ever did.

"Don't Put The Cart Before The Horse" finds Carr in effortless form, shouting out the lyrics in the vibrato-less style that you either love or hate. If you love the blues, you love it, as you do the foot-stomping "Number Two."

"Tonight Your Love Belongs To Me" has a country-western feel to it, and "No Getting Over Me" is a great blast from the past.

"Blue Collar Man" concludes the disc with a new and notable original tune by the worthy Southern Soul songwriter John Cummings. As the title suggests, it's a perfect vehicle for Barbara Carr.

CDS Records gambled in catering to the "classy" side of Barbara Carr, (no double-entendre Southern Soul, no X-rated lyrics), but on the whole--and as a whole--this album works.

It delivers a fresh take on vintage soul, and thanks to Barbara Carr's unassailable blues and Southern Soul persona, it comes off as organic and real, without the feeling of tentativeness and imitativeness that conspires against the majority of so-called neo-soul and nu-soul.

In fact, if the Southern Soul community doesn't respond to this CD, the true mission of this album may be as an "ambassador"--a bridge--from Southern Soul to the neo-soul and blues worlds where Southern Soul needs to look for its growing audience.

--Daddy B. Nice

Bargain-Priced Savvy Woman CD




If You Liked. . . You'll Love

If you liked Bobby "Blue" Bland's "Ain't Nothing You Can Do," you'll love Barbara Carr's and Roy Roberts' "It's Only You."




Honorary "B" Side

"Don't Let This Love Slip Away (w/ Roy Roberts)"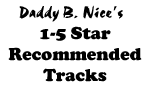 It's Only You (w/ Roy Roberts)


CD: Three Pair:Roy Roberts,Johnny Rawls,Barbara Carr
Label: Ocean Beach











Don't Let This Love Slip Away (w/ Roy Roberts)


CD: Three Pair:Roy Roberts,Johnny Rawls,Barbara Carr
Label: Ocean Beach











Bone Me Like You Own Me


CD: Best Of Barbara Carr
Label: Ecko











I've Been Partying At The Hole In The Wall


CD: Best Of Barbara Carr
Label: Ecko











Make Me Feel It Like You Feel It Too


CD: Best Of Barbara Carr
Label: Ecko










Blue Collar Man


CD: Savvy Woman
Label: CDS










Footprints On The Ceiling


CD: Best Of Barbara Carr
Label: Ecko










I'm Not Going Down Without A Fight


CD: Down Low Brother
Label: Ecko










I've Got A Love Jones For You, Baby


CD: Talk To Me
Label: Mardi Gras










Scat Cat, Here Kitty, Kitty


CD: Best of Barbara Carr, Vol. 2
Label: Ecko


Sample or Buy
It's My Time








The Heart You Break


CD: Savvy Woman
Label: CDS









As Long As You Were Cheating


CD: Best Of Barbara Carr
Label: Ecko









It Sho' Was Me At The Hole In The Wall


CD: It's My Time
Label: Ecko


Sample or Buy
It's My Time







The Bo Hawg Grind


CD: Best Of Barbara Carr
Label: Ecko









You're A Liar


CD: Down Low Brother
Label: Ecko