NEW!

Corner & Top 10


Concert Calendar
& Mailbag


Comprehensive Index


New CD Reviews


Index to Artist Guides
NEW!


Best of 2022

The Original Chart (1990-2010)

21st Century Chart (2000-2020)
NEW!

The New Generation Chart (2010-2030)
Southern Soul CD's, MP3's


Best of Pages
About the Music
About Us
Links
Home

"Footprints On The Ceiling"
Barbara Carr
Composed by Sidney Bailey and John Ward
November 15, 2012: NEW ALBUM ALERT!

Keep The Fire Burning (Catfood, 2012)

Recommended Singles: "Come On Home," "Keep The Fire Burning"

************

See "Tidbits" below for the latest updates on Barbara Carr. Also see "Tidbits" for Daddy B. Nice's review of Barbara Carr's latest CD, Savvy Woman.

To automatically link to Barbara Carr's charted radio singles, awards, CD's and other references, go to "Carr" in Daddy B. Nice's Comprehensive Index.

****************************

Daddy B. Nice's Original Critique:

Barbara Carr toiled away in obscurity, working a day job in an electronics factory for two decades, to emerge in the nineties as a seasoned R&B singer with an R-rated repertoire and the "chutzpah" to bring it off onstage. Along with artists like Peggy Scott-Adams and Denise LaSalle, she's helped to define the tough, spirited heroine of Southern Soul.

"Footprints On The Ceiling," with its vividly suggestive title, was Carr's first true breakthrough, the title cut of the CD of the same name (Ecko, 1997). "Bone Me Like You Own Me," a year later, came up with an equally startling title and more of the same, uncompromising club blues. The two LP's solidified Carr's reputation as a certified Southern Soul blues-woman and established a template that younger singers like Sheba Potts-Wright, An-jay, Jackie Neal, Little Kim Stewart and La Keisha follow to this day.

Carr reworks blues progressions you've heard a thousand times before, engaging the material without an ounce of pretense, never stretching or straining for effect, and it's easy to overlook her mastery of contemporary blues because she refuses to draw attention to herself. For Carr, it's all about delivering the material--no strings attached.

Co-authored by Sidney Bailey and Ecko Records' prolific juke-joint wunderkind, John Ward, "Footprints On The Ceiling" stands a little above the rest of Carr's catalog if only because it's a maverick, once-in-a-lifetime piece of songwriting.

"He knows just what to do in bed.
His kind of loving is just my style.
He turns it on and drives me wild."

The elixir's not so much in the melody--a standard blues--nor even in the specific lyrics, which by the way are priceless.

"My bed is falling.
The walls are weak.
And I know soon,
My roof is bound to spring a leak.

He's got me screaming and squealing,
And leavin' footprints on the ceiling."

It's the song's metaphor--the image of the "footprints on the ceiling"--that tickles the imagination long after the listener has heard the final bars. Along with "Bone Me Like You Own Me" and "As Long As You Were Cheating," Carr's "Footprints" is as strong a statement for a woman's raw and uninhibited sexual drive as you'll find in Southern Soul--and that's saying a lot. But "Footprints" does it all in a fifties-style arrangement as serene and natural as Grandma rocking back and forth on the screened-in porch at sunset.


--Daddy B. Nice
About Barbara Carr
Barbara Carr was born Barbara Crosby on January 9, 1941. She sang gospel in a family group called the Crosby Sisters while growing up in St. Louis, then began singing R&B in St. Louis-area groups (most notably saxophonist Oliver Sain's band) as Barbara Carr, adopting her husband's name.

Eventually, Carr was signed to Chess Records, where she recorded a series of singles in the sixties without much success. She continued to work with Sain's band and other St. Louis groups through the seventies, and in the eighties Carr and her husband formed their own label and produced more singles, most recorded in Muscle Shoals, Alabama.

The years of material became the basis of Carr's first LP's, issued on Barr-Carr and other small labels from 1989 to the mid-nineties. Finally, in 1997, Barbara Carr hit the chitlin' circuit big time with Footprints On The Ceiling (Ecko). 1998's Bone Me Like You Own Me solidified her reputation as one of the premier blues belters in Southern Soul. More CD's and two Ecko compilations have appeared with admirable regularity since.

In the new millennium Carr has continued to refine and broaden her oeuvre, releasing a steady stream of new material, most notably: "I've Got A Love Jones (For You Baby)," "Make Me Feel It Like You Feel It Too," and "Hootchie Dance." Carr moved from Ecko Records to Mardi Gras Records for her 2003 release, Talk To Me.

Barbara Carr Discography:

1994 Good Woman Go Bad (Paula)

1997 Footprints on the Ceiling (Ecko)

1998 Bone Me Like You Own Me (Ecko)

1999 What a Woman Wants (Ecko)

2000 Stroke It (Ecko)

2002 On My Own (Bar Car)

2003 Talk to Me (Mardi Gras)

2006 Down Low Brother (Ecko)

2007 It's My Time (Ecko)

2009 Savvy Woman (CDS)

Song's Transcendent Moment
"Just like a bull in a china shop,
I go hog wild and I just can't stop.
My heels shoot straight up into the air,
Hanging from the ceiling like a chandelier."

Tidbits
1. May 26, 2007. Barbara Carr returned to Ecko Records for her well-received Down Low Brother CD in 2006. Tracks favored by the deejays of the Deep South were "Down Home Brother" and "Ain't Nothing In The Streets That You Can't Get At Home." Another radio-friendly song, "You're A Liar," became your Daddy B. Nice's favorite and a fixture of his Top 25 Songs of 2006.

Reuniting with Ecko Records' John Ward appeared to revitalize Carr. "You're A Liar" boasted a steaming rhythm track and an uncompromising, no-nonsense vocal that rivaled anything Carr has ever recorded.

And Carr has another Ecko CD on the way. A cover of Billy "Soul" Bonds' "Scat Cat Here Kitty Kitty" is already getting airplay on cutting-edge chitlin' circuit outlets. This is a great remake, as good or better than the original. The song's lyrics (written from a woman's perspective) lend themselves to female interpretation, and Carr (in my opinion) imbues them with a credibility even stronger than Bonds'. The CD, It's My Time, is scheduled for a June 2007 release. DBN.

2. November 26, 2007. Here is an excerpt from a Daddy B. Nice column on Billy "Soul" Bonds' "Scat Cat, Here Kitty Kitty," which ran in the "Corner" in November and December of 2007:
***************
It was that grievance (in "Scat Cat"), that sense of being wronged, that I believe struck such a chord with fans, and particularly women. And when Barbara Carr issued her cover of "Scat Cat, Here Kitty Kitty" (Ecko Records) in 2007, the contrast with the original was illuminating. Covers of good songs always are, but hearing the Bonds-composed words sung by a woman gave the song new and added force. It was no longer a man telling a story second-hand; it was the woman herself--or such was the conceit of the record.

And when Barbara sang verses like,

"All this neglect and disrespect,
I can't take that from my man.
Why just the other day,
A man said I was still pretty."

--Not only was it more direct; it was rougher, tougher and more bitter in all the places where the Bonds version had been possibly a little too sweet. And yet, the credibility and power in Carr's words reflected back on the artistry of Billy "Soul" Bonds. And when you went back to Billy's version, so sugar-coated compared to Barbara's, you heard things you hadn't heard before. You heard more of the substance which had been there all the time.

DBN

****************

3.

August 16, 2009:


BARBARA CARR: Savvy Woman (CDS) Four Stars **** Distinguished effort. Should please old fans and gain new.
Savvy Woman is a fine album--quite possibly the best Barbara Carr has ever done. And I admire what CDS Records has done for Barbara Carr, presenting one of Southern Soul's most overlooked divas in a state-of-the-art production: "Real horns, real B-3," (whatever that is) "a real rhythm section--first class all the way," as Dylann DeAnna writes in the fine liner notes.

The first time I played the album, I kept marveling at the fresh horn charts and even livelier back-up choruses, identifying this one and that one with this or that soul hit from yesteryear, although after a couple of listenings the songs gradually took on their own identities and those references dissolved, leaving me with a lingering appreciation and a vague feeling of deja vu.

But Barbara's core audience may be taken aback by how much the arrangements expose her unadorned vocal style, in the past so often buried in the fuzz and buzz of more bawdy Southern Soul tunes. The sophistication of the CD sets that style in high relief.

On a certain kind of raucous and irreverent song (such as her classic, "Footprints On The Ceiling"), Barbara's trademark, strafed-and-striated vocals mesh perfectly with the subject matter.

But on the crisp and lavishly produced set pieces producers Clarence Dobbins and Roy Roberts (with a guest cameo by the renowned Harrison Calloway) assemble for her, Carr's vocals stand out stark and naked in their simplicity--sometimes working, sometimes not--like a country rube in front of a concert hall filled with tuxedoes and designer dresses, or like straightforward Jimmy Stewart in "Mr. Smith Goes To Washington," filibustering in front of a bunch of jaded and skeptical politicians.

The title track, "Savvy Woman," epitomizes these issues. Barbara sounds hoarse, like she smokes a pack of cigarettes a day. She sounds like (notice I say "like," not "is") one of those bar-stool women, weathered and vulgar, that male saloon patrons in search of companionship scope out instantly as infertile territory--unless it's five minutes before closing time.

Understand, this is not a bad thing. In the topsy-turvy world of Southern Soul, it's a mark of distinction. If Shirley Brown's singing, for example, can be compared to a velvet rope, then Barbara Carr's singing can be likened to a tree-trimmer's or dock-worker's rope: coarse, thick, strong and harsh.

Like many of the sixties-vintage soul hits that the album's arrangements recall, "Savvy Woman" has a pop melody with which Carr may be a bit uncomfortable, but as she proceeds through the CD's tracks, her confidence increasingly brims over with an intensity that you won't find on any other contemporary album.

"The Heart You Break," for example, is a blues-based tune with a vintage Aretha Franklin arrangement, and Carr responds to the material with a relish not often heard since the heyday of Franklin, Thomas and Peebles.

"How Long" is a duet with Roy Roberts, who also partners with Barbara on the achingly-beautiful (but Carr-rough) "It's Only You." "After She's Gone" is pure Otis Redding territory, which Barbara slips into as comfortably as Otis ever did.

"Don't Put The Cart Before The Horse" finds Carr in effortless form, shouting out the lyrics in the vibrato-less style that you either love or hate. If you love the blues, you love it, as you do the foot-stomping "Number Two."

"Tonight Your Love Belongs To Me" has a country-western feel to it, and "No Getting Over Me" is a great blast from the past.

"Blue Collar Man" concludes the disc with a new and notable original tune by the worthy Southern Soul songwriter John Cummings. As the title suggests, it's a perfect vehicle for Barbara Carr.

CDS Records gambled in catering to the "classy" side of Barbara Carr, (no double-entendre Southern Soul, no X-rated lyrics), but on the whole--and as a whole--this album works.

It delivers a fresh take on vintage soul, and thanks to Barbara Carr's unassailable blues and Southern Soul persona, it comes off as organic and real, without the feeling of tentativeness and imitativeness that conspires against the majority of so-called neo-soul and nu-soul.

In fact, if the Southern Soul community doesn't respond to this CD, the true mission of this album may be as an "ambassador"--a bridge--from Southern Soul to the neo-soul and blues worlds where Southern Soul needs to look for its growing audience.

--Daddy B. Nice

Bargain-Priced Savvy Woman CD

*********

4.

May 30, 2009: New CD Alert!

Savvy Woman (CDS Records)

Comparison-Priced Savvy Woman CD

6/28/09 Update: Songs to watch for from the new CD: "The Heart You Break," "It's Only You," "Blue Collar Man"

*******





If You Liked. . . You'll Love

If you liked Aretha Franklin's "Rescue Me," you'll love Barbara Carr's "Footprints On the Ceiling."




Honorary "B" Side

"You're A Liar"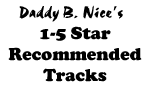 Footprints On The Ceiling


CD: Footprints On The Ceiling
Label: Ecko











You're A Liar


CD: Down Low Brother
Label: Ecko











Scat Cat, Here Kitty Kitty


CD: It's My Time
Label: Ecko


Sample or Buy
It's My Time









The Heart You Break


CD: Savvy Woman
Label: CDS










As Long As You Were Cheating


CD: Best Of Barbara Carr
Label: Ecko










Bone Me Like You Own Me


CD: Bone Me Like You Own Me
Label: Ecko










I've Been Partying At The Hole In The Wall


CD: Best Of Barbara Carr
Label: Ecko










I've Got A Love Jones (For You Baby)


CD: Talk To Me
Label: Ecko









Blue Collar Man


CD: Savvy Woman
Label: CDS









Hoochie Dance


CD: Best Of Barbara Carr
Label: Ecko









If The Lord Keeps The Thought Of You Out Of My,,,


CD: Best Of Barbara Carr
Label: Ecko









Make Me Feel It Like You Feel It Too


CD: Stroke It
Label: Ecko









Savvy Woman


CD: Savvy Woman
Label: CDS








If You Can't Cut The Mustard


CD: Best Of Barbara Carr
Label: Ecko