NEW!

Corner & Top 10


Concert Calendar
& Mailbag


Comprehensive Index


New CD Reviews


Index to Artist Guides
NEW!


Best of 2019


Top 100 Countdown:
21st Century Southern Soul Artists


Top 100
Southern Soul Songs
21st Century Countdown
(00's – 10's)


Top 100
Southern Soul Artists
(90's - 00's)


Top 100
Southern Soul Songs
(90's – 00's)


Forerunners of
Southern Soul




Daddy B. Nice's Top 100 Countdown: The New Generation (Chart In Progress)


Southern Soul CD's, MP3's
Best of Pages
About the Music
About Us
Links
Home


Sample or Buy



From artists, their familes, friends and fans. . .





From Daddy B. Nice's archives. . .





Over 100 Southern Soul drawings. . .





Original Daddy B. Nice sketches. . .





All caricatures and satirical renderings are untitled. . .





It's a little piece of history. . .





Who want a keepsake, memento or souvenir. . .





To commemorate their time. . .





In the Southern Soul limelight.





Browse through all the Southern Soul satirical sketches in Daddy B. Nice's archives.





Browse through all the Southern Soul sketches in Daddy B. Nice's archives.





Browse through all the Southern Soul collectibles in Daddy B. Nice's Southern Soul Products Store. . .





"Good Love Muscle"
Big Ro (Roosevelt) Williams (CD Review)
September 22, 2019:
Big Ro Williams: Shot House (Big Ro Williams / CD Baby). Three Stars *** Solid. The artists' fans will enjoy.
He's Birmingham, Alabama's claim to southern soul fame (after the "king," Sir Charles Jones, that is), and Big Ro Williams' song "Sweet Sexy Southern Girl" begins with a pure synth-disco instrumental track. You wouldn't know it was a southern soul tune through the first sixteen bars. Then Big Ro comes in, accompanied by a smoky organ (and later female background, and even later programmed strings), and it's transformed into a blues vehicle--a singular southern soul single. The song has everything: melody, groove, lyrics and atmosphere, but it's the infusion of the synth-disco elements meshing perfectly with Ro's rough-hewn vocals that lend the song its credence. Two opposites collide and uniqueness is found.

Listen to Big Ro Williams singing "Sweet Sexy Southern Girl" on YouTube.

Five years ago, "Sweet Sexy Southern Girl"--along with Big Ro's signature song, the even funkier "Good Love Muscle"--made Big Ro Williams a new name to be reckoned with in southern soul music. "Good Love Muscle" boasts one of the most original rhythm tracks of the decade, and Big Ro' was born to sing it. Unfortunately, neither "Good Love Muscle" or "Sweet Sexy Southern Girl" (collected in the five-song EP Good Muscle, 2013), is in danger of being eclipsed by any of the songs in Big Ro's most recent collection, Shot House, Ro's second southern soul release, and a full LP. The songs are party-ready, as Ro' himself promises, but they all seem to lack one or another of the qualities that make "Good Muscle" and "Sweet Sexy Southern Girl" so durable. And since the release date for Shot House was three years ago, we also have the historical record, which was lukewarm.

"Hog Status" probably comes the closest to "Good Love Muscle" and "Sweet Sexy Southern Girl". It has atmosphere, an edgy groove and good vocal, but it lacks melody. And what is "hog status"? "Hog status" is repeated constantly over a timeworn funk phrase, but the concept just doesn't catch on--in fact, it doesn't really register on initial listenings, making the lyrics (and the title itself) obscure. Like "Thiyow" (to be discussed momentarily), Big Ro employs a special vocabulary, obscure even by chitlin' circuit standards. Why not make the lyrics and titles (and the whole CD in general) more accessible?

Like "Hog Status," the title track "Shot House" follows the "Good Muscle" template--and that's a good thing. These songs play to Big Ro's strengths: his vocals, and specifically his country-boy robustness. "Shot House" percolates along on a brisk rhythm track, and it may keep people dancing, but in the end it too falls short for lack of anything musically memorable.

"Thiyow" has arguably the best chorus of any of the songs on SHOT HOUSE, and arguably the niftiest hook."Thiyow" sounds like "fire". And the lyrics even say, "You've got that fire." It should be a hit, and historically it should have been a hit, but it isn't and it wasn't. I've always loved good nonsense and nursery-rhyme take-offs in songs, but I wonder if even well-disposed fans couldn't relate to the title "Thiyow" (or whatever it meant). Put another way, in playing it coy with an obscure title to a coterie of insiders, did Roosevelt miss out on the larger audience "Thiyow" had the potential to reach?

By the time Ro' gets to "Good For The Gander," the instrumental tracks have been pared down to a conventional, four-piece background. Strong bass lines have been important throughout, but here, without much else (female background, voice-overs, novelty sounds), Ro's vocals have nothing to work against for contrast. The result is derivative and commonplace, which can also be said for Ro's gospel-like "It's Real," and one of his rare ballads, "Sexy Lady," which sounds at best like a Ricky White out-take. Ditto for songs like "Soul Stroll" and "Old School Party," which are a smidgen above cover-band status.

With the exception of his inimitable "Good Love Muscle" and "Sweet Sexy Southern Girl," which already stand on the southern soul "classics" shelf, Big Roosevelt Williams has a ways to go. More original material and more creative production are a must. That's the only way he is going to stand out from the pack. Imagine Big Ro's vocal huskiness in a Highway Heavy project such as last year's Highway Heavy/Johnny James collaborations ("Sweet Dick Johnny," etc.). Compared to those Baton Rouge dudes, Big Ro' is playing it bland and safe.

In my review of Williams' debut EP, Good Muscle Love, I wrote:

Big Ro touts a refreshing, "bad-boy" perspective in short supply as southern soul's stars have increasingly gained celebrity and a newfound decorum. "Good Love Muscle" looks straight back to Clarence Carter's "Strokin'" and other southern soul anthems too libidinous for radio, with a hugely entertaining rhythm section, wild lyrics and a big husky voice befitting the message.

Shot House, although competent, doesn't live up to that billing.

--Daddy B. Nice

Buy Big Ro Williams' SHOT HOUSE CD at CD Baby.

Listen to all the tracks from Big Ro' Williams SHOT HOUSE CD on YouTube.

See Daddy B. Nice's Artist Guide to Big Ro Williams.

BIG RO WILLIAMS: Good Love Muscle EP (Roosevelt M. Williams) Three Stars *** Solid Southern Soul Debut by a New Male Vocalist. (12-1-14)
Big Ro touts a refreshing, "bad-boy" perspective in short supply as southern soul's stars have increasingly gained celebrity and a newfound decorum. "Good Love Muscle" looks straight back to Clarence Carter's "Strokin'" and other southern soul anthems too libidinous for mainstream radio, with a hugely entertaining rhythm section, wild lyrics and a big husky voice befitting the message. Williams was a hiphop artist when he ran into Sir Charles Jones, his old high school classmate, who advised him to try southern soul. The first song on the EP is the worst, extremely derivative boogie/swing, but each cut, starting with the second track ("She Got That Jelly") and its funky, percolating rhythm track and verses, gets better. "Jelly," however, is sabotaged by its chorus, which fits with its verses about as well as the top half of a dog would fit with the bottom half of a cat. Track 3, "She Put That Thang On Me," is the first thoroughly southern soul song, with a wonderful chorus that recalls the soft, country-gospel choruses favored by Senator Jones' Hep'Me releases in the early 00's. Track 4, "Sweet Sexy Southern Girl," features the bragging of a thuggish womanizer, so vivid and creative it's inspiring, over an instrumental palette as powerful and ambient as some of Bobby "Blue" Bland's best, while "Good Love Muscle" simply "blows the roof off" the "mofo"--one of Daddy B. Nice's "best songs of 2013"--a surefire classic. DBN.

Sample/Buy Big Ro Williams' GOOD LOVE MUSCLE EP at CD BABY.

Listen to Big Ro Williams singing "Good Love Muscle" on YouTube.

*********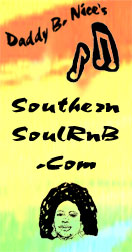 *********


--Daddy B. Nice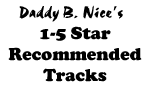 Good Love Muscle


CD: Good Love Muscle (EP)
Label: Roosevelt M. Williams











Sweet Sexy Southern Girl


CD: Good Love Muscle (EP)
Label: Roosevelt M. Williams










Thiyow


CD: Shot House Music
Label: Big Ro Williams/ CD Baby









Good For The Gander


CD: Shot House Music
Label: Big Ro Williams/ CD Baby









Shot House


CD: Shot House Music
Label: Big Ro Williams/ CD Baby