NEW!

Corner & Top 10


Concert Calendar
& Mailbag


Comprehensive Index


New CD Reviews


Index to Artist Guides
NEW!


Best of 2022

The Original Chart (1990-2010)

21st Century Chart (2000-2020)
NEW!

The New Generation Chart (2010-2030)
Southern Soul CD's, MP3's


Best of Pages
About the Music
About Us
Links
Home

"Time"

Frank Mendenhall

Composed by Frank Mendenhall






July 5, 2016: Posted from Daddy B. Nice's Mailbag

Looking For A Song Letters: Echoes of Frank Mendenhall

Hi Daddy B

Your recent discussion in the Mailbag about the Jeff Floyd song prompted me to write in about a song I'm hearing DJ Ragman play in the afternoons on WMPR in Jackson. I think I heard him say it's by TJ Hooker Taylor. The song reminds me of another song, but I just can't put my finger on it. Do you know what I'm talking about?

Thanks for your help, hopefully,

George

Daddy B. Nice replies:

I do know the song you're talking about, George. It's T.J. Hooker's new single, "In The Rinse." The song you're hearing between the lines is Frank Mendenhall's "Party With Me Tonight," and I think TJ crossed the line--the professional line--in recycling the iconic rhythm track. He doesn't lift it per se, but his guitarist does such a faithful copy it demands a "shout-out" to the late great southern soul troubadour.

Daddy B. Nice

See Daddy B. Nice's Artist Guide to Frank Mendenhall.

Listen to the late Frank Mendenhall singing "Party With Me Tonight" on YouTube.

Listen to T.J. Hooker Taylor singing "In The Rinse" on YouTube.

See Daddy B. Nice's Artist Guide to T.J. Hooker Taylor.


*************

For the latest updates on Frank Mendenhall, including Daddy B. Nice's obituary of the singer/songwriter, scroll down to the "Tidbits" section. To automatically link to Frank Mendenhall's charted radio singles, awards, CD's and other citations on the website, go to "Mendenhall, Frank" in Daddy B. Nice's Comprehensive Index.

************
Listen to Frank Mendenhall singing "Time" on YouTube.
Listen to Frank Mendenhall singing "Shont Dont Dont" on YouTube.
Daddy B. Nice's Original Profile: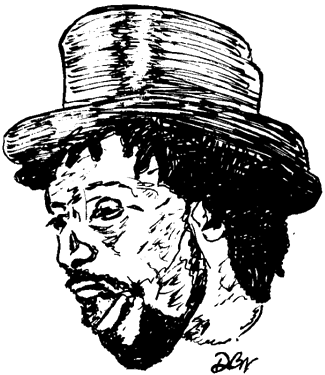 Frank Mendenhall possesses an almost angelic vocal quality--one of the rarest falsettos in all of R&B--and yet the singer with the strange name (for a soul singer) and the eye-catching dreadlocks is as bluesy as they come. In his obscurity, he comes close to fulfilling every urban-domiciled, music-loving dreamer's vision of the remote and inaccessible country genius. The guy may live in a condo in some city, but he sounds like he grew up in an old yellow school bus in the bottomlands.

Not only has the singer managed to hold onto his unique vocal style in the Tower of Babel that constitutes the contemporary recording industry--he has also forged a special instrumental sound that synthesizes aspects of rhythm and blues, zydeco and bluegrass, not to mention full violin sections and reggae-tinged bass.

The result of this bizarre alchemy is one of the most identifiable styles in Southern Soul, a sound as clean and acoustic (although it's electric too) and fascinating to the ear as the best that the late Tyrone Davis had to offer. Indeed, regardless of its musical merit, one comes away from any Mendenhall song convinced the performer could transform an advertising jingle into the deepest art.

"Time" is Mendenhall's signature song.

"Time keeps on winding down.
The clock is ticking.
Anybody out there knows time flies,
But only when you're having a good time, baby."

The words (composed by Mendenhall) don't give a hint to what the track is all about musically. "Time" has an ineffable quality--it seems to materialize out of nowhere, without antecedents or sound-a-likes. Perhaps the ultimate compliment is that "Time," lacking a strong structure, melody or groove, would likely disintegrate faster than an ice cream cone in July in the hands of any other singer.

"So In Love," a track so languorous it conjures a hammock in the Spanish-moss shade of a majestic plantation oak, makes explicit the underlying tenderness that permeates "Time." In "So In Love" Mendenhall sings,

"We'll be out together, baby,
And it's getting late at night.
I want to put my arms around you,
Love you for the rest of your life.

It's you, baby, it's you, baby,
You're what makes my world go round.
I don't know how I lived my life
Before I met you, girl."

"Love" is the operative word. It runs through every song in the Mendenhall catalog. And in one of the most poignant falsettos since the early Curtis Mayfield, Frank Mendenhall is able to translate one of the sunniest temperaments in Southern Soul into records that radiate affection, delicacy and care.
--Daddy B. Nice
About Frank Mendenhall
Frank Mendenhall was born March 14, 1948 in Camden, Alabama, and has long been based out of Washington D.C. He has issued four CD's on the small Wurst Act label: Sweet Love, 1998, Time, 1998, Hard Times, 2004, and Frank Mendenhall, 2004, but in essence the material comprises two LP'S.

Around the turn of the century, chitlin' circuit concert promos still advertised Mendenhall with the Cajun-tinged moniker, the "Shont Don't Don't Man," after the zydeco classic with which Mendenhall introduced himself to his audience on his first and most influential CD, Time.

But as the other tunes from Time, especially "So In Love" and "Time," garnered more and more air play long after the album's printing, Mendenhall came to be associated with the more mainstream R&B of those songs.

One of the few Southern Soul performers to sport dreadlocks, Mendenhall also displayed reggae roots in the "Babylon Trail" and "Rumble In the Jungle" tracks from the Time disc.

Mendenhall went a long time without recording a follow-up LP, although deejays continued to play songs from his '98 debut. At last, in 2004, the single "Party With Me Tonight" from the Hard Times CD, an updated and improved version of "Get Up, It's Time To Party" from the Time disc, climbed the adult R&B charts, giving evidence of Frank Mendenhall's durability.

With titles like "Jealous" and "Wimp," the songs from the new CD displayed a willingness to branch out thematically, but the idiosyncratic Mendenhall sound was intact, especially on Stations of the Deep South favorites, "Party With Me Tonight," "Hard Times," "Locked Doors" and "Wimp," all of which enjoyed lengthy stints on Deep South deejay rotations during the last half of '04 and first half of '05.

To update his Hard Times audience, Mendenhall wisely included his signature tunes from 1998, "Shont Don't Don't" and "Time." Mendenhall continues to headline Delta venues, most recently the October 31st 2004 "Halloween Blues Show" in Jackson, Mississippi.

Song's Transcendent Moment
"Time keeps on winding down.
The clock is ticking.
Can't you hear it ticking, Girl?"

Tidbits
1. Feb. 21, 2007. I'm hearing that dreaded phrase, "the late, great. . . ," preceding Frank Mendenhall's name when one of his songs is played on the radio. And Jerry Mason states in today's "Boogie Report": "Condolences to the Family and Fans of Frank Mendenhall, who succumbed to cancer this morning in a Mobile (Alabama) hospital." DBN.

2. August 17, 2007. Memorial services were set for Saturday, February 24, 2007,at Faith Lutheran Church, 1703 Dr. Martin Luther King Jr. Ave., in Mobile; interment in Whispering Pines Cemetery. DBN.

3. August 17, 2007. For fans who miss Frank Mendenhall's music and wonder who in the world will come close to perpetuating the kind of soft yet rough-edged, acoustic-electric sound that Mendenhall created, one could do worse than checking out the blossoming career of Big G, whose "Thank You Girl" and other songs remind me a little of Frank Mendenhall--and certainly show the influence. DBN.

4. A new, lovingly-produced, posthumous Frank Mendenhall website has appeared. Surviving family members and Southern Soul music celebrities offer tributes. Go to Frank Mendenhall. DBN.

5. DADDY B NICE'S OBIT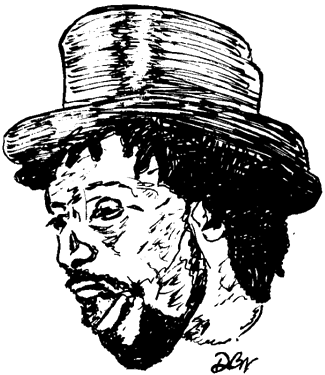 According to the obituary published in the "Mobile Register" (Alabama), the official date of Frank Mendenhall's death was February 20, 2007, or "Fat Tuesday," as one Mendenhall fan has reminded me. Otherwise, the obit reveals few details of this unique performer's remarkably unmemorialized life. He worked for the Parks Department in the Washington D.C. area and he has a surviving daughter.

Mendenhall didn't tour a great deal, and his album output was small, but for those of us who became acquainted with his music in the late nineties and early 00's, his material--uncompromisingly original, catchy without being commercial--will remain unforgettable.

One could hear bluegrass, reggae, and zydeco blending with gospel and R&B in Mendenhall's songs, and his raw, folksy vocal tics made the cuts even more fascinating. You never confused a Mendenhall song with anyone else.

In the latter years the uptempo song, "Party With Me Tonight," a feverish (for Mendenhall) rocker done in his typically unique and out-of-left-field style, from the Hard Times disc, gradually eclipsed the prior Mendenhall standards, "Shont Dont Dont" and "Time." Now they're all just part of the fabric of his lifetime. DBN.

6. Update: December 1, 2008

Family and friends of the late Frank Mendenhall have constructed a website memorializing the Southern Soul performer. (Frank Mendenhall website.) This is a bonanza for fans of Mendenhall's music. The artist was always one of the most obscure artists in the genre, and it's nice to see the curtain lifted to some extent. Of special interest are a page devoted to Frank's catalog and a "tribute" page with revealing comments on the artist and his life by those who knew him.

DBN


If You Liked. . . You'll Love
If you loved Billy Paul's "Me And Mrs. Jones," you'll most likely love Frank Mendenhall's "Time."
Honorary "B" Side
"So In Love"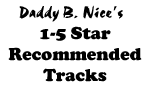 Time


CD: Time
Label: Wurst Act











So In Love


CD: Time
Label: Wurst Act











Party With Me Tonight


CD: Hard Times
Label: Wurst Act











Shont Don't Don't


CD: Time
Label: Wurst Act










Hard Times


CD: Hard Times
Label: Wurst Act










Locked Doors


CD: Hard Times
Label: Wurst Act










Wimp


CD: Hard Times
Label: Wurst Act









All Blues Saturday


CD: Hard Times
Label: Wurst Act









Sad Song Blues


CD: Time
Label: Wurst Act









When The Morning Comes


CD: Hard Times
Label: Wurst Act








Get Up It's Time To Party


CD: Time
Label: Wurst Act