NEW!

Corner & Top 10


Concert Calendar
& Mailbag


Comprehensive Index


New CD Reviews


Index to Artist Guides
NEW!


Best of 2021


Top 100 Countdown:
21st Century Southern Soul Artists


Top 100
Southern Soul Songs
21st Century Countdown
(00's - 10's)


Top 100
Southern Soul Artists
(90's - 00's)


Top 100
Southern Soul Songs
(90's - 00's)


Forerunners of
Southern Soul


NEW!


Daddy B. Nice's Top 100 Countdown: The New Generation (Chart In Progress)


NEW!


Top 100
Southern Soul Songs
The New Generation
(Chart In Progress)

Southern Soul CD's, MP3's


Best of Pages
About the Music
About Us
Links
Home

Volton Wright (New CD Review!)
April 1, 2021: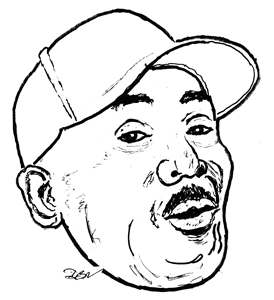 Volton Wright: Love On You: The Album (Jones Boys Entertainment): Four Stars **** Distinguished debut by a new Southern Soul artist.
New southern soul recording artist Volton Wright has scored a trifecta of hit singles, and they just happen to lead off his new southern soul debut album, Love On You Tha Album---one-two-three---take your pick. They are, in order, "Southern Soul Girl" (featuring T.K. Soul), Super Woman (featuring JD and Jeter Jones) and "Circles". I can't remember a more impressive line-up of tunes leading off an introductory CD in many years.

It could have---and might have---been so different. Volton Wright came to the attention of the southern soul community in 2019 on the ground-breaking sampler, SLACK: My Music, My Friends: Southern Soul Compilation. He was honored with the lead-off track, "That Thang," but the first artist from the sampler who capitalized on the platform Slack had provided was not Volton Wright but R.T. Taylor with his hit single and subsequent album, "It's A Mule".

Little did we know at the time that Volton Wright's true specialty was melodic ballads, not "That Thang"-type, mid-tempo jams, and "That Thang" remained the exclusive property of Katrenia Jefferson, who had recorded her song of the same name years earlier.

Wright's penchant for soulful slow tracks first surfaced in mid-2020 with his homage to the Temptations, "My Baby". The video featured Volton and his back-up singers, including Jeter Jones, stepping onstage in vintage Temps stage style. Suddenly, for southern soul aficionados, it all fell into place. Volton Wright had a voice perfect for covering old-school soul.

The lovely and effervescent single "Circles" subsequently surfaced, and the message was clear. A remake of The Friends Of Distinction's "You Got Me Going In Circles," Wright's "Circles" not only revived the original but if anything surpassed it in immediacy and vocal and instrumental quality.

The revelation of Love On You: Tha Album is the way Volton Wright has transitioned to originals. "Southern Soul Girl" showcases Volton and T.K. Soul on one of the most soulful duets of 2021. See Daddy B. Nice's #1 Southern Soul Single for April 2021. Their harmonies on the chorus are exquisite.

"Super Woman" is as good or better. Featuring an even newer artist (JD) who wasn't on the 2019 Slack sampler, and who scored a #1 Daddy B. Nice single with Jeter Jones in February 2021 ("Love You Down"), the song traffics on the cryptically-named JD's knack for irrepressible, lilting melodies. Not only that, the chords mimic the famous chord washes of Michael Jackson's "Human Nature," putting it in truly celestial, musical company. JD takes the first verse, Volton the second, and then comes the unexpected treat. Jeter Jones raps! And he's great: he raps the song in his own dogged style, bringing it off with monumental brio. The song is an outright coup of musical accomplishment.

Listen to all the tracks from Volton Wright's new LOVE ON YOU THA ALBUM on YouTube.

Buy Volton Wright's new LOVE ON YOU THA ALBUM at Apple.

See Daddy B. Nice's New Debut Alert.



April 1, 2021:
NEW ALBUM ALERT!
Buy Volton Wright's southern soul debut LOVE ON YOU THA ALBUM at Apple.
LOVE ON YOU THA ALBUM TRACK LIST:
1
Southern Soul Girl (feat. TK Soul)

2
Super Woman (feat. JD & Jeter Jones)

3
Circles

4
Last Dance (feat. Jeter Jones)

5
That Thang (feat. Slack)

6
Down for you

7
Sexy Attitude

8
Time for Love

9
Hold the rope

10
God is outtro


Daddy B. Nice notes: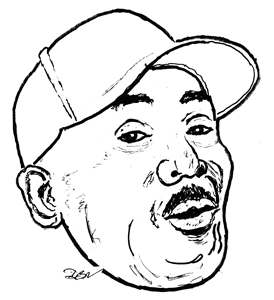 Jeter Jones and producer Ronald "Slack" Jefferson debut one of the new artists originally introduced on Slack's 2019 sampler MY MUSIC MY FRIENDS. Volton Wright eclipses his song from that album ("That Thang") with a trio of new songs that almost made the top three singles on Daddy B. Nice's Top 10 for April 2021. Two ("Southern Soul Girl" and "Super Woman") maintained the top two positions, with "Circles" making the Top 20. This is an album lovers of vintage soul music will cherish.

See Daddy B. Nice's 4-star CD review.

Listen to Volton Wrights debut album LOVE ON YOU THA ALBUM on Spotify.

Listen to all the tracks from Volton Wright's on YouTube.




--Daddy B. Nice