NEW!

Corner & Top 10


Concert Calendar
& Mailbag


Comprehensive Index


New CD Reviews


Index to Artist Guides
NEW!


Best of 2022

The Original Chart (1990-2010)

21st Century Chart (2000-2020)
NEW!

The New Generation Chart (2010-2030)
Southern Soul CD's, MP3's


Best of Pages
About the Music
About Us
Links
Home

"Put Something Down On It"
Millie Jackson (From The Archives)
Composed by Bobby & Cecil Womack
April 1, 2011: Links updated 7-30-21

Listen to Millie Jackson on Ms. Monique's "Mr. Do Right" on ReverbNation.

*********************

Daddy B. Nice's Original Critique:

The phone rings. A young woman answers with the soft, expectant tone of someone awaiting a lover's call. Suddenly, jeering laughter fills the phone. It morphs into frenzied cackles.

"Ohhh," laughs the caller, an older woman. "You thought that was him, didn't ya? Uh-uh. This is M. J.

"What is your problem?" the older woman spits out in a voice as fast and brash as Muhammad Ali. "You young girls gotta understand. There ain't gonna be no such thing as a 'do-right' man. I don't even know what Aretha was thinking about when she made the song. She couldn't have wrote it."

Orginally recorded for her debut CD Soul Sessions: Chapter 1 (Soul Entertainment), Ms. Monique's remix of "Mr. Do Right" was a fixture of chitlin' circuit radio in 2006. The song had a pleasing melody and an arrangement long on silky sophistication, but the Millie Jackson remix added an entirely new dimension: a slap in the face both to the song's romanticism and its musical slickness.

"Don't be talking about 'Gimme, gimme, gimme,' the trash-talking older woman continues. "And 'Can I have? Can I have? My nails and my hair?' If you can't fix your own hair, and do your own nails, you ain't gonna get no do-right man.

"I'll tell you how to find your Mr. Do Right. Get you some 'do-right' money. Take care of your 'do-right' self. And I guarantee you, everything will be right. Because if it ain't right, you can buy it right. Got it?"

Words don't do justice to the near-rage (comic rage) with which M.J.--Millie Jackson--delivers this rant. The passage sounds as real and unscripted as grits and collard greens piled around some barbequed chicken on an off-color plate on a dirty, deep-South counter-top. Indeed, it's hard to believe that someone could ever have read this diatribe off a piece of paper in a recording studio.

The body of the song (Ms. Monique's "Mr. Do Right") unfurls in all its amatory charm, with its by-now-familiar (to chitlin' circuit devotees) chorus--

"Tell me. Are you Mr. Do Right?
The kind of man I've been waiting for?"

--And as the song ends, the remix takes a final twist. The phone rings quietly in the background. We hear MJ herself say, "H-h-h-hold on." Her frustration is still peaking.

"Would you hold on?" Millie scolds. "I got another call. You ain't the only person to call me."

A voice at the other end of the line--a deep, masculine voice--intones, "Hey, baby."

"Oh. . . . Hi."

And in those two little words, separated by the tiniest of pauses, MJ's attitude is transformed. Millie's tone becomes so soft and feminine you could cut it like hot butter.

"Can you talk?" says the deep voice.

"Yeah. . . Uh-huh." It's Millie changing into the sexy, pliable female she was only a moment ago criticizing.

Your Daddy B. Nice has heard this Ms. Monique/Millie Jackson collaboration countless times--it never fails to bring a big smile, and usually a chuckle--but it's just the latest chapter in Millie Jackson's long, storied and largely unheralded career.

Consider another example. In late 2001 and most of 2002 a young artist no one had heard of at the time--Vick Allen--recorded a song that began circulating among knowledgeable Deejays of the Deep South. The song was "Put Something Down On It," a Bobby and Cecil Womack-written ballad with a bass line that percolated with an intensity rare in love songs.

But what made the Vick Allen track irresistable was its incorporation of the melodic hook from Rod Stewart's eighties' disco anthem, "Do Ya Think I'm Sexy" (written by Carmen Appice), a musical clue your Daddy B. Nice jumped all over with the relish of a musicologist who loves to identify musical references. (See DBN's Guide to Vick Allen.) Carmine Appice had merely turned the hook from the Womack original around, the way you would turn a pillow case inside-out.

That, as your Daddy B. Nice figured at the time, was a good day's work. Subsequently, however, I became aware of the Millie Jackson version of "Put Something Down On It." Some of my favorite deejays were crazy about this song--they played it a lot--and I grew to love the recording, too, and came to consider it the definitive version, easily surpassing even the Womack original. The song had a singular kind of atmosphere and feverishness.

As a chitlin' circuit standard, it was unique in having a much more "urban" sound than the material of such reigning chitlin' circuit divas as Peggy Scott-Adams, Denise LaSalle and Barbara Carr. The arrangement included all of the motifs of the Motown/Philly sound: tasty guitar licks, full-blown strings, brass and back-up chorus. But the vocal by Millie Jackson was extraordinary. The energy in the MJ vocal gave it a hard-to-define grit that fans of chitlin' circuit R&B instantly recognize as the music's Holy Grail.

And yet, the final chapter in the evolution of "Put Something Down On It" (or more precisely, your Daddy B. Nice's awareness of the song and its permutations) only came recently, when I stumbled upon one of Millie Jackson's best albums: Live And Uncensored (Southbound, 1994). Here, over a series of three album tracks, recorded in sequence in front of a live audience, the genius of Millie Jackson became self-evident. Those three tracks were: "Put Something Down On It," "Do Ya Think I'm Sexy" (that's right, the Rod Stewart vehicle) and "Put Something Down On It (Reprise)." (Bargain-priced Live And Uncensored CD.)

What the live album (rightly considered one of the best live-music CD's in soul music history) made evident was that it was Millie Jackson, not Vick Allen, who had first mined the musically-golden inter-weavings of the Womack/Appice compositions.

The fact that Vick Allen was indebted to Millie Jackson for being his muse didn't diminish the beauty of Allen's "Put Something Down On It." However, it brought home to your Daddy B. Nice the integral place Millie Jackson holds in the Southern Soul pantheon. In sum, the "Put Something Down It"/"Do Ya Think I'm Sexy" tour de force-trilogy from Live And Uncensored constituted one of the can't-miss moments in the history of Southern Soul music.

Readers, if given the opportunity, might ask: "But Daddy, how can you rank Millie Jackson higher (as a Southern Soul forerunner) than the Queen of Soul herself, Aretha Franklin?"

I would answer it like this. Millie Jackson is to Aretha Franklin what the Rolling Stones are to the Beatles. The Lennon-McCartney Beatles, like Aretha, were the musical dynamos of the sixties. Their brilliance defined the era. While the Beatles were changing pop music and creating the greatest musical catalog of the 20th century, the Rolling Stones were covering blues songs. But what happened? The Beatles disintegrated by the end of the decade, and the Rolling Stones went on to become the "hardest-working band in show business."

The analogy holds true for Aretha and Millie. While the brilliant Aretha's "work" was largely done by the early seventies, Millie Jackson was just getting started, and like the Energizer Bunny, she just kept getting better and better, growing into the mature (and, yes, R-rated) adult artist--the very paradigm of the Southern Soul songstress.

The Millie Jackson hit that comes closest to being Aretha-derivative is "Hurts So Good," her first Top 10 R&B single. The arrangement, right down to the distinctive keyboard hooks (Aretha's piano genius) and the female back-up singers, recall vintage Franklin, and yet despite the somewhat hoarse and muddy vocal, Millie Jackson's performance is eminently believable and hummable. The song succeeds because it connects.

In the early years of her career, it's said that Millie was quite humble about her God-given talent: that (especially in relation to Aretha) she considered herself a barely-passable singer, which coincidentally led to her penchant for talking ("rapping") on record as a means of compensating musically for her perceived inadequacies.

It's true that Millie didn't have the thoroughbred pipes of Aretha or Shirley Brown, but in retrospect those "inadequacies" seem greatly exaggerated, and the over-compensating--the "hard work" that Jackson applied to each and every facet of her career--only served to intensify her artistic momentum, and to bring to everything she did musically a multi-dimensionality, a fullness, a depth of perception and perspective that separate her from just about every other female soul singer of her generation.

On the subject of infidelity she plumbed the depths with a Richard Pryor-like fervor seldom seen on either side of the gender gap, from the feverish ecstasy of the early stages to the sobering consequences of the aftermath. The sexual heat is unerringly portrayed in Jackson's version of the Southern Soul classic, "(If Loving You Is Wrong) I Don't Want To Be Right." The "consequences" are etched memorably in Jackson's "Love Is A Dangerous Game" (referenced, incidentally, on Ms. Monique's album version of "Mr. Do Right").

"If the two of you," Millie raps,
Were sneaking around before,
When you get together on a full-time basis,
You're going to think he's doing the same thing,
And vice versa. So, immediately, no trust.
No trust. No relationship."

In "Angel In Your Arms" Millie sings:

"The angel in your arms in the morning,
Is going to be the devil in someone's arms tonight."

Millie Jackson has much in common with Bobby "Blue" Bland--longevity, fearlessness, the ability to empathize and communicate and inspire. Like Bland, Millie Jackson is above all a great singer of songs. She knows how to "give into" a song, then (as the vocalist) "take it" over. If she had never rapped on record, MJ's oeuvre wouldn't be diminished by much. The core classics would still be there. But it's impossible to imagine Millie Jackson not rapping. Like shadows accentuating sunlight in a great painting, Millie J.'s raps add depth to her music. They're a means--a tool--by which she hones in on the heart of a song.

--Daddy B. Nice
About Millie Jackson (From The Archives)
Millie Jackson was born July 15, 1944 in Thompson, Georgia. She spent her childhood in the Deep South with her grandmother, then moved to Newark, New Jersey to live with her father as a teen. The story goes that as a young woman she broke into professional performing as a heckler in a Harlem nightclub audience. Challenged to get onstage, she did just that, and her love for the microphone became a lifelong habit.

Her debut album, Millie Jackson, arrived via Spring Records in 1972. The follow-up, 1973's It Hurts So Good , presented Jackson's first major hit song, "Hurts So Good," which rose to #3 on the Rhythm & Blues charts and barely missed the Top 20 of the Pop charts that year.

For some of the sessions on the Hurts So Good disc and all of the sessions on her next two LP's--Caught Up and Still Caught Up (Spring)--Jackson returned to the South, Muscle Shoals, Alabama, working with musicians versed in the Southern Soul sound, many of whom (Barry Beckett, et. al.) would continue doing studio work with her over the decades.

Caught Up introduced the loquaciously raw and risque Millie Jackson persona in full flower, and the hit from the album, "(If Loving You Is Wrong) I Don't Want To Be Right" (a cover of the Luther Ingram song) became a touchstone of Southern Soul. In an interview with National Public Radio in May 2006, Millie Jackson credited the more demure Gladys Knight, not Aretha Franklin, as a major influence in shaping her own sexy/brash style.

"I think it's a Georgia thing," Millie said of her efforts to distinguish herself from Knight. "Us both being these Southern peaches. I just started cursing because she was too much of a lady to do that."

With Spring Records' co-producer Brad Shapiro, Millie Jackson released a steady stream of solid soul albums through the seventies and early eighties, including Get It Out Cha System, Feelin' Bitchy, Hard Times, A Moment's Pleasure, Live And Uncensored, For Men Only, I Had To Say It, A Little Bit Country and Live and Outrageous.

The great singles from this bountiful period--"Hurts So Good," "(If Loving You Is Wrong) I Don't Want To Be Right," "Put Something Down On It," "If You're Not Back In Love By Monday," "Love Is A Dangerous Game," and "Angel In Your Arms"--established Millie Jackson as not only a singer capable of brilliantly conveying the unashamed pleasures of sex. They also heralded a performer who could dissect sexual relationships with a street-wise, emotional maturity bordering on scientific precision.

The fact that she could alternately play "vamp" or "psychologist," sometimes flitting between both with the fluidity of a magician, became part of the Millie Jackson legend. In the late eighties, Jackson moved to British-based Zomba Records for a series of albums, then (in the nineties) switched to Atlanta-based, Southern Soul label Ichiban. Finally, beginning in the mid-nineties, (and almost exclusively) around the turn of the century, Jackson favored publishing her material out of her own company, Southbound.

By this time, much of her best work was of a more urban-funk style (as opposed to traditional Southern Soul) exemplified by the under-rated "Butt-A-Cize" from the Not For Church Folk! CD, in which--in apparent defiance of her age--Jackson vocalized with a cut-glass clarity that had often eluded her in the past. "Butt-A-Cize" was a rare Southern Soul foray into the borderlands of funk, joining Johnnie Taylor's "Good Love" as one of the few successful examples.

In later years. in addition to recording (nearly thirty albums since the early seventies), Millie Jackson has produced and performed in a long-running stage play ("Young Man, Older Woman") and held down a seat as the resident radio celebrity at KKDA in Dallas, Texas.


Song's Transcendent Moment
"I know you're sad and lonely,
But that's the price we all
Have to pay for love.
And we can't give up. . .

"Put something down it.
If you want this love I'm giving,
Put something down on it.
Spend a little time on it."
Tidbits
1.

July 8, 2007. Hard-core Millie Jackson fans will want to get her latest CD, Millie Jackson [Bonus Tracks] (Southbound, 2006), which--in addition to collecting many of Jackson's less well-known songs together--features a major helping of never-before-published tracks: "Untrue Men," "I Don't Wanna Talk About It," "Ask Me What You Want," "You're the Joy of My Life," "My Man, A Sweet Man," "I Just Can't Stand It," " I Miss You Baby," "Strange Things" and " Hypocrisy." Note that some of the "bonus" tracks, i.e. "Hypocrisy," did see light of previous day on non-Millie J. compilation albums (The Return of the Funk Soul Sisters, etc.).

Soul Circuit Retrospectives (D.M. Records, also 2006) is yet another Jackson collection, albeit with less to recommend it, featuring no new tracks and none of her signature hits. DBN.

2.

July 17, 2007. A British site, Guardian Unlimited Arts, showcases Millie Jackson in a feature entitled, "The Worst Album Covers In The World." The page has the full-color cover photo from the "Back To The Shit" album (Jive, 1989), with Millie in a sexy black cocktail dress and matching heels. Only she's otherwise indisposed--that is, sitting on the toilet with her black silk panties around her ankles and one heel in her hand, as if she were getting ready to extricate a piece of gum stuck to the heel.

The accompanying text states: "Controversial R&B artist Jackson has released more than 20 albums since 1973. However, her explicit lyrics and lewd album covers have hindered mainstream acceptance."

I didn't check to see if the late Jackie Neal (naked, doggy-style) had made the list for her $ (Money) Can't Buy Me Love CD. But it did remind your Daddy B. Nice of one of the most popular posters of the sixties, a fixture of many a campus bathroom: Frank Zappa (a lot harder to look at than MJ), long hair, hairy legs, goatee, beard and all, sitting on the porcelain throne. DBN.

3.

January 9, 2008. The following is a letter received from a knowledgeable fan of Bobby Womack's "Put Something Down On It," and I reprint it in its entirety for my readers' information:

I read your article on Millie Jackson on your excellent site. This is the type of stuff I've been looking for! A definite thank you & kudos to you. There was only one thing that stood out and it has irked me to no end for years, so I have to let this off my chest and hope that you can help to straighten out this travesty.

The original "Put Something Down On It" was actually robbed of its string section by whomever it was that produced &/or arranged "Do You Think I'm Sexy." If you listen to Bobby Womack's version, that very riff that you find in Rod Stewart's song (& subsequent remakes) is in the intro of Bobby's song. I don't know if even Mr. Womack knows it (I've never seen or heard him address it) or if there was some special arrangement made, but Bob was robbed!

I've wanted for years for someone else to pick up on this because I didn't know who to "complain" to, but maybe you & your site will help me put this thing to rest & at least in my own head!

Sincerely,
D.B.

4.

February 1, 2010: Prologue

God bless the fearlessness and funny wit of Millie Jackson. Did you hear what she did at the January 27th 80th Birthday Party Celebration for Bobby "Blue" Bland in Memphis?

Here is the account by Mark Jordan of "Go Memphis":

"Millie Jackson, driving in from Atlanta, did not know she was going to be asked to perform. Instead, the "It Hurts So Good" belter delivered an uproarious stage tribute, mimicking Marilyn Monroe's birthday serenade of President John F. Kennedy and proving the only performer on the night who could accurately replicate Bland's famous 'pig snort'."

--Daddy B. Nice



If You Liked. . . You'll Love
If you liked Barbara Lewis' "Hello Stranger," you'll love Millie Jackson's "Put Something Down On It."



Honorary "B" Side
"(If Loving You Is Wrong) I Don't Want To Be Right"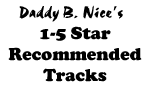 Put Something Down On It


CD: Get It Out'cha System
Label: House Of Hits











(If Loving You Is Wrong) I Don't Want To Be Right


CD: Caught Up/Still Caught Up
Label: Hip-O











(It) Hurts So Good


CD: 21 of the Best
Label: Southbound










Angel In Your Arms


CD: Feeling Bitchy
Label: Southbound










Butt-A-Cize


CD: Not for Church Folk!
Label: Weird Wreckus










Da Ya Think I'm Sexy?


CD: Live And Uncensored
Label: Southbound










Love Is a Dangerous Game


CD: The Very Best of Millie Jackson
Label: Jive









All The Way Lover


CD: Between The Sheets
Label: 7-N









Ask Me What You Want


CD: 21 of the Best
Label: Southbound









Child Of God


CD: Between The Sheets
Label: 7-N









I'm Through Trying To Prove My Love To You


CD: Caught Up/Still Caught Up
Label: Hip-O









If You're Not Back in Love by Monday


CD: Feeling Bitchy
Label: Southbound