NEW!

Corner & Top 10


Concert Calendar
& Mailbag


Comprehensive Index


New CD Reviews


Index to Artist Guides
NEW!


Best of 2022

The Original Chart (1990-2010)

21st Century Chart (2000-2020)
NEW!

The New Generation Chart (2010-2030)
Southern Soul CD's, MP3's


Best of Pages
About the Music
About Us
Links
Home

"Sho' Wasn't Me (w/ Fred Bolton)"
Black Zack
Composed by Ronnie Lovejoy
October 8, 2011: NEW ALBUM ALERT

Black Zack fans have been waiting for this album for a long time.

Here it is, including "Sho' Wasn't Me":

Sample or Buy Black Zack's Southern Soul Radio (Juke Joint Rap) CD/MP3's.

**************

Daddy B. Nice's Original Critique

It was one of those songs I had to call into the deejay about. It's something I hate to do, coming out of my shell, having to actually call someone. Especially someone as busy as an on-air deejay. But there it was, this out-of-left-field rap version of "Sho' Wasn't Me," the Southern Soul classic made famous by the legendary Ronnie Lovejoy.

Listen to Black Zack singing "Sho' Wasn't Me" on YouTube while you read on. . .

Everything under creation was going on. Rappers (Black Zack and a cute-sounding girl-rapper) exchanged phrases, and the rappers themselves traded verses with the straight soul singing of a marvelous singer.

So while the rap sections were as unfaithful as could be, you had other elements--especially the singing vocal--that brought out all the emotional depth of the the Lovejoy version.

The instrumental fillip at the end of each verse was replaced by a tinkling little child's-toy-like keyboard run, as if, out of respect, to distance the song as far as possible from the original. And yet a fine acoustic guitar line echoed the classic chords of Southern Soul's most anthemic hook through the body of each verse, and the keyboard was liberated for one elongated sigh of deep-vintage soul on a crucial bridge.

It took awhile getting used to it. If you knew the Ronnie Lovejoy original and you were driving down the street the first time you heard it, you had to pull off the road just to catch your breath. It was like the classic had been thrown into an urban barnyard full of slouching, hanging-assed rappers and, incongruously, on some sort of old-school soapbox, the reverent and passionate, still-waters vocal of a serious student of classic R&B.

Who had put the thing together? Atlanta-based producer Bruce Billups. For him it must have been the most intriguing collaboration since the Theodis Ealey sessions for "Francine."

It charted almost immediately on Daddy B. Nice's Top 10 Singles, and it gained the 20th position on Daddy B. Nice's Top 25 Songs of 2009. Here's the real-time write-up from that year.

***************

TOP 25 SOUTHERN SOUL SONGS OF 2009

. . . . 20. "It Sho' Wasn't Me"-----------------Black Zack

Two hiphoppers cracked the Southern Soul market in 2009, but just barely. Rude transformed Smokey Robinson's "Share This Life With Me" into a song called "Show Me Baby," exciting the lucky few who got to hear it.

And Black Zack did a monster of an original cover of the Ronnie Lovejoy classic, "Sho' Wasn't Me," which went sadly unnoticed. What made the song unique was that it was really the first instance of a rap act embracing Southern Soul, and even more, understanding it, after having thoroughly absorbed it, and breathing it out of every pore.

Black Zack's "Sho' Wasn't Me" combined a straightforward vocal treatment of the finest song in contemporary Southern Soul with an amazingly charming rap track. Here's hoping the modest but constant publicity we've given it here on SouthernSoulRnB will save the song from undeserved oblivion. There isn't another cover--even by heavyweights such as Tyrone Davis--that's finer.

Black Zack Postscript:

Shortly after this appeared, I received an e-mail of thanks from the heretofore obscure Black Zack, who says the single was produced by (surprise) Southern Soul's own Bruce Billups (Theodis Ealey's, etc. producer)

Not only that. The performer singing the traditional melody of "Sho' Wasn't Me" over the rap is Southern Soul's own Fred Bolton, a young singer/songwriter with one creditable CD published. A sad note: Fred Bolton passed away in 2009, not long after recording this. DBN

***************

Actually, Black Zack's "Sho' Wasn't Me" wasn't the first time rap had embellished Southern Soul. Mister Zay used a rapper on "Hard Times." T. K. Soul and Bigg Robb had experimented with rap. But the most notable historical incidence of a rap classic grafted onto a Southern Soul song came much earlier: Tina Diamond's "Ain't No Love In The Heart Of The City," a Southern Soul-slash-rap version of the Bobby "Blue" Bland classic.

If Black Zack's "Sho' Wasn't Me" had a true precedent, Diamond's "Ain't No Love" is it. By coincidence, Tina Diamond was one of the background singers on Lovejoy's original, and also by coincidence, she too recorded a cover of "Sho' Wasn't Me" called "Positive I.D."

"Positive I.D." isn't nearly as powerful as the Billups-Black Zack-Bolton cover. But Diamond's "Ain't No Love In The Heart Of City" is just about as good, and it came first, and may have given Billups some of the inspiration for the project.

With a bow to Black Zack, Billups is the key figure here. Black Zack's "Sho' Wasn't Me" bears all the marks of a producer's masterpiece. Zack says that Billups had the idea of laying some rap onto a blues singer's song.

That blues singer was Fred Bolton, and (again with an apologetic bow to Black Zack) it's reasonable to assume that Billups was really readying product for a project with Fred Bolton. Bolton's death changed all that.

***********

Frederick Bolton, the youngest of four children, was born in Talladega, Alabama, the son of a preacher with a family gospel group called The Boltonettes. He was singing in Alabama-based gospel groups when he was discovered by William Bell and signed to a contract with Wilbe Records.

His solo debut, I'm Gonna Git Mine came out in 2007 and was well-received. Songs like "Must Be Jelly," "The Shadow Knows," and "I'm Gonna Git' Mine" gained Stations of the Deep South airplay.

And yet, none of the songs on his debut CD gave a hint of the authority and mastery Bolton put into his more mature vocal on "Sho' Wasn't Me." It was as if, in emulating Ronnie Lovejoy's cathedral baritone, Bolton himself found his own true voice and purest expression.

************

After Bolton's untimely and unfortunate death producer Billups was left with the happy accident of "Sho' Wasn't Me," a rapper he'd converted to Southern Soul, and no prospect of an album.

Strangely enough, Black Zack's "Sho' Wasn't Me" still hasn't found its way onto an album. Zack hoped to have a CD deal by 2010 but hadn't signed one as of this writing (May 2011).

It may have been a "perfect storm" of creative collaboration, the likes of which we'll never see again.

--Daddy B. Nice
About Black Zack
Atlanta rapper Sammy McDowell (aka Black Zack) appeared on the Southern Soul scene as the enthusiastic rapper/m.c. on a Bruce Billups-produced cover version of Ronnie Lovejoy's, "Sho' Wasn't Me," in 2009. The song contrasted the "ragamuffin" rap-styling of Black Zack with the "reverent," faithful-to-the-original vocal of the late Fred Bolton.

The single still hasn't appeared on an album. Black Zack has released two other singles, the up tempo "Southern Soul Lover" and "Run, Run," the latter an eight minute-long line-dance with The Force MD's.

Listen to Black Zack's "Row, Row" on YouTube
Song's Transcendent Moment
"(They be) Running up to you,
Putting that poison in your ear.
I try to speak the truth,
But that ain't what you want to hear.

That gossip in the street's
Got your mind all weak.
'Cause if you wanted to keep the peace,
You'd confide in me."
Tidbits
1.

June 1, 2011.

Listen to Black Zack's "Southern Soul Lover" on Jango.

2.

To automatically link to Black Zack's charted radio singles, awards, citations, CD's and other references on the website, go to "Black Zack" in Daddy B. Nice's Comprehensive Index.

3.

December 29, 2011:

From Daddy B. Nice's Mailbag

DADDY B

DID YOU KNOW THAT I WAS THE ONE RAPPEN ON THE TWIST SONG WITH JAQUEL AND IT WAS ALSO PRODUCED BY BRUCE BILLUPS AS WELL

Black Zack

Daddy B. Nice replies:

No, I did not know that, but it's a piece of recorded history now. And many congratulations on getting your debut album Black Zack's Southern Soul Radio (Juke Joint Rap)
out at last.

Daddy B. Nice


If You Liked. . . You'll Love
If you liked Tina Diamond's "Ain't No Love (In The Heart Of The City," you'll love Black Zack's "Sho' Wasn't Me."


EDITOR'S NOTE

Over the last year I've been dropping hints to the younger musicians.

"Be watching because there's going to be something coming on the site that'll be a real blessing for the younger people."

And I've also been telling a lot of deserving new artists to bide their time, that their day to be featured in a Daddy B. Nice Artist Guide was coming, and long overdue.

Now, at last, the day has come.

The great Southern Soul stars are mostly gone. There's a new generation clamoring to be heard.

Rather than waiting years to go online as I did with the original Top 100, this chart will be a work-in-progress.

Each month five new and never-before-featured artists will be showcased, starting at #100 and counting down to #1.

I estimate 50-75 new Artist Guides will be created by the time I finish. The other 25-50 Guides will feature artists from the old chart who are holding their own or scaling the peaks in the 21st Century.

Absent will be the masters who have wandered off to Soul Heaven. And missing will be the older artists who for one reason or another have slowed down, become inactive or left the scene.

The older generation's contributions to Southern Soul music, however, will not be forgotten.

That is why it was so important to your Daddy B. Nice to maintain the integrity of the original Top 100 and not continue updating it indefinitely.

(Daddy B. Nice's original Top 100 Southern Soul covered the period from 1990-2010. Daddy B. Nice's new 21st Century Southern Soul will cover the period from 2000-2020.)

When I constructed the first chart, I wanted to preserve a piece of musical history. I heard a cultural phenomenon I was afraid might be lost forever unless I wrote about it.

There will be no more changes to the original chart. Those performers' place in Southern Soul music will stand.

But I see a new scene today, a scene just as starved for publicity and definition, a scene missing only a mirror to reflect back its reality.

The prospect of a grueling schedule of five new artist pages a month will be daunting, and I hope readers will bear with me as I gradually fill out what may seem at first inadequate Artist Guides.

Information from readers will always be welcome. That's how I learn. That's how I add to the data.

I'm excited to get started. I have been thinking about this for a long time. I've already done the bulk of the drawings.

In a funny way, the most rewarding thing has been getting back to doing the drawings, and imagining what recording artists are going to feel like when they see their mugs in a black and white cartoon. Hopefully----high! An artist hasn't really "made it" until he or she's been caricatured by Daddy B. Nice.

In the beginning months, the suspense will be in what new stars make the chart. In the final months, the suspense will be in who amongst the big dogs and the new stars is in the top twenty, the top ten, and finally. . . the top spot.

I'm not tellin'.

Not yet.

--Daddy B. Nice

Go to Top 100 Countdown: 21st Century Southern Soul

Honorary "B" Side
"Southern Soul Lover"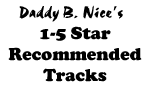 Sho' Wasn't Me (w/ Fred Bolton)


CD: Southern Soul Radio (Juke Joint Rap)
Label: Mummy Dust










Southern Soul Lover


CD: Southern Soul Radio (Juke Joint Rap)
Label: Mummy Dust










Sugar Daddy (feat. Southern Soul Players)


CD: Southern Soul Radio (Juke Joint Rap)
Label: Mummy Dust









(The Grass Is Greener On) The Other Side


CD: Southern Soul Radio (Juke Joint Rap)
Label: Mummy Dust









Balling On a Budget


CD: Southern Soul Radio (Juke Joint Rap)
Label: Mummy Dust









Last Call


CD: Southern Soul Radio (Juke Joint Rap)
Label: Mummy Dust









Row, Row (w/ The Force MD.'s


CD: Southern Soul Radio (Juke Joint Rap)
Label: Mummy Dust