NEW!

Corner & Top 10


Concert Calendar
& Mailbag


Comprehensive Index


New CD Reviews


Index to Artist Guides
NEW!


Best of 2021

Top 100 Artists

Top 100 Songs
NEW!

The New Generation Chart
Southern Soul CD's, MP3's


Best of Pages
About the Music
About Us
Links
Home

"Heart Of The City"
Tina Diamond
Composed by Michael Price and Dan Wash
October 16, 2012: Tina Diamond Funeral Services:

The funeral for Ms. Alline "Tina Diamond" Godbolt will be held Saturday October 20, 2012 @ 12:00 noon, @ Black's Chapel M.B. Church. In Jackson,Ms. The adress is 3425 Robinson Rd. Across from Westhaven Memorial Funeral Home. Westhaven is handling the arrangements.

See letters in Daddy B. Nice's Mailbag.

October 13, 2012: Tina Diamond Obituary

Tina Diamond died in a hospital after collapsing during a performance this weekend. More details to come. See Daddy B. Nice's Mailbag for the original notice.

The trajectory of Diamond's career, which mimicked the tough styles of Peggy-Scott Adams and Millie Jackson and mixed them with her own witty formulas, was most visible in the late 90's, culminating in her milestone album, In The Heart Of The City, on the Avanti label in 2000.

Known as the "Casino Queen," Diamond was a true aficionado of contemporary Southern Soul, and the Heart Of The City album was a collection of aptly-chosen cover songs, including the Bobby "Blue" Bland title tune.

Rue Davis wrote and produced many of the other tracks, including the Diamond remake of his own "Honey Poo."

The album was also distinguished by a duet with the late Reggie P. on one of Lee Fields' finest underground Southern Soul records, "(I'll Put My)Life On The Line."

Tina Diamond was also one of the background singers on Ronnie Lovejoy's seminal Southern Soul hit, "Sho' Wasn't Me."

Tina Diamond continued to perform and mingle with the Blues and Southern Soul community and audiences in the 21st century.

--Daddy B. Nice

**********

Daddy B. Nice's Original Critique:

Rappers--Hiphop Nation--if you're looking for a song to get your hooks into Southern Soul, this is it. Tina Diamond's "Heart Of The City" is a rap, and the reasons why it became a Southern Soul hit (and the reason why Southern Soul fans who dislike rap have by and large accepted it) are complicated.

First of all, Tina Diamond is one of the Southern Soul "fold." In fact, she was there at the Southern Soul equivalent of the "Sermon On The Mount." Tina was one of a quartet of backup singers with Jewel Bass, Ondrea Meyers and Thomisene Anderson (some of whom have gone on to greater fame), who were in the studio on that day in 1999 when Ronnie Lovejoy recorded arguably contemporary Southern Soul's most defining tune, "Sho' Wasn't Me."

Second, "Heart Of The City" itself is based on one of the classics of rhythm and blues, Bobby "Blue" Bland's "Ain't No Love In The Heart Of The City." Bland recorded the song (along with the equally seminal "I Wouldn't Treat A Dog (The Way You Treated Me))" on his Dreamer album way back in 1974, and even then it had an underlying, parade-like rhythm that suits the contrapuntal effects of today's rap.

Finally, Tina Diamond's "Heart Of The City" isn't the first rap song to come through the chitlin' circuit. In most chitlin' circuit communities, in fact, rap/hiphop and urban R&B radio stations co-exist and virtually dominate their Southern Soul/gospel-station competitors. The former cater to the "kids," the latter to the "adults," so there is really no reason for Southern Soul deejays to play rap unless there is a good rhythm-and-blues reason for doing so.

However, because of the proximity and familiarity (often within the same household), the two cultures do overlap musically. Once in awhile, a predominately hiphop performer "crosses over." R. Kelly does so with great frequency, i.e. any time he chooses to do so. And hiphop artist Dave Hollister's "baby-mama trauma" and Juvenile's "back that thang up" have entered Southern Soul's lexicon.

Young Sherry Richard overlaid a soft rap across a muted melodic background in "Love Is A Game" (Cititrax) with some success in 1999. The song was a cross between the Ann Peebles of "Gonna Tear Your Playhouse Down" and TLC.

Jonothan Burton received a good deal of Southern Soul airplay for his rap-oriented "Funky House Party" in 2002. And Eric Perkins did a rap-influenced vocal on his "Hood Rat" (Mardi Gras) in 2003. But they all pale in comparison with Diamond's "Heart Of The City."

"Ain't no love in the heart of the city.
Ain't no love in the heart of town.
Ain't no love, it sure is a pity.
Ain't no love when you ain't around."

The blending of the classic R&B with a rap treatment is entirely dependent on Tina Diamond's credibility and ability to navigate the high wire between the two forms. She wisely hands off the middle section--a streetwise rap that would pass on BET--to a younger performer. Diamond concentrates on the melodic course of the song, sometimes singing, sometimes nearly talking.

The other delight of Tina Diamond's In The Heart Of The City CD is nostalgic: a walk down memory lane, past the Holiday Inn where nobody found Ronnie Lovejoy's "drawers," and a return to that superb guitar riff from "Sho' Wasn't Me. "Positive I.D." is a cover of Ronnie Lovejoy's classic, which brings back all of the atmosphere and ambience of that remarkable recording.

In Tina's version, one of the women has taken a picture, a "positive ID," to foil Ronnie Lovejoy's philanderering deceit.

"I know my sister saw you,
Coming out of the Holiday Inn.
The woman that you was layin' on with,
Used to be my best friend.

My sister don't need glasses.
The picture's helped me to see.
What the police department calls it,
A 'positive identity.'"

The chords of "Sho' Wasn't Me" take one back to Southern Soul heaven, floating in the vibes of vintage Ronnie Lovejoy, complete with a faithful arrangement right down to the tasty guitar and keyboard riffs. Rather than try and emphasize the guitar hook (and risk being sacrilegious), the arrangement wisely puts an oboe-like keyboard with a higher-octave melody line in the forefront.

Diamond excels at projecting toughness. You can imagine her covering Peggy Scott-Adams with ease. Her vocal style may be one-dimensional, but it's one-dimensional in the best sense of the word. Strong, direct, straightforward, unapologetic--like a Mel Waiters, a Chuck Berry or a Barbara Carr.
--Daddy B. Nice
About Tina Diamond
Tina Diamond contributed background vocals, along with Thomisene Anderson, Jewel Bass and Ondrea Meyers on Ronnie Lovejoy's landmark Nobody's Fault But Mine CD (1999), the album that featured the classic "Sho' Wasn't Me."

"Positive I.D.," Tina Diamond's version of the Lovejoy hit, appeared on the Beauty And The Beast compilation CD from Avanti (2000).

In The Heart Of The City (Avanti, 2000) established Tina Diamond as a female vocalist willing and able to be a headliner, and she parlayed the CD into an ambitious touring career. The album showcased Diamond's rap-inflected cover of Bobby Blue Bland's "Ain't No Love In The Heart Of The City" and her remake of Ronnie Lovejoy's "Sho' Wasn't Me" ("Positive I.D.").

Tina Diamond maintains an active performing schedule, specializing in Delta-area casino dates to such an extent that she headlines her concerts as the "Casino Queen."

Song's Transcendent Moment
"Ladies, take your pills,
Brothers, use protection.
I don't care if you don't
Like the way you feel."

Boys getting the pleasure,
And girls getting the blame. . ."

Tidbits
1. To read about the fascinating background of the song, "Life On The Line," Tina Diamond's duet with Reggie P. from the In The Heart of The City, visit the "Tidbits" section of Daddy B. Nice's Artist Guide to Lee Fields. DBN.
If You Liked. . . You'll Love
If you loved the Fugees' version of Roberta Flack's "Killing Me Softly," you'll love Tina Diamond's "Heart Of The City."
Honorary "B" Side
"Positive ID"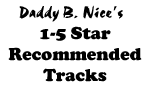 Heart Of The City


CD: In The Heart Of The City
Label: Avanti










Positive ID


CD: In The Heart Of The City
Label: Avanti










Life On The Line (w/ Reggie P.)


CD: In The Heart Of The City










You're Not My Oney Poo


CD: In The Heart Of The City
Label: Avanti









Casino Queen


CD: In The Heart Of The City
Label: Avanti









Lady Diva


CD: In The Heart Of The City
Label: Avanti









Tramp w/ J. T. Watkins


CD: Tramp
Label: Bluesman








Love Me Tonight


CD: In The Heart Of The City
Label: Avanti








Smile


CD: Beauty & The Beast
Label: Avanti