NEW!

Corner & Top 10


Concert Calendar
& Mailbag


Comprehensive Index


New CD Reviews


Index to Artist Guides
NEW!


Best of 2019


Top 100 Countdown:
21st Century Southern Soul Artists


Top 100
Southern Soul Songs
21st Century Countdown
(00's – 10's)


Top 100
Southern Soul Artists
(90's - 00's)


Top 100
Southern Soul Songs
(90's – 00's)


Forerunners of
Southern Soul




Daddy B. Nice's Top 100 Countdown: The New Generation (Chart In Progress)


Southern Soul CD's, MP3's
Best of Pages
About the Music
About Us
Links
Home


Sample or Buy



From artists, their familes, friends and fans. . .





From Daddy B. Nice's archives. . .





Over 100 Southern Soul drawings. . .





Original Daddy B. Nice sketches. . .





All caricatures and satirical renderings are untitled. . .





It's a little piece of history. . .





Who want a keepsake, memento or souvenir. . .





To commemorate their time. . .





In the Southern Soul limelight.





Browse through all the Southern Soul satirical sketches in Daddy B. Nice's archives.





Browse through all the Southern Soul sketches in Daddy B. Nice's archives.





Browse through all the Southern Soul collectibles in Daddy B. Nice's Southern Soul Products Store. . .





"One In The Morning"
Hardway Connection
Composed by Gary Auckard, Jerome Mackall, Robert Owens and Andre Spears
April 1, 2011: Readers familiar with this page may scroll down for updates in the TIDBITS section.

**************

Hardway Connection's "One In The Morning" (from the debut CD, Hot Ticket, Wilbe 2005), recalls the golden days of singles radio and the enormous and unself-conscious pleasure listeners took in what were then called "novelty" songs. Popular music--not to mention R&B, which was an integral part of the era's programming--was rife with songs that made fans snicker, chuckle, laugh and in general subscribe to the lighthearted aspects of life.

"Ya Ya" (Lee Dorsey), "Mother-In-Law" (Ernie K-Doe), "Young Blood," "Poison Ivy" and "Charlie Brown" (The Coasters), "634-5789" (Wilson Pickett), "Tweedle Dee" and "Dance With Me Henry (Wallflower)" (Georgia Gibbs), not to mention "The Name Game" (Shirley Ellis), are just a few examples.

Still, the novelty song hasn't entirely disappeared: the younger generation's underground hit, "Because I Got High" by (Afroman, is a perfect example, spawning numerous "cover" songs in various genres. But novelty songs have been eclipsed, and reduced in significance, over the ensuing years. In today's pitiably unadventurous music industry, one can hardly imagine crazy, "throw-away" hits like The Marcels' "Blue Moon" or Brenton Wood's "Oogum Boogum Song" or The Marathons' "Peanut Butter"--all classics--ever seeing the light of commercial-radio day.

Not so the chitlin' circuit, however. 21st century novelty hits have become the rage on the overlooked charts of Southern Soul radio. Witness such Stations of the Deep South hits as "Fat Woman" by James Payne, based on Joe Tex's novelty hit from the seventies, "Ain't Gonna Bump No More (With No Big Fat Woman)," or Willie B's "Larry Licker" and Lee "Shot" Williams' "Ease On Down In The Bed" (songs that probe the funnier aspects of oral sex), or Jody Sticker's "5 Minutes" (about a man intent on getting a "quickie" from his lady before the "company" arrives), not to mention Poonanny's continued ransacking of Southern Soul hits for his novelty covers.

Perhaps the funniest record of 2005 was the product of arguably the chitlin' circuit's funniest producer (at least, since the untimely death of the legendary Jimmy Lewis): Senator Jones of Hep'Me Records. His studio's offering of "My Name Is $" by Miz B., with lyrics like, "My name is condo" and "My name is shoes on my feet," is the ultimate "hit-upon" woman's comeback to the ultimate male hustler's opening line, "Hey, baby. What's your name?" Miz B., who has evidently been propositioned a few times too many, launches into such a withering sermon on the "perks" she demands from a relationship that the man in exasperation finally begs her to stop with the cry, "Too much information!"

Hardway Connection's "One In The Morning" is thus a time-honored tradition in chitlin' circuit music, and yet it is unique on more than one count. The lyrics are a running joke about a man taking a prescription drug for penile enlargement. To call this a rare if not taboo subject in R&B would be an understatement, but that's exactly the predicament the lead singer of Hardway Connection's "One In The Morning" describes over a nifty,uptempo melody.

"The last time I was talking to you,
My old lady said I was too short.
That I wasn't big enough.
Well, you know I ain't going out like that.

I had to go see my doctor, Doctor John.
'Doctor John, please help me.'
I told him my problem,
And everything that was going on."

Musically, "One In The Morning" owes much to Theodis Ealey's "Stand Up In It." The resounding success of Ealey's song made the country/bluegrass/rock influence popular and even desirable again in R&B. You might say that musically "Stand Up In It" too was a "novelty." And because of the song's cachet and popularity on the chitlin' circuit--much of it due to lyrics that wouldn't be permissible on the stage of the Grand Old Opry--it opened more doors for artists like Wilson Meadows (who has long had a bluegrass-tinged palette), Jeff Floyd ("I Got My Woman Upset"), Reggie P. ("Why Me"), Frank Mendenhall ("Party With Me Tonight") and Hardway Connection to explore a rhythm and blues style that might not have been as accessible and as appreciated as it was in the aftermath of Ealey's classic.

"He said, 'Come on over,'
That he had something to fix me up.
So he gave me this prescription,
'This is what you're going to have to do.

'You have to take one in the morning,
Two in the evening, and three at night.
And everything's going to be all right.'"

Hardway Connection uses the same driving rhythm section, the same Nashville-style lead guitar and vocal on "One In The Morning" that Ealey used on "Stand Up In It." Yet the country/rock influence is even more evident in Hardway's follow-up radio single, a cover of David Brinston's "Party 'Til The Lights Go Out" (from Brinston's influential 2001 Suzie Q Fly Right CD).

Listening to "Party," you can practically conjure singing cowboys with banjos and guitars sitting around a fire under a starlit sky. The song may not be distilled from quite the essence David Brinston extracted in the original, but it's good enough to win over fans, both to the song and to the band.

Hardway Connection is truly music by committee. It's a great concept (hey, the Beatles tried it and became famous): an assemblage of musicians accomplishing more as a team than they could as individuals. And with "One In The Morning" (an original composition, by the way) Hardway Connection can lay legitimate claim to being the first, bona fide, 21st-cenetury Southern Soul group--as opposed to solo artist--to score an undisputed Southern Soul "hit."

So Hardway's concept is good. A touring band of high quality dedicated to singing the Southern Soul "classics." Yet the pitfall for any group, even a group that succeeds in some part due to playing "covers," is in the execution. Does the group succeed at a truly distinctive sound? Does the group's material set it apart from the average bar band? By this measure Hardway Connection succeeds with a flourish on at least three, maybe four, of Hot Ticket's tracks.

In addition to "One In The Morning" and "Party 'Til The Lights Go Out," Hot Ticket boasts an especially solid track in the overlooked "Same Girl," in which scintillating, Ry Cooder-esque guitar work, a delicate melody and a hypnotic hook combine to produce an irresistible ballad.

The group isn't as successful with their other Suzie Q Records cover, Maurice Wynn's "What She Don't Know (Won't Hurt Her)," but they compensate with a decent grafting of Roy C's "Leaving On The Morning Train" and "Peepin' Through The Window" ("Morning Train/Peeping Through The Window").

The fact there are so few groups like Hardway Connection in contemporary Southern Soul may have more to do with the lack of high-powered producers in the modern day than it does with any conscious decision on the part of Southern Soul artists or recording labels. The producers and studios who in the 50's, 60's and 70's were prone to "force" individual artists (even budding stars) into group vehicles until the group's fame was substantial enough for the individual artist to undertake a solo career--usually a contentious process, of course--are largely absent in the contemporary South.

Indeed, with the occasional exception of a few old-school groups like the Bar-kays, The Isley Brothers, the Manhattans or The Temptations, one could search the entire chitlin' circuit from Texas to Carolina without finding a high-profile Southern Soul group to compare with The Dells, The Ames Brothers, The Spinners, The Supremes, The Impressions, The Pips, The Miracles, The Four Tops or any of the other heralded R&B groups of yesteryear.

And this is not to say that Hardway Connection is anywhere close to those old-school super-groups. But for the foreseeable future, in a time when the power and passion of Southern Soul music remains with the solo artist, Hardway Connection can lay claim to the distinction of being the exception that proves the rule.

Oh. And to those wondering whether the penile enlargement worked. . . . Well, sorry to say, the news isn't good.
--Daddy B. Nice
About Hardway Connection
Hardway Connection's national debut disc, Hot Ticket, appeared in 2005 on Wilbe Records, the record company owned by William Bell of "I Forgot To Be Your Lover" fame.

A previous album, It Must Be Love, was self-produced by the eight-piece, Washington D.C.-based Hardway Connection in 1999. The group came together in Memphis over many years, first winning recognition in a Memphis blues competition in 1994.

The radio single from the Hot Ticket album, "One In The Morning," dominated chitlin' circuit markets for almost a year after the CD's release.

Hardway Connection is a collaboration of many individuals. The creative process is shared not only by the band members--Ray Tilkens (who doubles as producer), Jerry Wilder, James Newton, Raymond Blake Jr., Toni Love and Reginald "Wizard" Jones--but by songwriting band members--Gary Auckard, Jerome Mackell, Robert Owens and Andre Spears--who collaborate on the CD's original songs.

Song's Transcendent Moment
"When I pulled the cover back,
That thing was still too short."

Tidbits
1. The fact that Hardway Connection chose to cover two prominent songs from the late and sorely missed Suzie Q label--David Brinston's "Party 'Til The Lights Go Out" and Maurice Wynn's "What She Don't Know"--leads to the idle speculation: Could the Hardway band-members be former Suzie Q studio musicians?

2. October 8, 2007. Heikki Suosalo, one of the international community's foremost researchers and writers on American soul music, writes that Hardway Connection produced other CD's prior to Hot Ticket, beginning in the 90's. Look for Heikki's critiques and interviews at Finland's Soul Express Deep Column (Deep Soul Main Page). DBN.

3. A typo on the Hot Ticket CD credits adds a funny if unintended bit of humor to the Hardway mystique. Instead of "Peeping Through The Window," the gaffe reads, "Peein Through The Window." This may add value to the disc's lustre as a collectors' item in future years.

4. Shortly after this review was written, a new group specializing in Southern Soul appeared on the scene. The Chairman Of The Board (a three-man group) produced an album featuring at least two chitlin' circuit hits--"The Blacker The Berry" and "All In The Family"--and the group achieved considerable success on the Stations of the Deep South through 2005 and 2006.

5. July 4, 2008. Southern Soul Rumpin' appeared in 2008. "At Last," with female vocalist Toni Love singing lead on the Etta James' classic, made Daddy B. Nice's Top 10 "Breaking Singles".

6. September 4, 2008: Hardway Connection has a fine female lead singer, Toni Love, whose rendition of Etta James' "At Last" made Daddy B. Nice's Top Ten Singles in June 08, otherwise their Southern Soul Rumpin' CD wouldn't pass muster. No song on the CD is close to being as good as Hardway's novelty classic and claim-to-fame, "One In The Morning."

(The above piece ran on Daddy B. Nice's Corner under the title "Bland As Vanilla" in July & August 2008.)

7. Update: July 12, 2009

Hardway Connection continues to draw attention in
Daddy B. Nice's Mailbag for its song, "Morning Train"/"Peeping Thru The Window." Evidently there are Southern Soul deejays who are still enamored with the Roy C./Hardway Connection fusion, and fans who are still fascinated by both the music and the lyrics.

When people are still talking about music from a CD recorded years ago, it's generally considered a "classic." The letter is posted for posterity below:

LOOKING FOR A SONG: HARDWAY REDUX

Hi daddy b nice.

I am writing because i would like to know who sing this song? I know it has some of the lyrics that goes like this:

i said Im leaving in the morning, leaving on a morning train. Ive got my ticket and a broken heart said im leaving ahh yeah. Robert your thang is too short, your thang is too short, your thang is too short. peeping through the window, peeping through the blinds.

Its not roy c song. Its like they remade both of roy c songs peeping through the window and leaving on a morning train. Its two men sing this song together.

P & J

Daddy B. Nice replies:

Dear P & J,

What would you say if I told you we discussed this very song at length in the Mailbag awhile back and that the answer has been on the page all this time? Scroll down Daddy B. Nice's Mailbag and browse through the "Looking For A Song" entries. All your questions will be answered.

Daddy B. Nice

Daddy B. Nice adds to his readers:

What is it about this Hardway Connection song ("Morning Train/ Peeping Thru The Window") that has people still talking about it? And who's playing it? Some deejay(s) out there really likes this track. Granted, it was a stroke of genius, grafting the chords to Roy C.'s "Morning Train" onto Hardway's own "One In The Morning."

Maybe Roy C.'s classic was much more of an inspiration to Hardway than many of us previously realized. Have you noticed that Hardway's album titled "Hot Ticket," which contained "One In The Morning," is very close to the "ticket to ride" refrain in Roy's "Leaving On The Morning Train"?

DBN

P.S. Now if I could only automatically re-direct all the penis-enlargement spam in my e-mail box to Hardway Connection. . .

--Daddy B. Nice


If You Liked. . . You'll Love
If you loved the blue-eyed soul of lead singer Alex Chilton and The Box Tops' "The Letter" ("Give me a ticket to an airplane"), you'll find Hardway Connection's "One In The Morning" irresistable.
Honorary "B" Side
"Morning Train/ Peeping Thru The Window (Full Mix)"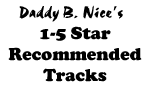 One In The Morning


CD: Hot Ticket
Label: Wilbe











Morning Train/ Peeping Thru The Window (Full Mix)


CD: Hot Ticket
Label: Wilbe










At Last


CD: Southern Soul Rumpin
Label: Hardway Connection










Party 'Til The Lights Go Out


CD: Hot Ticket
Label: Wilbe










Same Thing


CD: Hot Ticket
Label: Wilbe









Morning Train/ Peeping Thru The Window (Radio Mix)


CD: Hot Ticket
Label: Wilbe









Reality


CD: Hot Ticket
Label: Wilbe









Southern Soul Rumpin


CD: Southern Soul Rumpin
Label: Hardway Connection








What She Don't Know (Won't Hurt Her)


CD: Hot Ticket
Label: Wilbe








You're Gone


CD: Hot Ticket
Label: Wilbe